China in Africa: Investing into the Future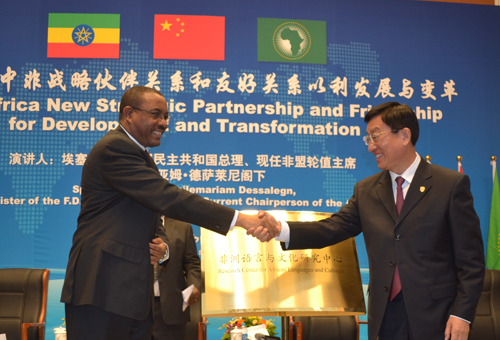 China-Africa new strategic partnership promotes infrastructure, capacity building and direct investment on the continent.
By Liu Jian in China
CHINA, July 20, 2013 (ChinAfrica) - In recent years, as China's presence in Africa continues to grow, so too have the scathing reports from the Western media criticizing China's presence on the continent. They claim that the sole purpose of China's involvement on the continent is harvesting Africa's resources in a process that has been dubbed "neo-colonialism."
But on the ground, opinions differ. Ethiopian Prime Minister Hailemariam Dessalegn believes that the Chinese presence on the continent has had a "benign influence."
"China's presence in Africa has also gone a long way in stimulating a continent wide expansion of infrastructure that has begun to narrow the competitiveness gap," said Dessalegn in a speech delivered at Beijing Foreign Studies University (BFSU) in Beijing on June 14, 2013.
Dessalegn, who was on his maiden visit to China since he took office last year, explained that this gap had always stood in the way of Africa's successful entry into the global economy as an able partner, which can assist in global re-balancing and in helping the world find a less volatile economic equilibrium.
He Wenping, Director of the African Research Section at the Chinese Academy of Social Sciences' Institute of West Asian and African Studies said that apart from assistance, trade and direct investment, China's entry into Africa has attracted other countries' attention, and thus in a way, is promoting their investment in and cooperation with African countries.
Apart from his engagement at BFSU, Dessalegn also held separate meetings with Chinese President Xi Jinping, his Chinese counterpart Premier Li Keqiang, and Zhang Dejiang, Chairman of the Standing Committee of the National People's Congress during his four-day visit on June 12-15. Dessalegn, who is also the current chairperson of the AU Assembly, spoke highly of the China-Africa new strategic partnership, which, in his view, has promoted the development and transformation of the continent.
Pushing African integration
African unity and integration have long been a dream and goal of African leaders and people since they won their independence. Although continental integration is still faced with many challenges, Dessalegn believes China has played a positive and constructive role in facilitating this process.
"Africa can compete globally only if it manages to carry out massive infrastructural expansion in sectors such as telecommunication, energy generation and in building efficient transportation systems," he said.
Li Anshan, Director of the Center for African Studies at Peking University, said China can play an even bigger role in facilitating African integration. "China can help facilitate African integration through the construction of infrastructure and the information super highway," he said.
A report from Standard Bank of South Africa shows that two-thirds of the funds for infrastructural construction in Africa are from China. Meanwhile, Chinese enterprises have constructed a large number of influential projects in areas such as power generation, telecommunications, transportation and energy, benefiting both sides.
"Besides this, China can also deepen its cooperation with the AU and sub-regional organizations through assistance or investment, and thereby help advance the regional integration process in Africa," Li added.
On January 28, 2012, the China-built AU Headquarters was transferred to the pan-African organization. "Which other friend of Africa would be willing to fund, design, build and maintain a new $200 million AU headquarters in the middle of a global financial crisis?" asked an article published on allafrica.com.
In addition to bringing economic benefits, African integration also has political significance, according to Yang Lihua, a research fellow at the Chinese Academy of Social Sciences' Institute of West Asian and African Studies. "African integration can help promote intra-regional trade and economic development within Africa, and can also help the continent secure a place and voice on the global stage to safeguard African interests," she commented.
Less aid, more investment
Capacity building is another challenge facing the continent, according to Seyoum Mesfin, Ethiopian Ambassador to China. "Africa's human resources have to be transformed into human capital, because we have to advance in education, science and technology in order to be able to fully develop and utilize the natural resources to ensure the development of the continent," he said.
Tantamount to capacity building and integration is the need to shift from an Africa that relies on foreign aid to a continent that attracts foreign investment, according to Dessalegn. China is a major investor in Africa. Take Ethiopia for example, over 400 Chinese companies have set up businesses in that country, and China has also set up a special economic zone there.
Apart from the traditional areas of investment such as in the extractive sector, Dessalegn suggested that Chinese investment in Africa can be expanded to other sectors, such as manufacturing, because these sectors create more jobs and ensure skills and technology transfer.
Culturally enterwined
During Dessalegn's visit, he also attended the unveiling of BFSU's Research Center for African Languages and Cultures. He believes language learning and cultural exchanges play a vital role in enhancing people-to-people relations between China and Africa.
Among the 58 foreign languages taught at BFSU, three are African languages: Hausa, Swahili and Zulu, while the widely used languages in Africa such as English, French, Arabic and Portuguese are also taught in the university. Amharic, Ethiopia's working language, will be taught from September, according to Professor Han Zhen, BFSU's President.
BFSU also plans to cooperate with Ethiopian universities in language teaching and cultural studies, students and faculty exchanges, as well as inviting Amharic language experts to teach at the university.
"Africa, with nearly 1 billion population, China, with 1.3 billion population, we keep the balance of the globe." said Dessalegn. "So if you enhance the partnership between Africa and China in such a way that our two peoples can better understand each other in terms of culture and language, that means we can lead the world in the political and economic way."
During his meeting with Dessalegn, Chinese Premier Li Keqiang said that China is also willing to enhance cultural exchanges with African countries, including Ethiopia, deepening cooperation in education, culture and tourism.
Looking into the future cooperation, Dessalegn believes China-Africa new type of strategic partnership is not only key for mutual progress but is also critical for fairness and the rule of law in the current international order.
"Africa and China should harmonize their efforts in areas of UN reform, climate change and sensitive peace and security issues throughout Africa and beyond in the interest of finding lasting solutions to our common problems and challenges," said Dessalegn.
Premier Li also called for more communication on international and regional issues of importance. "China will continue to support Africa's peace, development and integration, help the continent's countries increase their development capabilities and make the China-Africa cooperation benefit the two peoples," he said. (This report was originally published by ChinAfrica.)