Putin and Global 'Elders' Discuss Global Questions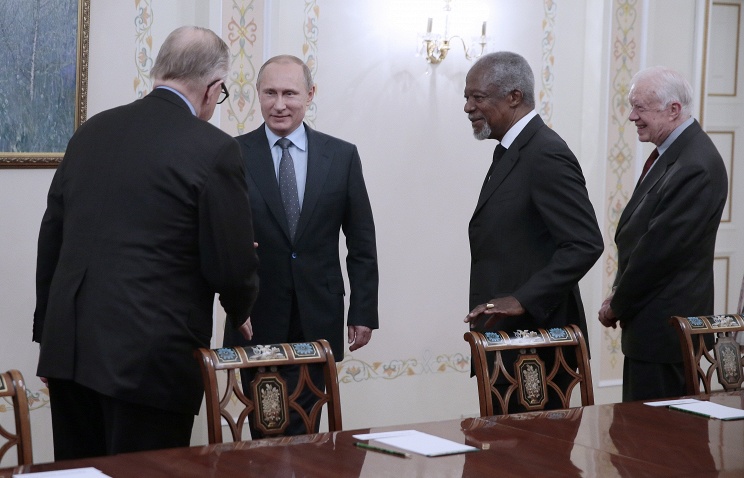 MOSCOW, April 30, 2015 (GNA) -- Russian President Vladimir Putin and representatives of The Elders, an independent group of political and public leaders who earlier held top positions in their respective countries and international organizations, held an extensive discussions on significant global issues especially regions in conflicts as well as political, economic and social developments trends on April 28 at his Novo-Ogaryovo residence outside Moscow.
According to the official transcript, Putin told The Elders that "there is a need for the active position you take in international affairs, especially now, when we are all witnesses to the complicated situation our world is in at present. Sadly, the world has not become any simpler since it was when you were active in political life."
Putin added: "I am not trying to say that this is your legacy, but simply that our world really is complex and diverse and has very many conflict situations. I will not list all these conflicts now. In any case, it would be a great pleasure and also useful for me to hear your views on a number of key issues. This is so for me, and for my colleagues, Foreign Minister [Sergei] Lavrov, who I am sure you all know well, and my aide, Mr Ushakov."
As Ghana News Agency (GNA) gathered from sources close the Kremlin, the meeting exchanged opinions on a broad range of issues on the international agenda. Special focus was placed on ways to deescalate geopolitical friction and reduce the intensity of conflicts in different parts of the world.
"The dialogue with you definitely enriches the international agenda. It's gratifying that this experience is coupled with energy, determination and willingness to contribute to the solution of international problems," Lavrov told the guests earlier before the Kremlin meeting.
Lavrov expressed confidence that combined efforts of the former heads of state and international organizations will allow to successfully deal with the challenges facing the modern world.
"Our deep respect to your activities is reflected in the fact that your meeting with Russian President Vladimir Putin," Russia's top diplomat added.
"I'll be glad to hear your assessment of what is happening in different parts of the world, and I will also be glad to share Russia's view on various crises that require joint efforts of the international community," Lavrov said.
Lavrov unreservedly praised the group for their "energy, determination, and willingness to contribute to the solution of international problems."
Taking part in the meeting with Lavrov were the 7th UN Secretary General and Chairman of the group Kofi Annan, former Presidents Jimmy Carter of the United States, Marti Ahtisaari of Finland and Ernesto Zedillo of Mexico, former Prime Minister of Norway Gro Harlem Brundtland who served as Director-General of the World Health Organization between 1998 and 2013 and also Lakhdar Brahimi, who held the position of special envoy of the UN Secretary General for Syria in 2012-2014, according the spokesman of the Russian Foreign Ministry.
The Elders was founded in 2007 by former South African President Nelson Mandela as a group of prominent global leaders with experience in peaceful settlement of conflicts and protecting human rights in crisis situations.
The group currently has 12 members, headed by former UN Secretary-General Kofi Annan. The Elders help to resolve the world's most serious and complicated problems, using their own personal influence and reputation in the international community.
From Kester Kenn Klomegah, GNA Special Correspondent, Moscow