Kazakhstan Secretary of State Receives Letters of Credence from Ambassador Alabo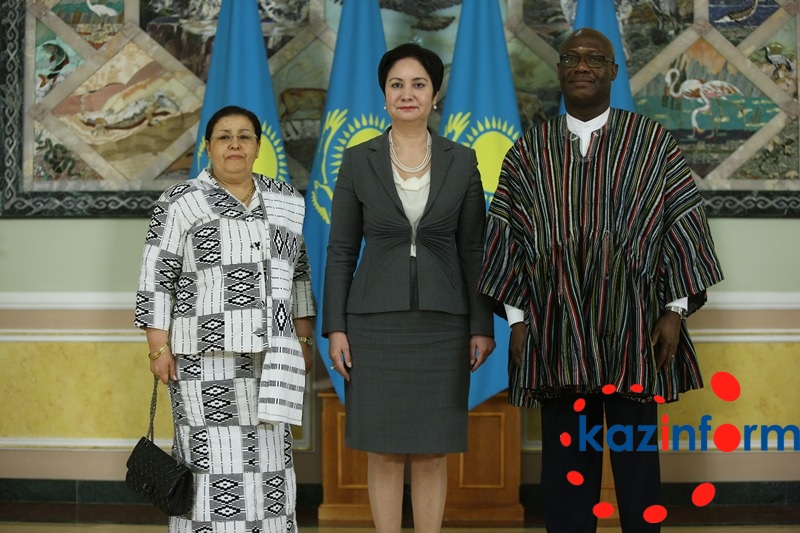 By Kester Kenn Klomegah
MOSCOW, December 10, 2015 (Buziness Africa) -- The Ambassador Extraordinary and Plenipotentiary designate of the Republic of Ghana to the Republic of Kazakhstan with residence in Moscow, H.E. Dr. Kodzo K. Alabo, presented his Letters of Credence to the Secretary of State of the Republic of Kazakhstan, H.E. Ms. Gulshara Abdykalikova, in accordance with the state legislation of Kazakhstan, on Friday, 4th December, 2015.
The brief, but meticulous, ceremony took place at the Presidential Palace in Astana, capital of Kazakhstan.
Abdykalikova, on the same day, received Letters of Credence from four more newly appointed Ambassadors from the Republics of Nicaragua, Djibouti, Albania and Bahrain. She congratulated the Ambassadors on their appointment and wished them great success, stressing that Kazakhstan attaches importance to promoting political dialogue and contacts with many foreign countries.
Following the presentation, Ambassador Alabo had a one-on-one discussion with Secretary Abdykalikova on bilateral issues. The Secretary of State expressed her appreciation to Ghana for having supported Kazakhstan in winning the bid to host EXPO 2017 in Astana, and expressed the hope that Ghana would participate fully in the event.
She informed that Kazakhstan had put forward its candidature for a seat on UN Security Council and called on Ghana to lend its support in that regard as well. She mentioned that presently the commodity turnover between the two countries stood at $40 million, mainly from trade in cocoa derivatives.
Ambassador Alabo noted that with the excellent relations currently existing between the two countries, Ghana and Kazakhstan could tap into that opportunity to improve upon the level of their economic relations.
He promised to dedicate his tour of duty to exploring avenues of increasing the volume of trade between Ghana and Kazakhstan. To that end, he disclosed that both sides had agreed on organizing together business forum in the near future for their business communities to interact.
Ambassador Alabo further noted that Ghana, as a young oil producing country, could benefit from the rich experience that Kazakhstan has in the oil industry.
Other issues were discussed as well, and these included the offer of scholarships to Ghanaian youths to study and train in Kazakhstan and the development of football in Kazakhstan with the help of talented Ghanaian football players.
While in Kazakhstan, Ambassador Alabo also met with officials of the Ministry of Foreign Affairs, including the Deputy Foreign Minister as well as the Deputy Head of the Secretariat of EXPO 2017, where the subject of Ghana participating fully in the event was discussed. He also called on the officials of the Chamber of International Commerce of Kazakhstan to forge a close relationship between the business communities of the two countries.
During the meetings, Ambassador Alabo was accompanied by Mrs. Lydia O. Amartey, Minister/Deputy Head of Mission. The Ambassador, who is resident in Moscow in the Russian Federation, has concurrent accreditation to the following countries: Mongolia, Belarus, Ukraine, Moldova, Armenia, Azerbaijan and Kazakhstan. (Source: Buziness Africa)