04.11.2013 11:08
Nigeria: In Huge Step, Nigeria Takes Power Private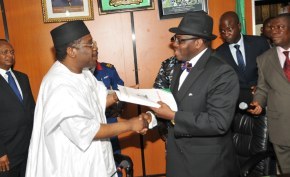 CHICAGO, November 04, 2013 (AllAfrica) -- The Nigerian government handed over management of electricity generation and transmission to new owners, the latest step in the transformation of the country's power sector from a state-run monopoly to private ownership. The success and recent pace of the privatization process is seen as a solid achievement by President Goodluck Jonathan, whose administration is facing mounting challenges at home in the lead-up to presidential elections in 2015.
Godknows Boladei Igali, permanent secretary in the Federal Ministry of Power and an architect of the reforms, discussed the progress to date in an interview at the recent U.S.-Africa Business Summit in Chicago. Igali, a former top aide to Jonathan, served previously as permanent secretary of water resources and as Nigeria's ambassador to Sweden. Excerpts:
Can privatization really solve Nigeria's massive power problems?
Nigeria is a country of 170 million people - the most populous country in Africa and, potentially, the economic powerhouse of Africa because of the matrices related to the economy and the population. Having said that, we realize that our potential is very limited without sufficient power. Our economy is now number two [in Africa] behind South Africa - because of the fact that we do not yet have the power sector right. To get the power sector right we have to completely go the way of the private sector. We are one of the most endowed countries in the world in terms of gas.
We are one of the most endowed in terms of oil, and we are one of the most endowed in terms of the possibility to generate solar because about 40 percent of the country is in an arid area in the Sahara belt where we have a little bit too much sunshine, and the potential for other renewable energy sources like bio-mass is huge. So we don't have a reason not to be the power house of electricity in Africa.
But government has never been the best manager of infrastructure, so - in 2005 - we decided to unbundle the existing power company of the country and go completely private - to sell off the assets. We started the divestment with the monopoly called the National Electricity Power Company (NEPA), unbundling NEPA into a number of smaller companies. We included the creation of a bulk trader, which was critical if people were to invest, because they have to know there is somebody to buy the power. And we also created a regulator and an asset and liability company to inherit all the liabilities of the company.
The next stage was selling the assets of the generation and distribution companies. To cut a long story short, on the 22nd of April this year we completed the transactions and the new owners paid 25 percent. On 30th of September this year we handed over certificates of ownershipto them.
All 17 power companies have now been sold?
Two of them have not been completed - Kaduna and AFAM - so it is 15: five generation companies and ten distribution companies. Now we are building another 10 power plants which are at [various stages of completion]. Some are 90 percent completed, others 100 percent completed and are being test-run. We have already started the roadshow and procurement process to sell them.
So the government builds these plants?
The government builds the plants to sell to the private sector. We've kept the transmission company because it is a huge investment, and we know that it will be very difficult for the private sector to invest sufficiently in transmission to meet the needs.
What is the role of the bulk trader?
NBET [National Bulk Electricity Trading PLC] has power purchase agreements with the producers, The bulk trader also has supply agreements with the gas companies to ensure all these plants have access to gas to fire them. Most of these plants are gas or steam turbines.
About 80 percent of them are gas plants. NBET also works with the World Bank to provide partial risk guarantees.
The hydroelectric plants have not been privatized?
We did not sell the hydros. We concessioned them - 30-year long term concessions to private companies - because the rights of other water users make it difficult to sell them outright.
Have the hydro power plant concessions been completed?
They have all been completed. The water rights issued. The power purchase agreements issued. The licenses for them to operate issued.
What is the current timetable for increasing power production?
Our installed capacity is 9000 megawatts, of which actual generation is 6,700 MW. But what we actually supply to the consumers is 4,500 MW because of the low capacity in our transmission network. By the end of next year, when we will have sold the 10 new plants, the 10 new plants will be bringing on board 4,700 MW. So we will be talking about being able to supply to Nigerians about 10,000 MW by the end of next year.
We are working on a huge project called Mambilla - 3050 MW and the 700 MW Zungeru plant. We have some existing hydro plants - brownfields. We have Gurara I and there is a new Gurara II that will add another 3060 MW. So we are expecting another 4000 MW from these big hydro projects in the next five years. We have the smaller hydros that will bring in another 600 MW. Then there are a number of independent power projects around gas. We have 20-gas powered projects that will bring about 20,000 MW. So we are looking to add about 30,000 MW in seven-to-eight years.
What about renewables?
In addition to small hydros, there are a lot of solar projects. But solar projects alone cannot give you a lot - mostly 50 MW, less than 100 MW - scattered all over the country. Another that is greenfield is clean coal. We have the potential to raise about almost 4,000 MW immediately off clean coal.
From your own coal?
Yes, clean coal. We have given licenses to people to generate another 4,000 MW coming from environmentally safe, carbon-free, clean coal.
But the greater part of the revolution in the power sector will come from the downstream. There are a lot of projects that are not generation, distribution or transmission, but are services to the power sector. For example, there is a metering gap - almost seven million meters - that we need to put on the market in the next few years. So there is a huge opportunity for people to manufacture meters [and] also to invest in energy efficiency products such as bulbs, lighting systems and switch gears. Transformer manufacturers are coming in huge numbers.
Mind you, we are moving from below 10,000 MW to about 40,000 MW capacity. There is a whole value chain in terms of the consumables in the sector that will offer investors many opportunities in the sector.
What about the population that is, and likely will remain, off grid?
Off grid will continue to be encouraged because - like most African countries - most of our people live in the rural areas. The grid system is very expensive. We can't cover everywhere. So it is going to be 50-50 for sometime. As we invest, we will connect more communities to the grid.
But off-grid power doesn't necessarily mean people have no electricity?
No, off-grid can mean either mini grid systems within a municipality or within a state or having an embedded power system that is locally serviced. There is solar and low-end turbines for small hydros, run off the river systems. There are off-grid systems that run on bio-mass and waste. Those are coming on very strong, especially in urban areas and high-density areas outside the main cities.
Will the four-fold increase meet the demand?
Not at all. By 2050, Nigeria's population will be about 230 million people - a hell of a population! We are going to be one of the most populous countries in the world. For that population, we need to increase our power generation every day. Today, with 170 million, if we are to look at per-capita consumption by the best global standards, we should be generating about 170,000 MW. But we are still below 10,000 MW. There is a huge suppressed demand that will be increasing naturally but in a geometric manner as we increase the size of our generation and power availability.
You mentioned the costs involved in upgrading and expending the transmission grid.
It is huge. We are making an investment of U.S. $3.7 billion in the next seven years. Like I said, we now generate 6,700 MW but can only wheel out 4,500 MW. By next year December, when our goal is to produce 10,000 MW, we should get up to 6,700 MW. We are working towards covering the gap for the remaining 3,000 MW with transmission by the early part of 2015.
How will you finance this very large investment?
Mostly from government, but some from debt equity and from development partners and private investments. We are encouraging private people to come in. We are working out a framework for how they can be paid back from the market - from the tariff. After power supply and availability has stabilized in one or two years, investors will have more confidence. We expect that people will be willing to pay more for power and the private sector can charge a little bit more.
Won't higher prices be controversial?
Politically it will be controversial because nobody wants to pay more. Power is like bread. If you increase the price of bread in many countries, people throw stones at you. The difference is choice. Do you want to be using generators and spend a lot of money on diesel and pollute the environment? Or do you want to have more steady power and pay a little bit more? But we spend today the equivalent of $2,000 (200,000 Naira) to buy diesel every month. There is no way you will pay through a public utility more than a $1,000 (100,000 Naira). People will be ready to pay when they see that services have improved.
So you are pleased with the progress?
We are pleased it has worked and believe the privatization will succeed. The American Embassy in Abuja called the Nigerian process "simultaneous sequentiality." By that difficult [phrase], what the embassy means is that we did [all the privatizations] simultaneously and it worked out well. It is the first successful divestment project in the world where a government sold all the assets of the power sector. USAID and the World Bank told us it would not work. They said: sell two and then do the rest. President Jonathan said: no, I want to sell everything at once. This was mostly locally financed. The money came from Nigeria and from Africa - $2.6 billion. Nigerian banks did a lot of the work. (This interview was first published by AllAfrica)