Friday, 10 July 2009 00:17
"Voices to be reckoned with": Women speak out at Global Forum on Freedom of Expression
NORWAY, June 10 - "The thing (the authorities) are most angry about is my voice," says Philo Ikonya, president of PEN Kenya. Ikonya has been involved in a number of protests and political readings recently and was arrested and severely beaten in police custody this past February.

Ikonya was one of four extraordinary women who met across a table at a "Silenced Women's Voices" panel on 4 June in Oslo, Norway at the recent Global Forum on Freedom of Expression (GFFE). Their stories of courage and insights into free expression were shared through an intimate and animated conversation punctuated with laughter and applause from an appreciative audience.

Joining Ikonya was moderator Ursula Owen of Free House in London; Irshad Manji, director of New York University's Moral Courage Project; Lydia Cacho Ribeiro, an acclaimed investigative journalist from Mexico; and Malalai Joya, an ex-Afghan parliamentarian.

What became painfully obvious from the discussion was the struggle shared by each of the panelists in trying to discover her voice, finding the courage to use it and finally having it heard.
Joya spoke of being expelled from the Afghan parliament and threatened with rape for speaking out against the country's warlords. While she is forced to live a life under daily threats, the true criminals and warlords continue to sit in parliament.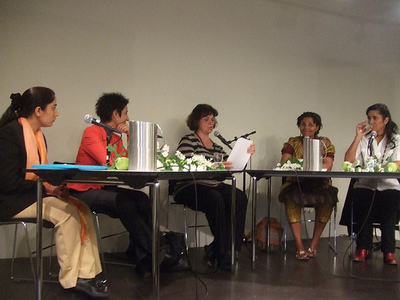 She uses her voice to denounce the laws that provide impunity for those in government who rule with disregard for public interest and thrive on corruption. Her commitment to the people of Afghanistan and her anger at being silenced was palpable.

"Esta Boca es Mia" (This Mouth is Mine), a popular Mexican television show, lost its host when Cacho was fired after she dared to talk explicitly about female condoms. She openly questioned how this could be considered an offence when Mexican soap operas daily reinforce women as objects and condone domestic violence as an acceptable way of life.
She held the audience rapt with her vivid tales of helping abused children to find their voices in naming their aggressors. Her personal journey as a journalist has been fraught with death threats for exposing corruption, organised crime and violence against women.

If not us australia online casino then who will challenge political correctness, intellectual conformity and self-censorship, asked Manji. Manji spoke of mainstream media's indifference to women's voices and her work promoting critical thinking, and the need for moral courage to address the forces that try to keep us silent.

As the audience looked on, the women engaged with each other's stories, their voices tripping over each other in agreement or with questions - rather like a group of friends who hadn't seen each other for a while.

Owen asked the panellists to reflect on where they had found their voice. Manji found hers as a little girl who took to the roof of her apartment building and stayed there all night to get away from her father's aggression.
She realised she had power and could use her voice to speak to it. Ikonya spoke about her grandmother as her inspiration, a woman who railed against the village norm by speaking out to men and even dared to wear pants at the same time.

"Women hold up half the sky but they don't have half the power. Their lives and their bodies are exploited, their voices and needs marginalised," Owen explained. "What is undeniable is that free expression is what makes people feel human, and it's the right upon which all other rights depend."

As the panelists mingled with participants following the discussion, one delegate said that in 12 years of attending conferences, she had never experienced anything as profoundly human and moving as the "Silenced Women's Voices" session. One could even imagine Philo's grandmother dusting off her pants and nodding in approval. (END/2009)
Кошка поймала паука и забавлялась с ним, точно с игрушкой.
И Ильин на мгновение подумал, что Ангел опять прав.
Призрак испугался и спасался бегством!
Однако, по его мнению, у барышни был соучастник; который выполнил черную работу.
Я "Бомберы игра скачать"совершила куда более грубую ошибку, сказала Анна, сообщив им, где находится Рабинович.
Так что лучше бы вам прогуляться, ответил Римо.