Friday, 10 July 2009 00:14
Is Russia Making A Real Comeback To Africa?
By Kester Kenn Klomegah
MOSCOW, June 21 (Buziness Africa) – The Kremlin authorities have announced that Russian President Dmitri Medvedev will undertake his first official working visit to Africa next week, starting from June 23 to 26, APA learns here on Friday.
According to Kremlin sources, Medvedev will first visit Egypt on June 23 and then head to Nigeria, Namibia and Angola, adding that the visit was at the invitations of Egyptian leader Hosni Mubarak, Nigerian leader Umara Musa Yar'Adua, Namibian leader Hifikepunye Pohamba and Angolan leader Jose Eduardo dos Santos.
The Kremlin sources provided scanty information about what the visits intended to achieve, but political analysts and researchers offered diverse reasons.
"The purpose of the visit is not the economy but politics: coordination of Russia's Middle East policy with a key political player. This is very important, considering the current deadlock on practically all tracks of the Middle East peace settlement since Benjamin Netanyahu's hardheaded cabinet came in," a veteran Russian political commentator Andrei Murtazin assertively wrote in article published by RIA Novosti.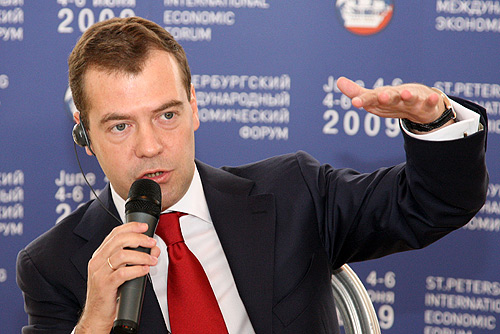 Murtazin said further that Egypt is in agreement with Russia on practically all aspects of Middle East policy, but expounds American influence in the region, for a free annual payment of two billion dollars from Washington (under the 1978 Camp David Agreements).
From Moscow, the Russian commentator explained that Cairo expects not money, but a harsher attitude towards Benjamin Netanyahu's new Israeli cabinet, which has reneged on the "policy of concessions to the Arabs," adhered to by his predecessor Ehud Olmert.
Some experts and researchers see Russia making a comeback to Africa after China's policy of economic expansionism on the continent.
"The thought that brings to mind is oil and gas, certainly with Nigeria and Angola. Gazprom has investments in Nigeria in the troubled Niger delta area. Angola is the current poster boy of new oil developments and everyone wants part of the action. The oil majors have been there a long time and China is also very active. A visit to Angola does not signify a special interest in southern Africa. It signifies interest in that country's energy resources," Professor Tom Wheeler, a research associate at the South African Institute of International Affairs told APA in an email interview on Friday from South Africa.
Professor Wheeler strongly believes that the perception is that Russia would like to strengthen its strategic hold over Europe's access to fuel, especially gas, and this has a complete bearing on the choice of states to be visited.
It may be recalled that Putin visited South Africa in 2006 and several large deals were signed, but that has not really raised the profile of Russia in this country. There was sympathy for and interest in Russia on the part of the Mbeki government, but the Zuma government has yet to show its hand, he explained.
The academic researcher added that government sympathy did not really translate into successful business ventures, such as the Kalahari Manganese project that seemed to have difficulty getting off the ground, because of financing difficulties for the local partners and because the rail infrastructure had yet to be built.
"If Russia is back in Africa, it has some way to go to catch up with the other existing players: China, India, the EU and the US. China has made great strides in establishing itself in Africa. It is visible, but not uncontroversial, with the infrastructure projects it has been engaged in," he pointed out.
"In Angola it has such projects, but it has brought all its workforce from China. So the projects have no spin-off for local people by the creation of job opportunities and the population remain impoverished. They have nice roads to walk along, if one wants to be cynical. The pay-off for China is the access to energy and other natural resources," Professor Wheeler concluded. (END/2009)