Wednesday, 25 September 2013 09:47
South Africa and Russia Continue Building Partnership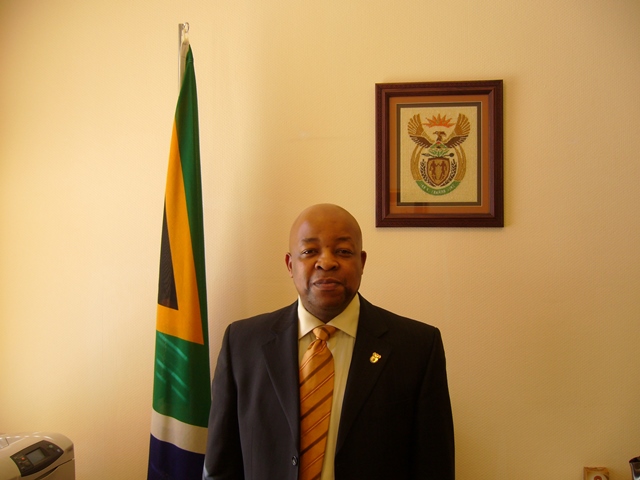 MOSCOW, September 25, 2013 (Buziness Africa) – H.E. Mandisi B. M. Mpahlwa is one of the most active African ambassadors in the Russian Federation. He has travelled the length and breath of the country exploring business opportunities, has participated in many academic discussions as well as social and cultural events. Since his arrival to the post, Ambassador Mpahlwa has put many South African issues in both local and foreign media primarily to create better understanding among Russian audience.
Here are abstracts of his latest interview with Kester Kenn Klomegah from Buziness Africa magazine.
BA: What are you views about the current economic changes in Russia and say if the changes have presented some opportunities for business?
Mpahlwa: It is my impression that Russia is undergoing rapid economic growth and profound socio-economic change. Russia is recovering well after the Global Economic Crisis, has a sizeable domestic consumer market, a low national debt burden and high foreign income generated mainly by natural resource exports. Furthermore, Russia has embarked on a comprehensive modernization programme, which is aimed at further diversifying and developing the Russian economy and encouraging innovation. Efforts are underway to transform Moscow into an international financial centre and an innovation hub is being built at Skolkovo. Special events taking place in Russia, such as the Sochi Winter Olympics (2014) and the FIFA Football World Cup (2018), add further impetus to Russia's efforts to upgrade its infrastructure.
In addition to the business opportunities generated by these developments, it should also be remembered that Russia has always offered gateways to numerous other markets in Europe, Asia and beyond. Russia even has a Customs Union with two of its neighbours. At the international level, Russia is a leading developing economy and member of the G8, G20 and BRICS and makes a significant contribution to global economic recovery and growth, as well as to efforts to reform the international financial architecture. All these factors give Russia a high profile and make it a sought after business partner for other countries.
BA: But in the first place, what are your government's priorities with Russia? What can you say about participation in the private sector of the economy?
Mpahlwa: The South African Government's over-riding priority is to maintain and further develop the excellent relations we enjoy with Russia at both the political and economic levels. In partnership with the Russian Government, we are particularly interested in helping to create an enabling environment for increased two-way trade and investment. We do this, for example, by entering into bilateral agreements that set the legal and practical framework for sectoral cooperation and by exchanging high-level technical delegations and hosting special trade events, such as the recent highly successful International Trade Initiative and South African wine festival we hosted here in Moscow.
The total two-way trade last year between the two countries was US$519 million, which is significant but still far short of its true potential. In some areas efforts to increase trade are already paying off. For example, Russia is currently the second fastest growing market in the world for South African wine, registering a 46% growth rate in 2010. South Africa is also now the third largest supplier of citrus fruits to Russia.
Of course, our objective of taking the bilateral relationship with Russia to the next level cannot be realized without close partnership with the private sector and we are pleased that there is a dedicated South Africa–Russia Business Council to develop business to business linkages.
BA: Discuss how tourism is featuring in your activities, the level of Russian tourism flow and strategies to increase the current figures?
Mpahlwa: Our Government regards tourism as a sector that merits special and differentiated attention, due its ability to contribute directly or indirectly to the development of a wide variety of sectors of the South African economy. It is estimated that a job is created for every sixteen visitors to South Africa. Russia is one of the world's fastest growing sources of tourists and amongst the last to discover what Sub-Saharan Africa has to offer. So when we record figures of only around seven thousand Russian tourists to South Africa per annum, we are well aware that this is just the start and that it is only a matter of time before we see an exponential growth in this sector.
Tourism promotion therefore features prominently in our Embassy's list of priorities in Russia. We are focusing on encouraging Russians to visit South Africa, as we believe that there is no substitute for first-hand experience. In this regard, the Embassy is looking to raise awareness of the amazing range, diversity and quality of tourism opportunities that are to be found in South Africa. We are making progress and, thanks to the successful hosting of the World Cup (2010) and other events, more Russians are now aware of the exceptional quality of our tourism infrastructure, which makes a holiday to South Africa so much more convenient, cost-effective and enjoyable.
Now that word is getting out in Russia about South Africa as a first-class tourism destination, we are also looking at ways to take advantage of the opportunities flowing from the many niche tourism markets. These include culture, conferencing, health care, safaris, ornithology, hunting, paleontology, science and technology (space observation etc), sports training, extreme sports and tours of historical sites and battlefields.
BA: What problems and challenges still remain to overcome in realising these set goals?
Mpahlwa: South Africa and Russia are close politically, but they are also geographically distant and the people to people ties are still under-developed. This translates into a low level of knowledge on both sides of what the other has to offer. There is perhaps also a measure of fear of the unknown or the unfamiliar. We see this clearly in the tourism sector, where Russians and South Africans alike often choose familiar vacation destinations over the unknown, missing out on incredible experiences in the process. So, as an Embassy, we see a role for ourselves in disseminating information about South Africa and Africa to a Russian audience.
Another challenge in a country as geographically vast as Russia is to reach out to potential partners and friends beyond Moscow and Saint Petersburg. This is, of course, not a problem that is unique to South Africa and the African Embassies here in Moscow work together on joint efforts to reach markets beyond Moscow. For example, the SADC group sent a delegation to Yekaterinburg to follow-up on previous contact visits. South Africa has also appointed an Honorary Consul in Vladivostok to advance its interests in the Russian Far East.
BA: Can you explain generally why African activities here have been low and what should be done, both ways, to raise the existing levels especially in economic diplomacy?
Mpahlwa: Sub-Saharan Africa has understandably been low on post-Soviet Russia's list of priorities, given that Russia is not as dependent on Africa's natural resources as most other major economies. Also, Africa's historical development means that the linkages with Russia are not as well developed as those with traditional trading partners and former colonial centres. It is also important to point out that Soviet and African relations, anchored as they were on the fight to push back the frontiers of colonialism, did not necessarily translate into trade, investment and economic ties, which would have continued seamlessly with post-Soviet Russia.
This presents both opportunities and challenges. It is not easy to create partnerships where few existed before, but at the same time the relationship comes with less historical baggage and scope for securing new partnerships to further the national modernization and development objectives that are shared by Russians and Africans.
Looking ahead, I think it is important to continue approaching the relationship between Africa and Russia as a partnership of equals that should be multifaceted and mutually beneficial. It should continue to reach beyond natural resources and their beneficiation and include all other strategic sectors, such as science and technology, education and health care. Russia and Africa have stepped up their exchanges of high-level delegations in recent years – including President Zuma's visit to Russia in August 2010 and again in July 2011 – and this sends a strong signal that the political will to continue building such a partnership exists. (Source: Buziness Africa)