Friday, 20 September 2013 20:31
SA Government to Lobby Russia for Greater Market Access for Fruit Exporters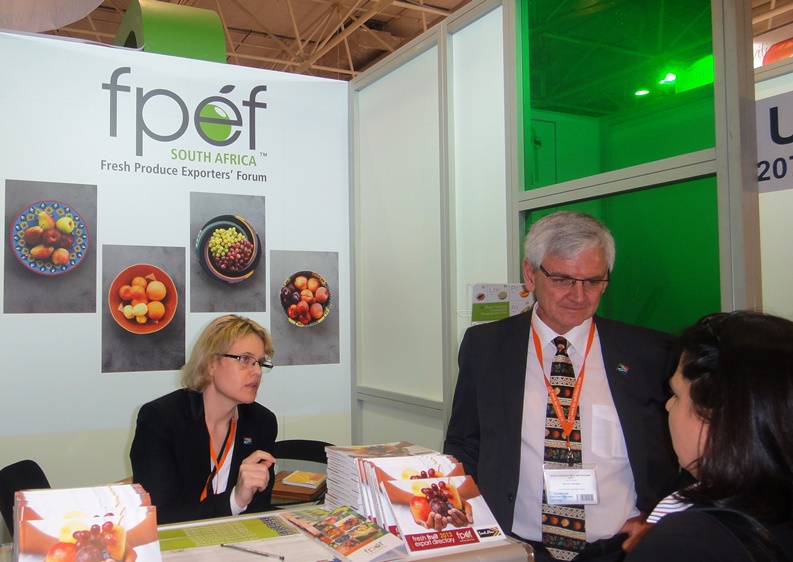 By Tai Adelaja
MOSCOW, September 20, 2013 (Buziness Africa) -- More than 25 South African companies stormed Moscow, the Russian capital, in a concerted effort to showcase a wide variety of condiments, wine, and fresh and dried fruits at this year's World Food Moscow. The latest market push comes hard on the heels of a declaration by the South African government to help the country's farmers forge stronger trade links with its trading partners in BRICS.
"The Russian Federation is one of the identified growth markets for South African fresh fruit, primarily due to the size of the population, the fact that Russia became a member of the World Trade Organisation in August 2012, and the counter-seasonality to South Africa," said Anton Kruger, CEO of Fresh Produce Exporters Forum (FPEF), who represents 85% of all South African fresh fruit exporters. "The event will be utilised to establish and strengthen relationships with current and potential Russian importers."
Russia now accounts for 9 percent of all South African fruits exports, which is roughly 2.5 million tons of fruits annually, Kruger noted. However, for African agro-producers, entry into the Russian market is never a cakewalk, Kruger said. Challenges range from finding reliable trading partners in Russia to understanding Russian culture and its market preferences, he added.
In an anticipated announcement last month, the South Africa government said that it will shepherd the entry of the country's citrus growers into the BRICS markets by leveraging South Africa's membership of the regional bloc.
"We've agreed that, as government, we will be assisting the citrus industry to deepen market access in the BRICS nations," Tina Joemat-Pettersson, the South African Agriculture, Forestry and Fisheries Minister said earlier in Johannesburg. "When we meet as BRICS agriculture ministers later in the year, we will discuss this further," she added.
South Africa is the world's biggest exporter of oranges and the largest shipper of grapefruit. The past few years have witnessed a steady increase in import of agricultural products from South Africa into Russia, according to the Russia-South Africa Business Council.
Industry expert Mikhail Fateev attributed the upswing in fruit exports from South Africa to Russia to the status of a developing nation granted South Africa, which allows the country to receive customs preferences already given to suppliers of fruits from other countries in Africa, Asia and South America.
Fruits have become major item in trade between RSA and Russia reaching in some years half of bilateral trade turnover, said Fateev, who is also a member of Russia-South Africa Business Council on agriculture. In 2012, South Africans exported to Russia some 165 thousand tons of citrus worth $160 million. South Africa is the fourth biggest exporter of citrus to Russia after Turkey, Morocco and Egypt.
"The high class fruit production technology in South Africa coupled with enormous efforts taken by South African farmers to ensure safety of their produce from plant diseases and quarantine objects gave South African exports good reputation in Russia," Fateev said. "For over 20 years of South African fruit exports to Russia, not a single case of contamination of South African fruits with quarantine objects has been registered by the Russian Plant Quarantine, he added.
Meanwhile, the South Africa Table Grape Industry (SATI) has been exploring a new area of cooperation by developing working relations with the Russian region of Krasnodar for the transfer of table grape-growing technology to the region.
"This is the first time South Africa agro-companies have developed such an important joint project with a Russian region," said Elaine Alexander, SATI's Executive Director, who was in Moscow for the World Food 2013. "Growing South African table grapes in Krasnodar will produce a unique alternative grapefruit which tastes differently from table grapes imported from abroad."
In recent months, South Africa's citrus exports to the European Union (EU) have been struggling due to citrus black spot, a fungal disease that affects the external appearance of the fruit, and which occurs in citrus plants throughout subtropical climates, causing a reduction in both fruit quantity and quality.
However, Ms Joemat-Pettersson emphasised that broadening citrus trade relations with BRICS countries was not an attempt to replace the EU market.
"This is not a replacement of the EU market, but the broadening and expanding of the citrus industry to access the BRICS market as well. The EU and the United States of America remain our traditional markets," she said. (Buziness Africa)