Tuesday, 10 September 2013 22:03
BRICS Unified African Policy Sparks Debates
By Kester Kenn Klomegah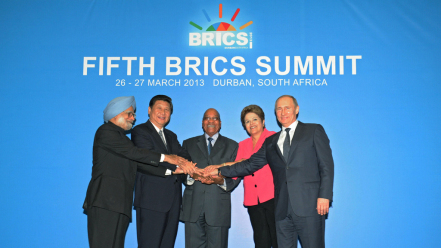 ST. PETERSBURG, Sept 10, 2013 (RBTH) -- While Russian authorities have strongly wanted the BRICS group of major emerging economies to broaden its role and get more involved in geopolitics, foreign policy experts have wondered whether it would even be possible for BRICS members to design and implement a unified development policy in Africa alone. Many debatable questions still remain including, for example, can the BRICS countries work together in Africa to provide a counterweight to the United States and the EU countries - or is there too much competition between India, China and Russia in Africa that renders any unified Africa policy impossible?
BRICS leaders used the March 26-27 meeting in Durban, South Africa, to discuss various reports prepared by working groups led by Brazil on a proposed reserves pool and another by India and South Africa on the creation of a common infrastructure bank. The reserves pool of central bank money would be available to emerging economies facing balance-of-payments difficulties or could be tapped to stabilize economies during periods of global financial crises, according to an official website documents outlining the banks plan.
The forum's theme was:"BRICS and Africa: Partnership for Development, Integration and Industrialization".
Russia's Deputy Foreign Minister Sergei Ryabkov said in an interview with The Voice of Russia and the RT channel ahead of the summit: "We want to pursue this goal and we have very interesting prospects and a vision of what can and should be achieved in this relationship. BRICS plays an important role in these contacts. Of course there are different approaches. Big powers have big interests and those interests do not necessarily coincide at any moment. But the maturity of the relationship allows us to look into the future with a good degree of assurance that nothing will happen that should set this relationship backward."
China, Russia, India, Brazil and South Africa see BRICS as a strong economic player and a platform to develop cooperation within the structure. However, some western analysts fear that Russia and China want BRICS to become a power undermining the US and other western global influence.
"We are not trying to counterbalance anything in the world. We are trying to catch the wave, the tide of changing reality in the world economy, in world politics and kind of identify areas where it would be natural for countries as big and influential as China, India, Brazil, South Africa and Russia are, to work cooperatively. We are talking about multiplying authority and influence, no doubt about it. But this is not to challenge anyone. This is to further our own interests and to ensure that our ability to achieve these goals is growing and is implemented in practical action," according to Ryabkov's interview text published by the Russian media.
Interestingly, Ryabkov's position was earlier reiterated by President Vladimir Putin in an interview posted on the Kremlin website and also by Special Presidential Envoy to African countries and Chairman of the Senate Committee on Foreign Affairs, Mikhail Margelov, in an article published in Nezavisimaya Gazetta.
However, many experts have expressed mixed views: Jimmy Saruchera, Director of Schmooze FM (Frontier Markets), an investment fund that works to support small-and-medium sized businesses in new emerging markets, told RBTH that Russia's position to use BRICS platform for advancing its African policy agenda and as leverage to penetrate African countries is partially impossible under the circumstances, but rather Russia should engage African countries directly, focusing on building positive, genuine relationships based on mutual progress rather than one off transactions e.g. developing engineering expertise and local manufacturing capability.
He further argued that Africa exports $700 billion a year to China, and Africa is the only region in the world where China has a trade deficit. The US and the EU are already behind China, India and Brazil, and consequently a unified BRIC policy on Africa doesn't makes sense, it's up to Russian authorities to establish trade and investment partnerships with individual African countries.
But, John Mashaka, a Financial Analyst at Wells Fargo Capital Markets in the U.S., also argues that BRICS countries would form a formidable economic alliance to counter the US and EU influence in Africa, and the union could be a game changer to the US and EU economic superiority in the region.
Furthermore, he maintained, that Africa being such a strategic region, China already seen as a leader in the BRICS may advocate for financing many of its projects in the region, or simply corporate with the Africa's Development Bank as it has strategically done. Ego among BRICS member countries and quest for hegemony would not permit formulation of meaningful policies that would unite member nations into a unified front which is the main hindrance.
"And as such, the United States and the Europeans will still lead economic dominance across Africa, considering the fact that they are the main funders of Africa's main projects. There is no way China and India can work together. Each wants to be the next big boy on the bloc. Russia on the other hand is striving to assert itself as a brand new superpower, and that is a problem, and even if both countries form a united policy, their financial capability would not match the financial clout of the EU and the United States," Mashaka concluded.
Professor Achin Vanaik, formerly of the Dept. of International Relations and Global Politics and former Dean of the Faculty of Social Sciences at the at University of Delhi (India) and also a founding member of the Coalition for Nuclear Disarmament and Peace in India, explained to RBTH that of a unified approach is out of the question given the respective economic rivalries in Africa, and moreover fundamental tensions within BRICS of a political kind in relation to the fact that three of the countries have a much more comfortable relationship with the US than the other two, namely Russia and China, militate against cooperation beyond a point anywhere in the world including in Africa.
"There is also the fact that India remains a part of the US containment policy vis-a-vis China. In the more distant future dealings are more open ended but a lot depends on how much resistance there is to US policy elsewhere and therefore how significant it would be to its not just relative but absolute political decline. The current situation which will last for some time is that of a hub-and-spokes arrangement with the US at the hub and the others all more concerned with their more fundamental bilateral relationship with the US than with others separately or collectively," according to Vanaik.
According to Francis Kornegay, a Senior Fellow for Emerging Powers Research Program at the Institute for Global Dialogue in Pretoria, South Africa, there is a statement that came out of the 5th BRICS academic forum in Durban which called for deeper cooperation between the African Union and BRICS. It was inspired by a recommendation that there be a set up AU/NEPAD-BRICS cooperation forum. He pointed out that "deeper cooperation" would not only mean between the BRICS countries but more importantly between African countries (especially key states) in navigating synergy between the different BRICS country agendas to benefit Africa's interests and priorities rather than just Africa simply reacting.
"So yes, if this could happen (not that it will), you would have your 'counterweight' to the United States and European Union. But the 'zero sum' implications in terms of the way the question is put assumes a level of polarization that doesn't really conform to reality since there are already 'third country' development cooperation initiatives on the continent involving BRICS countries and G7 states. So reality is a bit more complicated than your question, bearing in mind that the media always has an interest in projecting conflict instead of cooperation or accommodation," Kornegay told RBTH in an email interview from Pretoria.
In an interview, Siphamandla Zondi, Director of Institute for Global Dialogue at the University of South Africa, said the expectation that the BRICS should become a sort of a counterweight to the Euro-American centre of global power is an understandable part of the wish for a better balanced, fair and just global order in which the hierarchy reflects the distribution of power and principles in vogue in the post war period.
The BRICS countries are already part of a larger group of developing countries numbering about 20 whose economic successes in the past 30 years is helping to remake the economic power hierarchy as the Euro-American axis of economic power has seen decline. Counterweight, in this sense, does not have a negative connection as it is about the emergence of developing countries have a corrective effect on global economic arrangements.
"It is opening up more opportunities for reenergizing the economy while the old North Atlantic zone is still in crisis. As the BRICS move quickly to establish a development bank that would ensure that development finance needed in developing countries does not run dry completely, they are displaying global responsibility for the common good. Of course, this counterweight is read in negative terms by the North-Atlantic zone and many of its followers, fearing that the political and cultural hegemony that has come with their economic success may be diluted or weakened by this emerging pluralism," according to the assertive views of Zondi.
According to Zondi, this zone sees the BRICS as pooled together by an anti-West posture because for an agenda that undoes the current hierarchies of power, even if done to expand options and to express regional responsibility, is invariably anti-west. The BRICS like the rest of the developing world makes no apology for demanding the reform of the current structures that scaffold an unfair and artificially unequal world order: the UN Security Council, international finance institutions, the WTO etc…
But whether the BRICS will become a catalyst for an age-old developing world dream for a new world order is questionable. It is a significant actor as a collective. It will contribute to shaping debates about reforms that need to be made. It will strengthen the voice of the south generally and also it will be good the developing countries. It will create options for poor countries to escape the strangle-hold of the US-EU controlled IMF, Zondi said.
But its global ambitions and its emerging consensus on global reform are not as radical as the south would have liked it. It is open to pragmatic solutions, which will be slow and diluted invariably. So, expectations from the south should be moderated to a realistic expectation that the BRICS will help with smaller reforms than envisaged, but more significantly in strengthening the symbolism of global south emergence and intra-south cooperation.
Whether there will be too much competition between India, China and Russia in Africa to make any unified Africa policy possible, the question moves from the premise that for a diplomatic to be effective, there must be more coherence than competition among members. I do not know of any club that meets this expectation.
Zondi said that further that "the best examples and most effective clubs that we have seen including the Paris Club, the London Club, the G7 and the G8; none of them fulfill the condition implied in the question. They have a lot of competition and differences among constituent members. What has made them effective is that they bring to the club issues about which there is broad convergence of visions and interests. The same can be said about the BRICS. Member states bring into the body issues like global reform, integration of currency markets, cooperation for industrialization, stronger international economic cooperation and now cooperation with Africa."
Dr. Xiao Yuhua, a Research Associate at the Institute of African Studies, Zhejiang Normal University, Jinhua, China, explained to RBTH that President Xi's first overseas trip takes him to Russia and three African countries, a gesture highlighting the strategic importance the new government attaches to Russia and Africa. But, it's not possible or not right for China and the BRICS to purposefully counteract the US or EU countries.
The BRICS and African countries, more often than not, have common interests/grounds in development cooperation and international issues regarding new interventionism/non-interference, WTO talks and climate change negotiations. That's the basis for their cooperation which cannot be "subdued" by the West, according to him.
"But politically, the BRICS is not a unified block capable of counteracting the US and EU countries. As for China, public opinion is not in favor of an antagonistic relationship with the West. Seemingly, western values such human rights, democracy and rule of law are being widely accepted. So the unity of the BRICS is significant in that that it provides a mechanism for cross-regional development cooperation and international governance reform. So whether the BRICS takes a confrontational agenda toward the West, which is very unlikely, or is seen by the West only as a threat, will be to no one's interest," Yuhua told RBTH in an interview.
Professor David Shinn, an Adjunct Professor at the Elliott School of International Affairs George, Washington University and a former U.S. ambassador to Ethiopia (1996-99) and Burkina Faso (1987-90), wrote in an email interview to RBTH that while BRICS have philosophical differences with the West and want to exert more authority in international organizations such as the United Nations, World Bank and IMF, I don't see them as dedicated to serving as a counterweight to the West in Africa.
"While none of the BRICS attaches political conditions to its assistance to African countries and Western countries often do impose conditions, there are issues such as UN peacekeeping operations and combating Somali piracy where the BRICS and the West cooperate in Africa. At the economic and commercial level, the BRICS are strong competitors among themselves in Africa. I see the role of the BRICS as an effort to increase the influence of developing nations vis-à-vis Western nations on a limited number of issues while accepting Western policies and even cooperating with them on others," according to Professor Shinn. (Source: RBTH)