Thursday, 22 August 2013 09:22
Kenya: President Kenyatta Visits Russia, China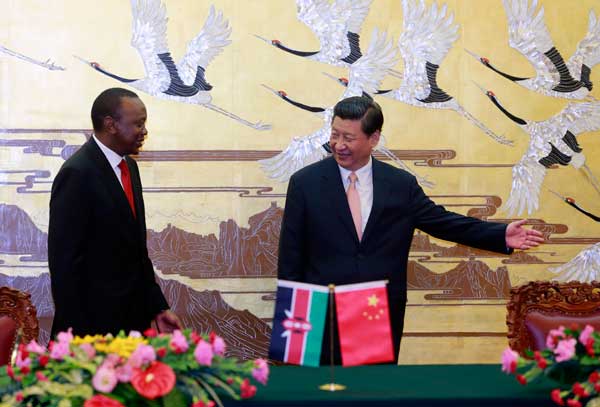 By Kester Kenn Klomegah
MOSCOW, August 22, 2013 (Buziness Africa) - President Uhuru Kenyatta went on an official business visit on August 15 and continued to China. According new reports, he was accompanied by First Lady Margaret Kenyatta and a high-powered delegation of more than 60 people – including cabinet secretaries in the technical areas like the National Treasury, Industrialization and Enterprise Development, Energy and Petroleum, and Environment, and business people, five governors and some members of both Houses of Parliament.
In Moscow, he held discussions with business leaders interested in Kenya's emerging role as a new frontier for oil and gas and mineral wealth. The discussions also covered Kenya's drive to open new markets for its traditional exports which include coffee, tea, horticulture and fresh produce.
H.E. (Mr) Kenyatta at the gathering also focused on new investment areas, with growth in innovation and technology. He has encouraged more Russian business people to consider investing in Kenya to benefit from the country's strategic location as a gateway to the East and Central Africa region. Kenya has emerged as the regional economic, trading and investment frontier in the region.
"I welcome Russian investors to take advantage of our strategic location as the gateway to the East African Community and the Common Market for Eastern and Southern Africa - which has a combined market potential of over 400 million people," Kenyatta told the gathering.
President Kenyatta expressed appreciation to the Russian business community for recognizing Kenya's potential as one of the most promising investment destinations in Africa. Saying the agricultural sector is the mainstay of the country's economy, the President added that his Government is keen on achieving food security in line with Kenya's Vision 2030 whose focus is to create a globally competitive and prosperous country.
He singled out various sectors of the economy in which the Russians can explore for investments including, energy, oil exploration, communication and infrastructure. He called on the Russian business community to explore ways of increasing the market share of the Kenyan tea, coffee, vegetables and flowers so as to deepen and strengthen bilateral trade ties between the two nations.
President Kenyatta's five day official visit to China began on August 19 and was also concentrated on discussions strongly related to business and investment.
According to reports, he signed framework agreements on a power transmission project for Nairobi and a Memorandum of Understanding (MoU) on environmental protection between the Ministry of Environment Protection of the Peoples' Republic of China and Kenya's Ministry of Environment, Water and Natural Resources, as well as reviewed a number of projects currently under discussion between Kenya and China. The government is further seeking financing for a $2.5bn standard-gauge railway from the port of Mombasa to Uganda and a $1.8bn dam. (Source: Buziness Africa)