Thursday, 04 July 2013 10:25
Trade in Services: Huge Potential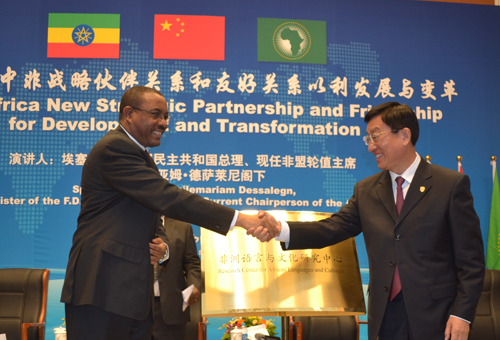 CHINA, July 04, 2013 (ChinAfrica) - Trade in services between China and African countries will grow rapidly. Compared to the 50-plus-year-old China Import and Export Fair (Canton Fair), the China (Beijing) International Fair for Trade in Services (CIFTS) is still young. But it has demonstrated its robust development impetus by promoting international trade in services in its first fair in 2012. During the five-day fair last year, 458 project agreements, worth a total of $60 billion, were made, including $11 billion worth of agreements revolving around international trade in services.
At this year's CIFTS, a series of parallel forums, such as the High-Level China-Africa Investment Forum, were also held. Before the opening of the second CIFTS, which lasted from May 28 to June 1 in the China National Convention Center, Cheng Zhigang, Secretary General of the China-Africa Industrial Forum, sat down with ChinAfrica magazine to share his views on the future development of Sino-African trade in services.
ChinAfrica: China's investments in Africa have grown rapidly in recent years. How do you see this rapid growth?
Cheng Zhigang: Actually, great changes have taken place in China's investment in Africa in recent years, especially in the past five years.
In the past, large state-owned enterprises (SOEs) were the major investors in Africa. But in the last five years, an increasing number of private enterprises have shown great interest in Africa, and have traveled to the continent to investigate investment opportunities. These private enterprises, though smaller in size than large SOEs, have made Sino-African cooperation more vibrant.
The sectors of China's investment in Africa have also been more diverse. Five years ago, Chinese companies mainly invested in energy and infrastructure construction. But as many Chinese private enterprises coming to African countries to establish factories, they are investing in different sectors in Africa.
More importantly, the Chinese Government has also strengthened the financial support it offers to Chinese enterprises that have invested in Africa. Five years ago, domestic financial institutions mainly supported the business activities of large SOEs operating in Africa. But private enterprises have also recently begun working on suitable cooperation projects in Africa. After evaluating these projects, China Development Bank, Export-Import Bank of China and the China-Africa Development Fund would also provide them with financial support. The China-Africa Development Fund can now even invest in some projects. This is a relatively new phenomenon.
ChinAfrica: As you have said, some Chinese financial institutions have expanded their business in Africa to support Chinese and African companies. What opportunities and challenges do they face now in Africa?
Cheng Zhigang: In fact, many large state-owned commercial banks, such as China Construction Bank, Industrial and Commercial Bank of China (ICBC) and Bank of China, established branches in African countries, including Kenya and South Africa, a decade ago. But, they failed to expand into local markets at the beginning, and provided only limited support to enterprises. After six or seven years of development, they accumulated more experience and began to cooperate with local banks. For instance, in 2007, ICBC acquired a 20-percent stake in South Africa's Standard Bank.
At the same time, Chinese financial institutions should promote local currency settlements. After the international financial crisis of 2008, the U.S. dollar depreciated greatly, leading to great losses in settlements in China-Africa trade. Some small enterprises suffered greatly. In order to avoid the risks caused by changing exchange rates, some Chinese banks now cooperate with African local banks to promote local currency settlements.
Actually, in about 10 African countries, with South Africa and Kenya among them, Chinese yuan can be used to settle trades. This is great progress. In some African countries, customers can even use China Unionpay cards to buy things. Besides these state-owned banks, some Chinese joint stock banks also have plans to expand into Africa to provide financial services to Chinese enterprises investing in Africa.
ChinAfrica: While China-Africa trade in goods has grown rapidly, trade in services has lagged behind. How do you expect the development of this sector to advance in the coming years?
Cheng Zhigang: I think that trade in services between China and African countries will certainly continue to grow in the future. In fact, it has been developing at a rapid pace in the last few years. Financial institutions, for instance, are actually classified as a service industry as they provide services for enterprises. At the same time, the involvement of financial institutions has also greatly promoted the development of other enterprises in service industries.
Service is involved in many sectors. For example, Chinese enterprises investing in Africa should improve their sense of service. They should provide good after-sales service to win local customers' confidence.
At the same time, African countries are working hard to improve their service facilities. So, I think this is a good opportunity for Chinese service enterprises to expand into Africa's service market. Some African countries, such as South Africa, Tunisia and Ghana, are now cooperating with Chinese organizations to conduct urban planning, develop supportive urban services and provide digital services. I think that the potential of Sino-African trade in services will be huge in the next 10 to 20 years.
ChinAfrica: The CIFTS mainly encourages trade in services. How is this year's CIFTS different from the first fair in 2012?
Cheng Zhigang: I believe the CIFTS this year has new service patterns and explores the service awareness and strategies that enterprises need. More importantly, I think the CIFTS this year is more realistic and project-based.
In last year's fair, many participating enterprises mainly wanted to find out what the fair could do for them. Though some enterprises signed contracts at the fair, there were not many of them. But this year, many more such contracts will be signed.
In addition, the number of participating enterprises increases greatly. I believe the CIFTS will be better in the coming years.
ChinAfrica: The China-Africa Industrial Forum (CAIF) provides consulting services for Chinese enterprises investing in Africa. What specific work has it done to help Chinese enterprises expand to Africa in recent years?
Cheng Zhigang: In the beginning, we mainly served SOEs. But in recent years, we changed our approach and now serve more private enterprises by helping them expand their business in Africa.
In order to provide better services, we established the African Legal Affairs Center, the first organization of its kind in China, improved our information service center database and set up an evaluation center.
Nowadays, it is not very easy for China's small and micro-enterprises that are investing in Africa to obtain financial supports. Owing to their small and unstable investments, it is difficult for them to obtain financial support from large financial institutions. So we also work with some joint-stock and commercial banks getting them to provide funding to small and micro-enterprises in Africa.
Actually, bridge finance can also help small and micro-enterprises continue their funding chains. We recently expanded to work in this sector to help these enterprises obtain financial support.
ChinAfrica: Compared with China's investment in Africa, fewer African enterprises come to China to pursue investment opportunities. What sectors in China do you think are ripe for investment from African enterprises?
Cheng Zhigang: I think African enterprises can invest in China's industrial sector. Investment doesn't simply mean pursuing profits; by investing in China's industrial sector, African enterprises can learn from China's advanced experience, which it has accumulated over the more than 30 years of reform and opening up, and bring this experience back to Africa. Actually, in the early stages of China's reform, many Chinese enterprises also invested in developed countries in Europe and America and learned from their advanced experience.
In my opinion, China's shipbuilding industry is particularly suitable for African investment. Africa has long coastlines and its fishing industry has great potential, especially in deep-water fishing. Chinese enterprises in this sector have abundant experience and use advanced technology. I think competent African enterprises should invest in China's shipbuilding industry.
In addition, agriculture, including the processing of agricultural products, is another sector ready for African investment. Seafood processing and freezing technologies are a prime example of investment that could benefit Africa. As China has huge demand in this market, African enterprises can earn profits soon after they invest, and can also learn advanced technologies. (Source: ChinAfrica)