Tuesday, 11 June 2013 20:47
Africa Disappeared From Russia's Agenda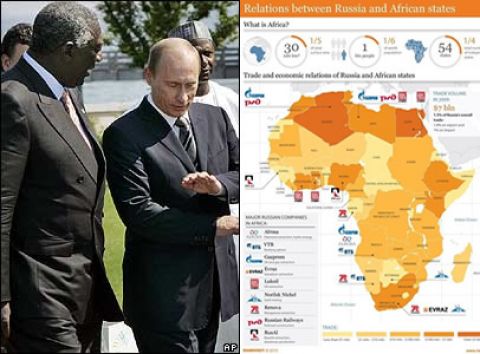 By Tom Wheeler*
JOHANNESBERG, South Africa, June 11, 2013 (SAIIA) - In June the South African Institute of International Affairs hosted a workshop on Russia's relations with Africa, and specifically with South Africa. The purpose was to hear and comment on the research findings to date. Emphasis was placed on the history of relations with Africa in Soviet times as compared to the situation today.
It was commonly agreed that Soviet involvement in Africa before 1991 was motivated by the Cold War and was an attempt to recruit the leaders of newly independent African countries to the socialist ideology of the Soviet Communist Party. The success rate was uneven.
Since the collapse of the USSR in 1991, Russia's interests have been re-focused, with much more emphasis on European countries, the European Union, NATO, China, and Russia's near neighbors, especially the former Soviet republics that became independent in 1991.
The result has been that Africa has largely disappeared from Russia's agenda, ranking higher only than Latin America. There have been visits to a number of African states by Russian leaders, such as that by president Putin to South Africa in 2006, and by his successor, Dmitry Medvedev, to Egypt, Namibia, Nigeria and Angola in 2008. Last month Putin attended the BRICS summit in Durban.
These visits have resulted in the signature of an impressive list of bilateral agreements between Russia and several African countries, such as Nigeria and South Africa.
What is more difficult to determine is whether there has been any attempt to implement these agreements. With few exceptions, the binational commissions that were set up, rarely, if ever, meet. Even a visit in 1998 by Thabo Mbeki, then deputy president, has had little practical effect on South Africa's relations with Russia in recent years.
Russia's main interest lies with oil-producing countries, such as Angola and Nigeria, presumably to recruit them to a cartel that can be used to apply pressure on the major consumers of Russian and African oil and gas in Europe.
Russia's major exports are petroleum products and armaments. Africa has no need of the former, while Russia faces competition on the supply of arms from several other countries. Russia's abstention in the recent UN vote on the creation of a new international arms control convention was noted.
Russia can also supply nuclear power stations, but, except for Egypt, no African country has displayed interest or could afford the cost. Other contacts are mainly of commercial nature.
Several Russian mining firms are active in South Africa and have representative offices here. That said, it was recently announced that Evraz, the major shareholder in Highveld Steel and Vanadium, was to dispose of its shareholding and exit South Africa.
As countries that both have extensive mineral resources there is little scope for bilateral trade in that sphere between Russia and South Africa. Over the years there have been several attempts to cooperate in controlling the supply of minerals to the wider global market. The most recent has concerned platinum, but little progress seems to have been made.
The workshop was in agreement that Russian soft power is barely visible in Africa. In South Africa we have Russia Today on the satellite TV bouquet, but it rarely devotes any time to Africa. From time to time Russian ballet companies tour South Africa. Russia's official representation seems to maintain a low public profile and representatives are rarely visible in soft power contexts.
On the few occasions Russia features in the South African media, attention is focused on events that are portrayed as negative and are drawn from western news agency sources. On the other hand there is very little interest in, or coverage of, Africa in the Russian media.
The most substantive opportunities for co-operation may be in the multilateral environment, although in some respects we stand at opposite polls. In the case of nuclear weapons, South Africa voluntarily terminated its weapons program and joined the Nuclear Non-Proliferation Treaty. Russia, as with other recognized weapons states, has failed to eliminate its nuclear weapons stockpile.
With Brazil and India, our partners in the IBSA Forum, South Africa advocates reform of the UN Security Council. Russia, as a permanent member of the council, seeks to protect its veto power.
The most recent development in the multilateral environment has been South Africa's admission to the BRICS in 2011. The recent BRICS summit in Durban created the opportunity for bilateral consultations between our two presidents in advance of the summit. Agreements were signed, but it remains to be seen to what extent they are implemented and whether these lead to a strengthening of relations between Russia and South Africa.
* ** Tom Wheeler is a research associate at the South African Institute of International Affairs.