Friday, 29 March 2013 20:09
Ghanaian Expat Finds Adventure and Business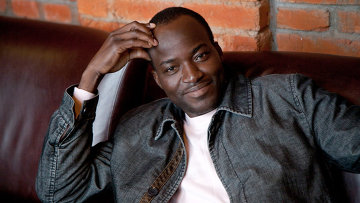 By Nathan Gray
MOSCOW, March 29, 2013 (TMN) - Growing up in Ghana, Jake Findi had a very good education, but he found it a bit constraining. "I lived in school - I went to boarding school, high school, the polytechnic, then university," the retail entrepreneur told The Moscow News. "Just education: studying, studying, studying. I'd never taken an adventure, traveled."
Studying away from home even as a child was difficult at times. Findi could go for as long as a year without seeing his parents. Still, looking back at the time now, he is grateful for the experience. "I think it was the best thing that my dad ever did for me," he said.
Upon graduation from university in 2005, Findi was ready for an adventure. The next year, having never left Ghana before, he moved to Moscow. "I wanted to explore different cultures, different traditions, how people relate to other people," he said.
A language barrier
Findi had graduated with a degree in marketing, but jobs in the field were difficult to find due to his minimal knowledge of Russian. Through contacts, he soon landed a job at a printing company, working his way up from office assistance to production of English-language materials in just a few months. Instability in the business took its toll, resulting in a layoff at the end of 2007. Findi found a new job with a fireplace manufacturer the next year, a company he played a key role in expanding.
"It's not about making money, but you also have to expand your business," he said. The company owner agreed with his advice, and within a couple of months the orders had increased, allowing new workers to be hired. Findi eventually became a partner in the firm, which sold to suppliers and developers.
"The small capital I had made from my salary I put into the business, so that when [the owner] saw that I was committed to the business, he made me a partner," he said. "The business was good." Unfortunately, it did not remain so for long - loss of customers and an unpaid 1 million-ruble order due to the 2008 financial crisis forced the company to shut down.
An eye for fashion
Out of work again in early 2010, Findi began thinking seriously of following yet another of his dreams: opening his own business. Here he looked to fill a gap in Russian business that he had noticed: a lack of thinking about the habits of potential customers.
"It's not just about the company, but what you are going to sell. What will people like to buy?" he said. "And I started to think, I have a lot of knowledge when it comes to fashion, I can create a lot of ideas, I like fashionable things. So the idea came, 'Why don't you create your own brand?'"
Later in 2010, he opened Jake and Jake, a store on Ulitsa Arbat selling his own brand of clothing, with designs veering toward an African flavor. The clothes were well-received, but he noticed that the designs weren't as popular as he would have liked. "The market was small, so I needed to shift a little bit from being African-oriented to being global," he said. "So then I just closed the store and I decided to create another business."
A good fit
The shutdown is not permanent, Findi said, just a "pause" for a new project: Fanada.ru, an online clothing and shoe store, where he again hopes to offer two things he finds lacking in Russian e-commerce. The first, again, is good customer service.
"I've studied Russian e-commerce, I've seen the trends - that people are more or less focused on making cash rather than taking good care of customers," he said. "I call competitors to [see] how they work, and many times I've seen that there's a problem."
The second is his unique selling point - an "online fitting room" app that will allow shoe customers to enter their sizes and determine whether the models they want will fit using a color-coding system.
Findi required an experienced developer to bring the idea to fruition. For this, he said, he could not be in a more ideal place. "Russia has a lot of talent, a lot of developers are right here," he said. "So I'm using Russian developers to develop my app instead of outsourcing it abroad."
Using LinkedIn to find and vet a series of Moscow-area developers, Findi landed on a company whose results, while still in progress, have been positive. He's looking to launch the app on the Fanada.ru site within months, making it the first company to offer this service in Moscow.
Belying the reputation
Despite Russia's reputation as not being the friendliest place for people of different races, Findi said he has never had a problem. "Nobody has ever attacked me on the street. I've been to several occasions and events, and I've never had that encounter," he said. "Whether we like it or not, we are living in a world full of inequality. Even in my country, somebody may not like a different [skin] color."
From his own perspective, it is the differences he sees and is experiencing that help to make his life fulfilling here. "I just like to face a different society, different people together," he said. And while he still describes himself as an "underdog," his language skills have improved. (This story was originally published by The Moscow News)