Friday, 15 February 2013 20:20
A Changing World Order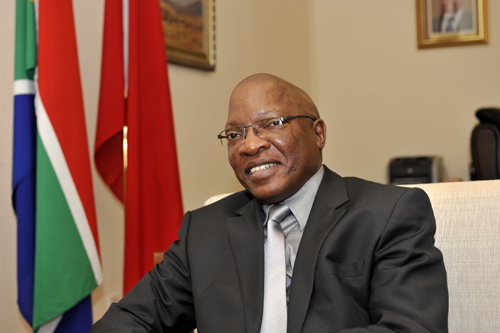 By Tang Qinghua
BEIJING, China, February 15, 2013 (ChinAfrica) - South Africa's membership in BRICS helps the group pave the way for a new global paradigm focusing on South-South relations 2013 is an important year for South Africa. The country will host the Fifth BRICS Summit in March and it also celebrates the 15th anniversary of the establishment of the diplomatic relations with China. On January 31, Bheki Langa, South African Ambassador to China, sat down with ChinAfrica Assistant Executive EditorTang Qinghua and shared his thoughts on the upcoming BRICS Summit and relations between China and South Africa.
ChinAfrica: What are your expectations of the Fifth BRICS Summit?
Bheki Langa: "BRICS and Africa - Partnership for Development, Integration and Industrialization" will be the theme of the Fifth BRICS Summit to be taking place in Durban in March. South Africa was admitted to the grouping of powerful emerging economies, which includes Brazil, Russia, India and China, at the third annual summit of the bloc's leaders in China in 2011. The fifth summit - taking place at Durban's International Convention Center from March 25 to 27 - would have four key focus areas: The promotion of African infrastructure development, the establishment of a BRICS-led Development Bank, a BRICS Think-Tank and a BRICS Business Council.
-- Unlocking Africa's potential
South Africa's accession to the BRICS grouping was in large part premised on the country's role as a financial and logistical gateway to Sub-Saharan Africa, and on the continent's huge economic potential. Africa is the fastest growing power after Asia and offers the highest returns on investments of any region. The African continent constitutes 60 percent of the world's unused arable agricultural land. In 2010, six of the world's fastest growing economies emanated from Africa, and Africa's output is expected to expand by 50 percent over the next four years. Economic growth is expected to expand by an average of 5.5 percent annually in the next five years.
-- Toward a more equitable global order
It was this potential, combined with the economic power of Brazil, Russia, India and China, that would enable the BRICS grouping to pave the way for "a new global pattern focusing on South-South relations ... overriding previous East-West and North-South constructs and divisions."
This was in line with the underlying principle for South Africa's partnership with BRICS, that of advancing the role of emerging economies in international relations, ultimately to help fashion a more equitable global political and financial architecture. With South Africa's unique history and independent foreign policy, we bring our own experience and perspective to the BRICS collaboration.
ChinAfrica: BRICS members suggested to form a BRICS development bank at their last summit, which is said to be a theme of this coming summit. What do you think of this suggestion and what role can this new bank play after it is established?
To build a BRICS Development Bank is not a new idea as it was talked about at the G20 Summit in Seoul in 2010. With a total population accounting for about 40 percent of the world's total, its total gross domestic product accounts for nearly 20 percent of the world's GDP and contributes half of the growth in global economy. There is a huge amount of savings in the BRICS countries, which is not fully used. So the idea started there, it's about how to use the huge amount of savings which are unused."
By such a Development Bank, the BRICS countries can work together to shape a new international monetary system.
As export-led economies, the BRICS countries feel the impact sharply each time global financial crises hit. Drawing on the successful experience of reform, it's necessary for us to set up such a bank for our common development according to our own conditions.
ChinAfrica: As the most developed economy on the African continent, what has been South Africa's involvement in BRICS since it became a full member of the group?
Since our admission to BRICS in 2011, South Africa has been a very active participant and contributor to all meetings and discussions within BRICS. We have now successfully integrated into the formation, including the various BRICS Sub-Committees and Mechanisms and will continue to provide ideas and direction to future BRICS-related events.
BRICS is a platform for dialogue and cooperation amongst countries that represent 43 percent of the world's population, for the promotion of peace, security and development in a multi-polar, inter-dependent and increasingly complex, globalizing world. Coming, as we do, from Asia, Africa, Europe and Latin America, the transcontinental dimension of our interaction adds to its value and significance.
I have been following with interest a vibrant public discourse on South Africa's membership of BRICS, linked specifically to Goldman Sachs and the writings of its Asset Management Global Chairman, Mr. Jim O'Neill. Mr. O'Neill recently publicized an article entitled "South Africa's BRICS Score: Not All Doom and Gloom." He concluded this debate by saying, "South Africa could more than justify its presence [in BRICS] if it helped Africa to fulfill its remarkable potential."
He further said, "South Africa scored well for the cost of setting up business and for most of macroeconomic stability variables and also does reasonably well in some areas of governance and schooling. If South Africa could also help to lead the rest of the continent to reach its own standards where these are high, Africa would be on an accelerated path to greater economic might. By exploring cross-border expansion in trade and infrastructure, as well as improvements in domestic productivity, South Africa will have more than justified its role as a member of BRICS."
I can assure Mr. O'Neill that the objective to fulfill Africa's remarkable potential is at the forefront of our political and economic diplomacy.
ChinAfrica: There have been suggestions that because South Africa is the smallest of the BRICS nations in terms of population and GDP, it therefore may not deserve a place in this club of leading developing nations. How do you respond to this suggestion?
The rationale for South Africa's approach was in consideration of a matter of crucial importance to BRICS member states, namely the role of emerging economies in advancing the restructuring of the global political, economic and financial architecture into one that is more equitable, balanced and rests on the important pillar of multilateralism.
Those who constantly refer to this particular issue completely miss the point, namely, that BRICS is not all about size and numbers, but rather about ideas and ideology. BRICS is a response to the current global political and financial architecture which are dominated by certain players. South Africa has a proven record of contributing to the discourse of multilateralism and advocating for the rights of emerging economies.
Our approach to intensifying our relations with emerging powers and other countries of the South is, of course, through active and strong bilateral engagement. In addition, however, we also see the NAM and the G77 as important for South-South interaction, especially within the framework of the United Nations.
South Africa and BRICS member states already collaborated and will continue to collaborate closely in various international organizations and formations such as the United Nations, the G20 and the IBSA Dialogue Forum.
Among developing countries we are still the biggest investor on the African continent. This means that, although our economy is small in relation to other BRICS members, we have attributes that have positioned us well in the world and which will allow us to bring special insight into the work of BRICS.
ChinAfrica: As a member of BRICS, how can South Africa, promote its own and other African countries' economic development and represent the interests of the African continent?
Our country, as a member of the Brazil, Russia, India, China and South Africa bloc (BRICS), is playing an important role toward the shifting and distribution of power internationally. This shift is expected to give rise to a multi-polar world order.
Our interaction with fellow BRICS states is premised on three levels of engagement: firstly, national, where we advance our national interests; secondly, regional, where we promote regional integration and interaction with specific emphasis on the African Union mandate given to President Jacob Zuma to promote infrastructure development across the continent; and, thirdly, on a global level, where we advocate for a more inclusive global governance system.
The BRICS bloc represents 43 percent of the world's population, approximately one fifth of global GDP, estimated at $13.7 trillion (R120 trillion), as well as combined foreign reserves estimated at $4.4 trillion. Last year the BRICS countries accounted for approximately 11 percent of global annual foreign direct investment flows ($465 billion) and 17 percent of world trade.
South Africa's membership of BRICS contributes to further leveraging economic opportunities for our own development agenda as well as that of the continent. We want to ensure that our membership of BRICS also benefits people on the entire continent.
The Fifth BRICS Summit will constitute another high-level opportunity to further support key priority areas of the African agenda.
Africa is emerging as one of the fastest growing markets with the potential of future growth due to the demographic basis underpinning this growth and the new consumer market that is emerging. The BRICS countries now constitute the largest trading partners of Africa and the largest new investors. The BRICS investment portfolio in Africa is very encouraging and promising.
ChinAfrica: China became South Africa's top trading partner in 2009. How will membership of BRICS increase cooperation between the two countries?
China and South Africa has established a strategic partnership of equality, mutual benefit and common development. The two countries' enhanced cooperation under the BRICS framework will allow the BRICS member states to play more important roles in the world's economic recovery and push the international order to develop toward a more balanced direction.
In addressing the challenges and accelerating development, China and South Africa may enhance their cooperation under BRICS framework in the following areas:
1. Promote development. As South Africa is China's second largest trading partner in Africa, the two countries' pursuit for mutual development will open up a broader space for the world to develop to a higher level and in greater scope. Whilst India, South Africa and Brazil all have their challenge of poverty alleviation, China still has 150 million people needing to get out of poverty. All the countries regard development as the basic means to improve their peoples' livelihood. Undoubtedly, development and cooperation are the primary political priorities of these countries. South Africa's actual direct investment in China amounts up to $600 million in total, which could be utilized in the poverty reduction projects.
China and South Africa can also carry out further cooperation in peace and development. Leveraging the BRICS platform, the two countries can promote peace in Africa together.
2. Reform the international financial system. Together with South Africa and under the BRICS framework, China may actively promote reforms of the international monetary system, financial institutions and financial regulatory mechanisms. In promoting the international monetary system reform, efforts should be made to improve the international monetary system by promoting diversification and rationalization on the one hand, and, on the other, pushing the gradual adoption of their own currencies and giving up the U.S. dollar in trade settlements among BRIC countries, in which China and South Africa could make concerted efforts.
In the international financial institution reform, transparent elections of the World Bank and International Monetary Fund (IMF) leaders should be encouraged. In addition to the ultimate realization of equal voting rights for both the developed and developing countries, the IMF should develop a fair and rational procedure concerning the qualification and election of the president and a scientific quota calculation approach with a dynamic readjustment mechanism. The voting rules should be reformed to avoid any one country having the veto power with one vote, so as to make the IMF governance and decision-making better aligned with the requirements of the new global economic reality and order.
3. Build a new international order. China, South Africa and other BRICS countries will make more concerted efforts in promoting multilateralism and democracy in international relations, safeguarding the legitimate rights and interests of the developing countries and addressing the global economic imbalance issue through speeding up economic development in developing countries.
ChinAfrica: Are there any specific industries that you believe will benefit from cooperation between China and South Africa?
South Africa and China signed the Comprehensive Strategic Partnership Agreement (CSPA) in August 2010, prioritizing the improvement of the structure of trade between the two countries, in particular by working toward a more balanced trade profile and encouraging trade in manufactured value-added products.
China is also committed to encouraging its enterprises to increase investment in South Africa's manufacturing industry and promote the creation of value-added activities in close proximity to the source of raw materials.
ChinAfrica: What role do China and South Africa play in each other's development plans? Is South Africa taking steps to scale up its relationship with China and if so what are these steps?
The bilateral relationship between the two countries is grounded in the Comprehensive Strategic Partnership Agreement (CSPA) signed by our respective leaders in August 2010, and which continues to guide our interaction between South Africa and China. As partners, the two countries can learn from each other on the best models to address the issue of socio-economic development in our respective countries.
In terms of bilateral trade China has become South Africa's largest trade partner while both sides are looking at ways of encouraging further trade, but concentrating on the quality of trade rather than the quantity. We enjoy cooperation in numerous fields and as a reflection of the growing ties between the two countries, our leaders in July 2012 proposed the establishment of Joint Work Group to coordinate the implementation of various bilateral projects.
ChinAfrica: Xavier Carim, Deputy Director General at the SA Department of Trade and Industry, has said that South Africa wants to align its interests to support the integration agenda in Africa, not just to focus on access to resources. What does this mean to you?
Trade between our countries is skewed in favor of China and so South Africa is running a trade deficit with China. Through discussions with the Chinese Ministry of Commerce, South Africa and China have agreed to promote value-added exports from South Africa to China in order to lower the trade deficit and diversify trade away from primary commodities to include more manufactured goods.
In this light, South Africa will certainly be measuring future successes in trade relations by evaluating the reduction in the trade deficit and the increases in value-added exports from South Africa to China. The Department of Trade and Industry of South Africa, in partnership with the Chinese Ministry of Commerce also jointly host what is known as the "South Africa Expos in China," the last of which was held last year in both Beijing and Shanghai. The purpose of the Expos is to expose Chinese buyers to a different range of South African exporters in various fields, including agro-processing, manufacturing, engineering, jewelry and many others. We are confident that as these Expos become widely known, the opportunity for sustainable partnerships between the business communities of the two countries will be expanded, thus leading to a more equal trading relationship.
ChinAfrica: This year marks the 15th anniversary of the establishment of diplomatic relations between China and South Africa. What do you think are the main reasons behind the sound and active diplomatic relations between the two countries, and what improvements would you like to see in this relationship?
2013 marks the 15th anniversary of diplomatic relations between China and South Africa. It is an important milestone for the rapidly expanding relationship between the two countries. The 15th Anniversary offers us an opportunity to reflect on the evolution of South Africa-China relations and consider new ideas and initiatives to strengthen, enrich and deepen our future engagement.
And both countries are looking to the future. It's a future in which economic challenges abound. There's plenty of scope for mutual benefit beyond the resources trade. By 2020 China's middle class will number 670 million – a huge group of newly prosperous people keen to travel and study overseas. This is a great opportunity for South Africa, but also for the people of both countries, to build closer relationships and a better understanding of each other's place in the world. After all, it's not all about economics and trade. Cultural and people-to-people links will continue to be the foundation of the South Africa-China relationship.
South Africa hopes to build on the achievements of the past 15 years to set up a future of even closer cooperation and understanding between South Africa and China and their people.
Fast Facts:
How the South Africa-China Relationship Has Grown in 15 years
Trade:
-- Since 2008 economic and trade relations between our two countries has grown significantly and we are very encouraged to see this development. In 2011, the bilateral trade volume between South Africa and China has reached $45,430 billion, increasing 77.1 percent year on year. Recent years have seen a sustainable growth concerning bilateral economic and trade cooperation, both in volume and areas.
-- Furthermore, the bilateral investment relationship has also developed from a low base to approximately $7 billion in 2010. It is the endeavor of the South African Government to further boost the trade and investment relationship between the two countries through facilitation of more opportunities for cooperation.
-- China overtook the United States as South Africa's biggest export destination in the first half of 2009. South African trade and industry department data also showed China replaced Germany as its largest country trade partner in October 2009.
Tourism:
China has become South Africa's fourth largest international source market, right ahead of France and the Netherlands, and it has also become the largest source market in Asia. The number of Chinese tourists reached 96,747 from January to September 2012, 63.5 percent increase compared to the same period in 2011.