Thursday, 20 December 2012 14:51
Russia: Time to Invest in Africa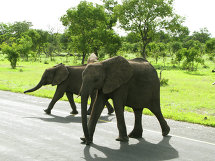 By Tai Adelaja

MOSCOW, December 20, 2012 (MN) - Suddenly, a new scramble for Africa is gaining momentum. The saving grace this time around is that the BRICS states (Brazil, Russia, India, China and since 2011, South Africa) are leading the charge.
The Chinese have long dug in their heels, spending billions of dollars to boost economies and acquire desperately-needed natural resources. Just last July, Chinese President Hu Jintao promised $20 billion in investments to various African countries over the next three years.
India-Africa bilateral trade could reach $70 billion by 2015, according to Shri Anand Sharma, India's Minister for Commerce & Industry.
Brazil, which has more people of African descent than any other country outside of the African continent itself, has intensified its efforts to forge closer relations with Africa recently, competing with giants like China and India. Trade flows between Brazil and Africa grew to $27.6 billion in 2011 from a mere $4.3 billion in 2002.
But where does resource-rich Russia stand in the scheme of things?
Happily, the signs are that post-Soviet Russia is no longer content to be an outsider on the Black continent. Russian President Vladimir Putin once claimed that Russia has a special affinity with African countries "because of Soviet-era ties and common development trajectories."
Such trajectories explain why in many respects, Russia's forays into Africa are similar to the ambitions of other BRICS peers, like China , whose trade with the continent reached $166.3 billion in 2011, according to Chinese statistics.
The more the West tries to sideline Russia in the global scheme of things, the more fervently the country intensifies efforts to rediscover Africa. Russian companies led by Gazprom, Rusal, Nornikel, Alrosa and Renova have invested billions in sub-Saharan Africa. Others, like metal group Evraz and oil giant Lukoil are also active, so are a number of banks, including Vneshtorgbank, which opened the first Angolan bank to have predominantly foreign ownership.
Russia's state-controlled arms trader Rosoboronexport announced this month that it is discussing joint projects with a number of countries, including South Africa, to do research and develop new military products. In particular, Rosoboronexport sees huge potential in the construction of radar systems and missile engines. The news came after U.S. lawmakers voted in July to stop the Pentagon from doing business with the state-controlled arms exporter, which they said has armed Syria's Bashar Assad's regime.
It is noteworthy that despite the effects of the recent crisis on bilateral economic relations, two-way trade has rebounded between Russia and Africa. Standard Bank of South Africa, for instance, invested in the Russian investment bank Troika Dialog, in a deal the bank said is designed "to encourage more Russian companies to become active in countries where Standard operates, especially those on the African continent."
Other successful African companies have followed a "me-too" strategy of staying tightly focused on growing bilateral trade with Russia. Earlier in December, about 29 small and mid-range South African businesses came to Moscow to make sales pitches and market their products to businesses in Russia.
Lately, however, Russia has not only zoomed in on the continent's natural resources, but is also making efforts to capitalize on Africa's nascent financial sector. Russian companies like the Renaissance Group have made in-roads into the continent's financial sector, prompted in part by the impressive performance of South Africa's financial markets, which is ranked 3rd in 2012 Global Competitiveness Report.
Renaissance said it is also considering building urban centers in Ghana, Nigeria , Senegal and Rwanda , in addition to the $5 billion center that the Russian firm is building from scratch outside the Kenyan capital of Nairobi .
For Russian companies heading to the African continent, this shift in emphasis can be a win-win situation. While major development challenges still persist in Russia – including inefficiency in the goods, labor and financial markets – the country stands to gain symbiotically from cooperation in areas where, coincidentally, nations such as South Africa shine.
Russia, for instance, boasts a large domestic market (seventh in global ratings) which can be leveraged to improve Russia's economic clout on the African continent. During his talks with former Russian President Dmitry Medvedev in March 2012, South African President Jacob Zuma expressed interest in co-operating with Russia on engineering, especially in training South Africans in Russia.
South Africa, which will host the BRICS Summit in March 2013, has urged both Russia and Brazil to become involved in realizing South Africa's new infrastructure plan, which includes geographically focused infrastructure projects cutting across rail, road, water, and ports.
Africa's tourism sector is also focusing specifically on attracting visitors from Russia and other BRIC nations as traditional tourism markets continue to suffer in the aftermath of the global economic crisis.
In the words of Marthinus van Schalkwyk, South Africa's Tourism Minister: "While Europe stagnates, we in the emerging-market economies are boosting global tourism flows and outbound spend. By 2015, the emerging economies are expected to account for 40 percent of all global departures." It goes without saying that there is much opportunity in this for Russian tour operators. The views expressed here are the author's own