Monday, 06 July 2009 23:54
Gazprom To Start $500mln Gas-pipe Construction in Nigeria in 2010
By Kester Kenn Klomegah
MOSCOW, June 25 (Buziness Africa) - Gazprom and the Nigerian National Petroleum Corporation (NNPC) will team up to build a $400-500 million gas pipeline in Nigeria in 2010, the general director of Gazprom International said on Thursday.
"We'll participate in the construction of the first section of the pipeline from the southwestern areas of Nigeria to the north. This is about 360 km [224 miles] of gas pipeline," Boris Ivanov said.
Ivanov said that if a trans-African gas pipeline were built, the Nigerian pipe would be its first section.
Gazprom and the NNPC are setting up a joint venture on a parity basis with a charter capital of $7.5 million and total investment exceeding $2 billion, Ivanov said, adding that the Russian energy giant had started talks on cooperation with the Nigerian company several years ago.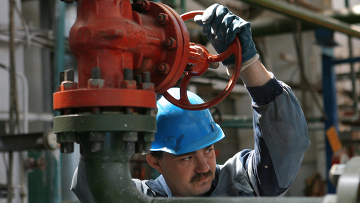 "The conclusion of this work is the establishment of a joint venture on a parity basis, which is extremely important," Ivanov said.
The JV will involve joint projects in the field of oil and gas production and the construction of gas distribution networks, refining facilities, gas transportation infrastructure and power facilities, Ivanov said.
"The company has virtually started work as of today," Ivanov said, adding that Nigeria had huge natural gas reserves.
"The document envisions joint projects to prospect, produce and transport hydrocarbons, to design a system to collect and process associated gas, and to build power plants in Nigeria," the company said. "To implement these goals, a Russian-Nigerian joint venture is planned to be set up."
It was earlier reported that Gazprom and NNPC had signed an agreement on the joint construction of an integrated network of gas pipelines in the west-African country.
Nigeria is one of the largest hydrocarbon producers in Africa, with proven reserves of over 9 billion tons of oil equivalent. It produced 130 mln tons in 2007.
Around 40% of associated gas (24.1 bln cu m a year) produced in the country is flared. The Nigerian government plans to introduce a system of fines for flaring associated gas starting in 2009.
Nigeria's proven reserves of natural gas are 5.2 trillion cu m.
Russian President Dmitry Medvedev who visited Nigeria on Wednesday and held talks with his Nigerian counterpart, said that Russia would invest billions of U.S. dollars in Nigeria's energy sector.
"If we work together and implement our plans that are laid out in the documents signed by us, the volume of Russian investment in the Nigerian energy sector will measure billions of U.S. dollars. This applies to very large projects," Medvedev said.
The country is the second stop on Medvedev's African tour, following a trip to Egypt.
Sergei Prikhodko said the visit, the first to Nigeria by a Russian head of state, focused on "giving a new impulse to deepening trade and economic cooperation, which is currently well below its potential with Nigeria."
Russia is Nigeria's tenth largest trade partner, with trade of around $300 million per year.
The two countries signed deals on capital investment protection, extradition, and nuclear power. The nuclear deal will allow Russia to take part in tenders for the construction of nuclear reactors in Nigeria.
Nigeria, which has recoverable uranium reserves, plans to build its first nuclear power plant in 2017, with generation capacity of between 1-4 GW.
Taking into account Nigeria's membership of the Organization of the Petroleum Exporting Countries (OPEC), the two presidents will also discuss the global energy security and international cooperation to overcome the global economic crisis, Prikhodko said.
Founding papers have been drafted to establish a joint venture between Russian energy giant Gazprom and the Nigerian National Petroleum Corporation, NNPC.
Vladimir Ilyanin, managing director at Gazprom Nigeria, said earlier the Russian gas monopoly could invest some $2.5 billion in the joint venture.
Nigeria is rich in natural resources, including tin, columbite, iron ore and coal. It has 35 billion barrels of explored oil reserves and 4.1 trillion cubic meters of natural gas. The country is ranked among the world's top 10 crude exporters, and started exporting liquefied natural gas (LNG) in 1999. (END/2009)