Sunday, 05 August 2012 12:49
Africa: Sustainable Growth Through Agribusiness, Agro-Industries and Economic Diversification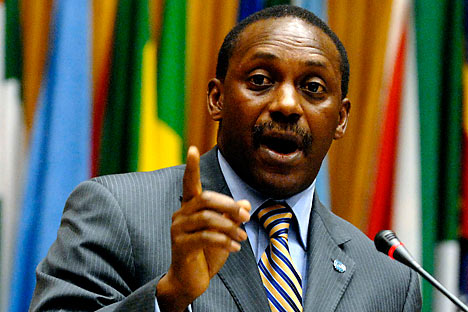 By Anthony Kamara, Jnr
FREETOWN, Sierra Leone, August 05, 2012 (Concord Times) - The Director General of the United Nations Industrial Development Organization (UNIDO), Kandeh Yumkella, has said that Africa's road to prosperity hinges on three key factors: agribusiness, agro-industries and economic diversification.
He made the comments in a keynote address delivered to African finance ministers and central bank governors including representatives of international development organizations and financial institutions attending the Africa Caucus Meeting in Kinshasa, DR Congo.
The Africa Caucus Meeting was formed in 2002 following the Monterrey Convention in Mexico. It is made up of African member countries of the World Bank and the International Monetary Fund, and focuses on issues and policies related to economic change and development in Africa.
"Agriculture is the most important sector of the African economy and will have to be its driving engine out of poverty," noted Yumkella. However, he mentioned that for sustainable agricultural productivity to be achieved, the continent needs to follow the recommendations put forward by the Comprehensive African Agricultural Development Program (CAADP).
Rather than follow the current trend of agricultural production growth that stems from increases in land area under exploitation, the aim should be increases in efficiency fuelled by the adoption of best agricultural practices, improved infrastructure (irrigation, energy, and mechanization), value adding processing and linkages to growth market," continued Yumkella.
Meeting such goals, he said, will only be possible when farming and agro-industries undergo profound structural transformation; one that requires the conversion of agricultural raw materials into industrial products and the capacity of African entrepreneurs to participate and compete in global, regional and local value chains.
Citing demographics as one of the challenges the continent faces in addition to globalization, food, fuel and financial crises, Yumkella noted that generating employment opportunities for its young people would require Africa to embrace economic diversification. Improving agricultural productivity goes hand in hand with employment-generating industrial structural change.
Speaking about globalization, he noted that though it affects all of us, it does not bring the same degree of benefits to all. "The ICT revolution has turned our world into a real village, where the so called social media is putting everyone in touch with everyone else in ways that no government can control. From the Middle East to Madagascar, angry young people have taken to the streets to protest against unemployment and in the process, bringing down long established regimes," he alluded.
With the youngest population in the world comprising of over 60 percent of the population under age 30 and nearly 200 million people between the ages of 15 and 24, generating employment in Africa must be a top priority, he said.
"If China is to continue on a dynamic growth path, it will need to enter new industries and relocate its labour intensive industries to low-income countries. Approximately 85 million workers in China are employed in the labor-intensive sectors of manufacturing compared with around 8 to 10 million in Africa.
The reallocation of these Chinese workers to more sophisticated, higher value added products will open up new doors for lower-income countries which have an abundant labour supply to fill the gap.
Transferring 5 million of those 85 million industrial jobs would boost employment opportunities on the African continent by 50%. Africa currently only accounts for approximately 1 percent of global manufacturing and is losing ground in labor-intensive manufacturing, the first step that needs to be taken on the path towards industrial development," underscored Yumkella.
Calling on all to be "increasingly conscious of our environmental footprint" and to work towards the greening of "Africa's economic and industrial growth processes," he said it is necessary to safeguard against the continent's vulnerability to climate change and climate variability. This will "ensure the efficient use of scarce resources, water and energy to protect efforts made towards job creation from the impact of climate change."
Emerging industrial enterprises in Africa must adopt sound business strategies. "Reduce, Recycle and Reuse," he challenged his African community. "They must maximize the efficiency with which they use their energy and raw materials, adopting cleaner production, pollution prevention, green productivity or similar approaches.
Enterprises must also maximize the recycling and reuse of the remaining wastes they generate; increased efficiency will not eliminate all wastage. In some cases, enterprises can recycle and reuse their wastes themselves, but often it will be others who recycle and/or reuse them."
As co-chair of the UN Secretary General's Sustainable Energy for All (SE4All) initiative, DG Yumkella was instrumental in raising $50 billion to achieve the three complimentary goals of energy access, doubling energy efficiency and increasing the share of renewable energy through his advocacy work around the world with governments, businesses, multilateral development banks, international and civil societies needed to catalyze action in support of the initiative.
Yumkella also called on Africa's "primary caretakers of the finances" of their respective countries and governments to take decisive action towards economic diversification, improvements in agricultural productivity and increased resources, water and energy efficiency and support the creation of 'decent' employment opportunities.
In an effort to ensure sustainable growth for Africa, which involves creating the conditions necessary for a green industrial revolution, social inclusiveness and due respect for the environment, Yumkella challenged governments to introduce mechanisms comprising of "appropriate incentives, disincentives and regulations to attract investments in the desired manufacturing areas and in much needed economic and physical infrastructure."
"Innovation and technological change," he continued,"aimed at generating new products, enhancing the efficiency of production processes and improving land yield is necessary. Appropriate skills and educational training programmes must be developed and fostered to match specific industry demands. Sound financial instruments need to be in place to fund these efforts."
Speaking to the chairman of the event on his thoughts on the keynote address, he said "Dr. Yumkella is in the class of transformational African leaders for the 21st century.
His passionate exemplary address inspired everyone here present and will play an important role as we continue our deliberations with hopes and opportunities for growth, wealth creation and jobs especially for our youthful population." Another official at the World Bank, who prefers to be anonymous, simply said "Outstanding! Africa should be proud of this brother of ours." (END)