Friday, 27 July 2012 08:37
Technology Center Seeks Foreign Partnership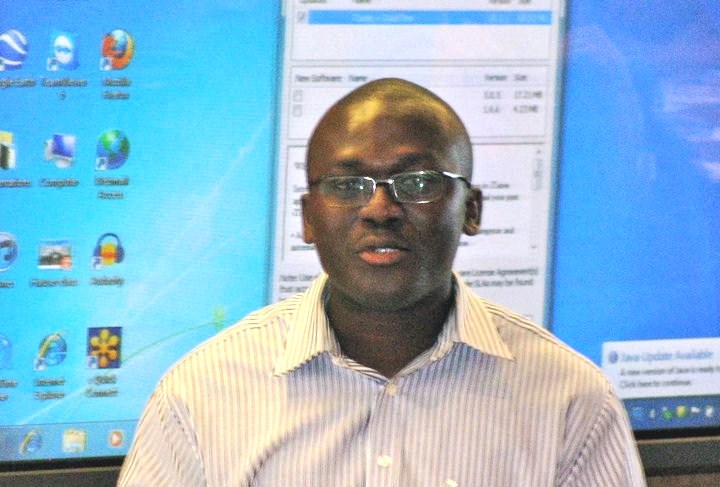 By Kester Kenn Klomegah
KUMASI, Ghana, July 27, 2012 (Buziness Africa) - Yaw Adu-Gyamfi is a co-founder and Executive Director at Kumasi Center for Lifelong Learning, a center for business and technology skills development, entrepreneurship, research, and policy advocacy based in Ghana's second largest city, Kumasi. The center has strategic partnership with First Atlantic Semiconductor and Microelectronics (Fasmicro) Limited, a leading microelectronics company in west Africa offering training for students, entrepreneurs and business leaders in embedded systems applications, innovation and research.
Fasmicro is Africa's only Design and Training partner of Altera (NASDAG market cap of $12billion) and Microchip (NASDAG cap of $7billion). Currently, work is on-going to establish a Microelectronic Training and Development Center at the Catholic University of Ghana and undertake a series of trainings in embedded systems applications at the Kwame Nkrumah University of Science and Technology both in Ghana.
Prior to founding Kumasi Center in February 2011, Adu-Gyamfi was General Manager at the Suame Magazine Industrial Development Organization (SMIDO), helping build the capacity of small-scale manufacturers, metal fabricators, and auto-mechanics in the acquisition of business and appropriate technology and environmental sustainability skills. He led more than 200 entrepreneurs in training between 2009-2010 at Suame Magazine Industrial Area which is the biggest industrial artisan cluster in Africa, south of the Sahara.
Adu-Gyamfi is also a Director at SpanAfrica, collaborating with some 20 grassroots organizations in Ghana, Uganda, Zambia and Kenya to build sustainable operations that deepen their impact towards achieving the Millennium Development Goals (MDG's). As a member of the Pan-African Competitiveness Forum, he is involved in promoting shared best practices for bottom up development across the continent. Thus, in 2010, he was one of three cluster facilitators that helped set up the Tamale Shea Cluster Initiative (TaSCi), to leverage resources and enhance the operations of local Shea producers in the northern regions of Ghana.
In 2011, Adu-Gyamfi began his 12-month management fellowship with Atlas Service Corps, from where he served as strategic communications fellow at CentroNia, a Washington, D.C and Maryland based organization serving 1,500 low income residents. He serves on the Board of Shea Yeleen International, a New York registered non-profit that promotes sustainable economic development and empowerment of women sheabutter producers in Africa. He recently joined the Board of Advisors of Landmark Development Initiative-Africa, a Washington D.C and Lagos based organization that leverages service as a strategy for African development and global leadership.
In addition, Yaw Adu-Gyamfi has seven years experience in profit and non-profit management and earned a degree in Information Communications Science and Technology from the Catholic University of Ghana, a postgraduate certificate in Mobiles for International Development from the Institute of Technology and Social Change-Washington, D.C and a master of arts degree in Governance and Sustainable Development from the University of Cape Coast, Ghana.
Here are interview excerpts:
Buziness Africa:First of all, how did you put this company together, what are the key driving factors that strongly influenced or inspired you to start it?
Yaw Adu-Gyamfi:The Kumasi Center for Lifelong Learning was founded with two colleagues with whom I had worked on business and technical skills training for small scale manufacturers and small business owners at Suame Magazine Industrial cluster - the cluster estimated to have a population of 200,000 people and 12,000 small businesses engaged in manufacturing, metal casting and fabrication, welding and, auto mechanics and sales of vehicle spare parts.
There is a gap in the informal and formal vocational and apprenticeship training in the areas of business, technology and entrepreneurial skills as well as mentoring for would-be entrepreneurs. As a result, Kumasi Center was founded to liaise with government, private sector and civil society institutions to fill the gap and promote entrepreneurship in tertiary institutions. Further, the Center facilitates skills training, business development, promotes entrepreneurship, undertakes research and policy advocacy on creating an enabling regulatory framework for small businesses and entrepreneurship to thrive.
BA:What were the initial problems that faced you and how you resolved them? What about start-up capital and the business climate and strategy for management?
YAG:The initial challenges had to do with finance, how to get the organization set up and also to get key partnerships to enhance programmes and operations. Concerning finance, the co-founders had to use personal resources as start-up capital which meant that we started small and could not roll out most programmes that would otherwise ensure that a lot more capacity of young entrepreneurs are built.
The environment for start-up funding is low in Ghana which makes it difficult for a lot more businesses to be financially resilient. As a strategy, Kumasi Center is registered as a company limited by guarantee to seek for grants, donations and also provides consultancy services and paid trainings. This helps to subsidize training and capacity building programmes which constitute about 80% of our operations. To avoid a state of dependency, our training infused with entrepreneurship are geared towards helping trainees build sustainable businesses after they past through our training modules.
BA:How are the focus, that's transfer of technology and innovation, handled? Do you also partner with some international companies, say in the United States, Germany etc? What are their specific contributions to your company's growth?
YAG:Kumasi Center has signed partnership agreement with First Atlantic Semiconductors and Microelectronics-Fasmicro Limited of Nigeria, the leading Microelectronics and embedded systems applications in west Africa with partners such as Altera and Microchip of the United States.
Hence, series of trainings are being rolled out to offer young university and polytechnic graduates the opportunity to build applications to tackle challenges in communications, health, sanitation, environment, security and so forth, setting up their companies in the process to enhance incomes and create jobs. Our company can now retain some earnings used in enhancing our programmes. The partnership through a training of trainers encourages technology and innovation transfer.
However, we are also looking for other partners to enhance training in vehicle auto-diagnostic and repair and improved technology in plumbing works to assist entrepreneurs match their skills to the changing construction industry. Additionally, a partner in the area of small business development and solutions will enhance entrepreneurship efforts to prevent over reliance on government to provide jobs.
BA:Have you had any negative experiences with the business environment? In your views, are there some government policies, rules and regulations that are negatively affecting innovation services such as yours in the country?
YAG:Even though, the business environment in Ghana has been improving, inconsistency in government policies, heavy involvement in the business sector and inadequate avenues for venture capital funds hamper business growth and makes our work at building capacity for effective business operations difficult. Government advocates for public private partnerships, but the modalities and opportunities inherent for service providers in which category Kumasi Center falls are not clear, whilst new government agencies are being set up to compete with the private sector, working against a policy to make the private sector the engine of growth of the Ghanaian economy thereby stifling innovation.
BA:What would you recommend that the government should do in order to support and promote technology among youths? What are your visions for the future, growth and development, for your company?
YAG:The Ghanaian government, as a strategy to position the private sector as the engine of growth, should create the enabling environment for government assisted and private sector led venture capital funds to thrive. This will help advance badly needed capital to entrepreneurs to lead their start-ups into strong brands creating jobs and wealth in the process.
Consistency in policy and continuation of laudable government initiated projects aimed at creating avenues for youth empowerment and entrepreneurship development are encouraged as a means of continuity in good governance. The vision of Kumasi Center is to create an enabling environment for Ghanaian youth to continuously innovate, create jobs and wealth through skills development and a commitment to life-long learning. To this end, we are open to partnerships that will help build the capacity of small businesses, entrench innovation and technology transfer and provide critical funding and provision of tools and equipment for budding entrepreneurs to set up their own businesses. **Kumasi Center for Lifelong Learning: www.kumasicenter.org (END)