Monday, 23 July 2012 14:34
Africa: The Caine Prize - Is There Such a Thing As 'African Writing'?
By Nikita Bernardi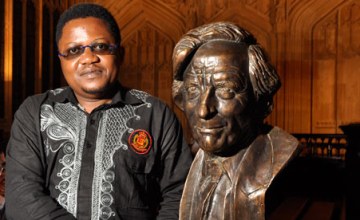 LONDON, July 23, 2012 (TAP) - This year's Caine Prize highlights the need to question the notion of 'African writing' if stereotypes of the continent are to be challenged. On July 2, Rotimi Babatunde of Nigeria was declared the winner of this year's Caine Prize for African Writing. His story, Bombay's Republic, tells of a Nigerian soldier fighting for the British Empire during World War II. Colour Sergeant Bombay witnesses much brutality, and what started out as pride in fighting for "his" empire ends with complete disillusionment. On his return to Nigeria, he declares his own personal independence.
Bombay's Republic is brilliantly written, laced with humorous but dark descriptions of Bombay's experience in Burma and apparently surprising encounters with racism. But Babatunde also gives us a truly new take on the usual African war veteran who, typically in stories, returns home only to discover nationalism and fights for his country's independence. Each story on the shortlist this year deserves its own analysis and praise, and indeed a plethora of blogs has done just this. Perhaps more interesting though is the concept of the prize itself.
The Caine Prize rules explain that "'An African writer' is taken to mean someone who was born in Africa, or who is a national of an African country, or whose parents are African". It wasn't rules and regulations on the mind of an audience member at a recent event, however, who asked the five shortlisted authors: "What does it mean to you to be an African writer?" Their displeasure at hearing the question was telling.
"I will happily answer that question once someone asks a French writer what it means to him to be considered a European writer", began Stanley Kenani, author of Love on Trial, a short story about homosexuality and homophobia in Malawi. Kenani continued by explaining that, as an accountant by day and writer by night, he does not think about what is expected of him when he is writing, but rather waits for "the voice" to come to him and then writes it down.
Billy Kahora of Kenya, nominated for his story Urban Zoning, responded by saying that in order for him to answer the question he needs to be given a definition of 'African'. This was seconded by Melissa Myambo, author of The Departure Lounge, who said that this was her least favourite question to answer. Myambo referred to an interview she did with the BBC World Service in which the exact same question was asked, which she answered indirectly saying: "first of all I must become a writer - I was born in Zimbabwe so obviously I write about Zimbabwe".
Seemingly, the reason the writers were so annoyed by the question was that it perhaps implied "African writing" was somehow a singular genre of its own, as separate from crime, fantasy, or romance. It is arguably difficult to blame those who assume there is a certain tone to works from the African continent. For so long Chinua Achebe has been held as the standard of African writing and, through the Heinemann African Writers Series of which Achebe was the founding editor, internationally-published works from across Africa have tended to be in line with Achebe's Things Fall Apart.
Despite the fact the series ran out of steam in the late 1980s, the works it made famous have continued to influence the accepted view on style and plot expected from African writers. Indeed, when Penguin tried to revive the series in 2010, not one of the six novels they chose to publish had been written within the last 15 years. Rather than picking newer works that might be able to offer insights into a more contemporary Africa, they opted to look back, and the series' comeback was short-lived.
Moving away from African stereotypes
"African" writing is only really considered a separate category outside Africa. The Caine Prize's criteria for nomination specify that the writer must be 'African' but puts no limits on genre. In fact, so long as the writer is African, the story can be about anything and does not even have to be based in Africa - a large part of Babatunde's winning story is based in the Burmese jungle with Japanese enemies.
The chair of this year's prize, Bernardine Evaristo, said the judges were "looking for stories about Africa that enlarge our concept of the continent beyond the familiar images that dominate the media: War-torn Africa, Starving Africa, Corrupt Africa - in short, The Tragic Continent".
This year's shortlist managed that. They spoke to complex themes that transcend reductive and stereotypical images of Africa and, to an extent, four of the five shortlisted entries could easily have been about people elsewhere on the globe. Meanwhile, in the fifth - Kenani's story of homosexuality and anti-homosexuality in a specifically Malawian context - the homophobia on which it casts aspersion is hardly confined to Africa.
There is a temptation to describe this year's shortlist as particularly "un-African", that is, in the Western, exotic sense of the word. Gone are the tales of child soldiers and drunken simpletons which unfortunately characterised last year's shortlist, stories which would undoubtedly make Binyavanga Wainaina, a former winner of the prize and author of the satirical essay How to Write about Africa, roll his eyes at the picture they were portraying. Incidentally, when Wainaina recently lamented the negative African stereotype on the BBC and Guardian - two platforms with far greater readership than his Kwani? Magazine - the comments in response to his satire were striking in the way they inadvertently reinforced Wainaina's point. One reader, for example, wrote: "Understandably an African writer is going to look at the continent's achievements. However the simple fact is that millions would die of starvation and countries dissolve into chaos if the West pulled out." This is exactly the kind of Tragic Continent vision that Evaristo was trying to avoid with this year's prize.
African literature flourishes
In Bombay's Republic, Babatunde pays tribute to the great Achebe. He mirrors an episode in Things Fall Apart in which a white man is killed by a black man in newly colonised Nigeria with a matching event but relocated to the Burmese jungle at the onset of independence. In Things Fall Apart, Okonkwo ends up killing himself; in Bombay's Republic, to his own shock, Bombay receives a letter commending his actions. When asked about this, Babatunde said that he made the comparison as there was no better example of black killing white with completely different consequences.
Just as circumstances have changed between Okonkwo and Bombay, writing in Africa has flourished from Achebe to Babatunde, and all the writers featured in this year's prize were testament to that. 'African' is a literary category in the sense that we have writers who come from Africa and who write about their lives there or tell stories inspired by events, people and experiences they have had in one or more of Africa's 54 diverse countries. But it is certainly not a genre.
Nikita Bernardi is a Kenyan-born freelance journalist with a BA in Chinese and Politics from the School of Oriental and African Studies. Follow her on twitter @NikitaBernardi.
Read the original of this report on the ThinkAfricaPress site.