Friday, 13 July 2012 11:57
How can Moscow shed a less than ideal image and draw tourists?
By Marina Selina, RIA Novosti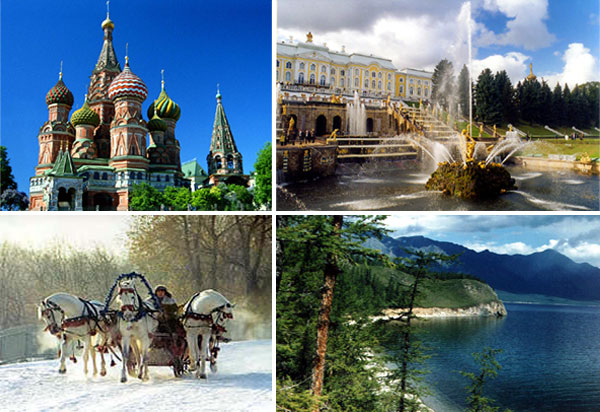 MOSCOW, July 13, 2012 (RIA Novosti) - Experts, officials and representatives from the tourist industry maintain that Moscow is successfully developing an image as an important tourist center. The growing number of foreign tourists bears this out. Moscow is becoming the venue for many interesting events, but it still has a long way to go to match the tourism numbers of Paris, London, New York and other big tourist centers.
Still, foreigners are coming to Moscow more often these days. In the first quarter of this year the number of foreign visitors in Moscow increased 21%. In 2011, the tourist numbers for Moscow increased 12% over 2010 to reach about 4.5 million.
The experts are convinced that Moscow is not the same place for tourists as it was a couple of years ago. So, what has changed since then?
In replying to this question, representatives from the tourist industry mostly talk about Moscow's bigger role in the tourist market and the city's numerous events, from Pan Cake Week, to New Year, to national cultural festivals. The recent historical re-enactment festival "Times and Epochs: Moscow Tsardom in the 17th Century" at Kolomenskoye Park attracted a record 200,000 visitors – more than its organizers had expected.
The head of the Moscow Committee for Tourism and the Hotel Industry, Sergei Shpilko, hopes that with time such events will help Moscow match Rio de Janeiro and Venice in terms of famous carnivals.
However, Oktoberfest in a mid-size city like Munich and the carnivals in Italy and Brazil attract millions of tourists from all over the world, whereas Moscow's events, no matter how exotic, are still designed primarily for Muscovites.
The potential for the tourist industry in Moscow still has a lot of headroom, and the reasons for this are obvious: expensive air fare, poor infrastructure, traffic congestion and the city's negative image.
Nevertheless, there are some positive changes coming. In the near future city authorities plan to launch excursions on double-deckers with audio guides in eight languages. They have already bought the buses that will be used to offer several sightseeing options. Until now, city tour buses have been more common in St. Petersburg.
In an interview with RIA Novosti, the vice president of the Tourist Industry's Russian Union, Yury Barzykin, said: "These double-decker buses have been tried and tested in many other cities and are one sign of a tourist city." He said all-purpose tourist cards will become another sign of tourism. These cards will allow tourists to visit museums, use public transport and enjoy discounts in some restaurants and shops.
In addition, Moscow plans to establish tourist information centers. The first one will be opened at the State Historical Museum before the end of this year.
New excursion routes for both buses and river transport will appear soon.
There are also more important changes, for instance in the hotel market. Experts note that during the last two years the city has had a hostel boom. Generally, hostels are cheap hotels where several people share a room.
Managing Partner of Bear Hostels Daniil Mishin told RIA Novosti that Moscow currently has about 70 hostels, the overwhelming majority of which are located within the Garden Ring. Mishin said a tourist pays about 350 rubles and up for a night in a Moscow hostel. Nonetheless, the city is concerned about the lack of hotel rooms as it becomes a more attractive destination.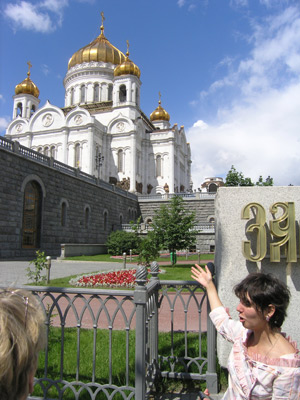 Even today there are not enough hotel rooms for middle-income tourists who want to stay at a comfortable place without spending too much. "The biggest demand is for affordable clean, traditional hotels, which at this point is a problem for Moscow because of real estate prices," Mishin explained.
Moscow's newly incorporated areas probably won't benefit tourism much. It's unlikely that this annexation will result in less traffic congestion and that tourists will suddenly be able to enjoy a calm walk in a quiet and comfortable historic downtown. However, the city is thinking about moving some administrative functions elsewhere and then converting the historic administrative buildings into hotels and residences.
Director of the Russian Renaissance tourist company Dmitry Gorev said: "Moscow's expansion will promote tourism only if they get take the legislative bodies and government out of the center, remove the president from the Kremlin and open it not by 10% but by 100% with all of its halls, museums and memorial apartments."
Moscow and Russia in general are seen as difficult to get to by many tourists and remain a dream for those who have travelled all over the world but have not yet ventured to the Russian capital.
"Lack of information and a negative image, and all the myths about everything being too expensive and dangerous and about Muscovites being unsophisticated "low-lifes" are keeping Moscow from becoming a more important tourist destination," Gorev said.
Obviously, Moscow cannot become a tourist heaven overnight, but the city's tourist agencies believe that it is possible to change Moscow's image in the eyes of its visitors and potential tourists.
Shpilko told RIA Novosti that "to attract tourists we must clean up the image of an unaffordable, dangerous and inhospitable city."
Representatives of the tourist industry note that Moscow should have a more distinct brand other than just the capital of Russia to give tourists a clear reason to visit.
"St. Petersburg, for example, is Russia's cultural capital, Kazan is a center for sports, and Veliky Ustyug is the home of Father Frost. But what about Moscow?" queried Deputy Head of the Moscow Committee for Tourism and the Hotel Industry, Georgy Mokhov, who made an interesting observation. It seems that foreign tourists in Moscow are most interested in the architectural legacy of our "difficult Soviet past."
According to Japan's Mori Memorial Foundation, the Global Power City Index for 2011 rated Moscow 33rd out of 35 locations. This negative result as seen in the context of positive changes, gives Moscow and Russia in general big potential as a tourist center. According to Euromonitor International, major changes in the existing infrastructure will allow tourists coming to Russia to spend twice as much in 2016 compared to now.
City authorities explained in detail how they want to promote tourism in a city program for 2012-2016. In part, they plan to increase the percent of landscaped parks, boulevards and squares by 75% compared to 2011 and increase the number of hotel rooms and other accommodations from 37,500 to 51,700. As a result, they expect about seven million foreign tourists to come to Moscow annually by 2016.
Moscow has budgeted 349 million rubles on tourism for 2012. Shpilko said this was enough to "develop tourism and the tools for promoting it in Moscow."
Despite all the problems, experts and representatives from the tourist industry are convinced that Moscow can become an appealing tourist destination.
Barzykin said in this context: "The number of operators wishing to work in Moscow has been growing recently. If business has made this turn, tourism is likely to be a profitable occupation rather than a mere declaration. We must now focus on developing our tourist facilities and easing visa procedures."
The views expressed in this article are the author's and may not necessarily represent those of RIA Novosti. (END)
Первые роли там играли толстые артистки-еврейки, обладавшие тем громадным достоинством, что во время "Скачать меч сериал"танца они подкидывали ноги выше головы и не носили ни трико, ни "Скачать песни из шаг вперёд"панталон, а для вящей приманки господ офицеров выбривали себе волосы, как "Лучшая фантастика скачать книгу"татарки.
Была ли правдой или ложью вторая часть ее рассуждений, но "Нокаут скачать торрент"вначале Висенса сказала правду.
Однако они знали, что останутся в меньшинстве, и ничего не предпринимали.
Сципион застал Ларкина за деревней "Скачать акробат на русском"около сарая, куда тот тащил маленькую Хлою; девочка кричала и вырывалась.