Saturday, 07 July 2012 11:34
Nigeria: Nuclear More Reliable Than Fossil Fuels
By Hamisu Muhammad
LAGOS, Nigeria, July 07, 2012 (Daily Trust) - Dr. Franklin E. Osaisai is chairman of Nigeria Atomic Energy Commission (NAEC). He says this is the right time for Nigeria to invest in nuclear energy, or risk losing its energy security.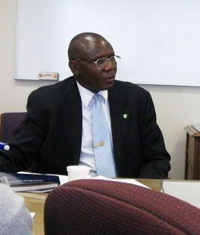 Q:Can you give us the background to the Nigeria atomic energy programme?
A:The Nigeria Atomic Energy Commission was created and signed into law by military decree in August 1976 by the then Head of State, General Olusegun Obasanjo. Thirty years later, the same man who signed the law remembered it and activated it to pursue the implementation of the programme that utilise nuclear energy for various applications including the generation of electricity.
The mandate of the commission is quite important: to explore and exploit nuclear technology in all its ramifications for the development of this country. It was provided in the law that the commission should partner with tertiary institutions to train personnel in nuclear technology.
One of the things government did in 1978, two years after the enactment of that particular decree, was the creation of the two centres of excellence. They are sited at the then University of Ife, now Obafemi Awolowo University, and the centre was latter renamed the Centre for Energy Research and Development and the second one is at the Ahmadu Bello University, Zaria, named Centre for Energy Research and Training.
While these centres train quite a number of people, the commission wasn't activated until much later. Also in 1988, the government of former President Ibrahim Babangida decided to set up another nuclear technology centre, the Sheda Science and Technology Complex (SHESCO). Government also decided to create three additional centres - the Centre for Nuclear Research and Training at the University of Maiduguri; the Centre for the Nuclear Studies at the University of Port Harcourt; and the most recent one, Centre for Nuclear Studies and Training at the Federal University of Technology, Owerri.
All the geopolitical zones have one centre each. Beyond that, since we require a lot of human resources, you need to have these centres. We designed a nuclear power roadmap. That roadmap was accepted and approved by the government on February 7, 2007. In that roadmap, there was a proposal that we have to train 2,000 nuclear scientists and engineers over a period of about 10 years.
Q:How well is NAEC relating with other nuclear centres across the country? Some of them accuse you of cutting down the hazard allowance and denying them some benefits?
A:We are living in a human society with the tendency that when one or two persons are grumbling, you will hear it everywhere. Remember that the mandate of the commission is to partner with the universities in a way that we develop the human resources' base and capacity of the industry. My mandate as the chairman of the commission is to make sure that we are able to synergise our corporation with these centres, be it at Zaria, Ife or Maiduguri, in a way that we have a government policy to achieve certain results.
The relationship between NAEC and the universities and the centres has been very cordial since 2007. We operate under government and there are certain conditions approved by government. I want to say that the centres have done better since we took over because we are a focussed organisation. In terms of facilities, we built manpower for them. We are working seriously with the Salaries and Wages Commission to ensure that we have a particular salary scale for people who work in the nuclear sector. First of all, the people are very few and with the type of their training and profession, if you don't maintain them properly, they will go outside the country.
Q:How serious is government about the nuclear energy project?
A:The utilisation of professionals depends to a large extend on government programmes. Government has identified power generation as a major problem and what we are doing now is realignment within the centres in a way that we begins to produce that cadre of professionals that will fit in. If you don't provide programmes that adequately engage these people, it is either they will be loitering and creating problems or they will go to greener pastures where they are better utilised.
Now we have a graduate training that is taking place in our centre in Sheda; masters degree programmes in nuclear engineering and nuclear science. For the first time in the history of this country, you have the NAEC partnering with four universities. The universities admit the students, we developed the curriculum, approved by their senates and they are all sent to a central place where we teach them all.
Q:How far have you gone in developing the needed manpower?
A:We need to have the combination of various professionals, we need the technicians, mechanical, electrical and nuclear engineers etc. Currently, we have one place where these people will be trained, because what we recommend to government was that we have to train the technicians and technologists in the country, for that reason two polytechnics, Yaba College and Kaduna Polytechnic were designated to be our host, I have visited both of them.
Then, nine universities - Ahmadu Bello University, Zaria; Obafemi Awolowo University, Ile Ife; University of Maiduguri; University of Port Harcourt; and Federal University of Technology, Owerri. These five housed our centres. Others are University of Lagos; Federal University of Technology, Minna; Bayero University, Kano; and University of Calabar. We want to reduce this element of total reliance on foreign institutions to train our professionals, we can count few dozen nuclear professionals in the country, but with these efforts we have a lot more. Some of them reside outside the country, while some came back because they are satisfied with what we are doing. I wouldn't say we have gone far, but to lay down the foundation is critical and now we are directing all our efforts to train the trainers.
Q:Did the nuclear super powers threaten Nigeria's nuclear project?
A:There is the International Atomic Energy Agency (IAEA) created by the United Nations in 1950s. We are members of IAEA, the agency's main objective is to ensure that nuclear technology is utilised to benefit society in peaceful manner. Every country has the right to utilise nuclear technology. The IAEA also ensures that countries subscribe to non-proliferation, that is why we have the nuclear non-proliferation treaty to make the world safe.
I don't believe that the nuclear technology powers can do anything wilfully to prevent new comer countries like Nigeria to utilise nuclear technology. What they will say is conformity and you have to use it for peaceful purpose and ensure that you maintain national and international security and safeguard nuclear materials and that when this facility is on, it is operated in a safe manner both to the people working and the larger public and the environment. I think they are rather helping us to plan it well. We are having significant support from the IAEA by way of training and consultancy etc to help us implement our programmes successfully.
Q:How do you plan to source the fuel or uranium for the nuclear project?
A:A number of studies have been done in the country. In some parts of Gombe and Bauchi there is uranium and some parts of the Cameroonian borders and middle belt. The technology to benefit from uranium is a very sensitive one, when people are talking of enrichment facilities, we have to look at the technology as well as economics.
Q:If you are going to build one to three nuclear power plants, is it worthwhile to invest huge sums of money in developing the technology of beneficiating these resources? To start fabricating them?
A:From the economics point of view, I think it is probably not, so I see a situation that when the programme is fully implemented, the first set of reactors will depend on fuel being imported from outside the country, supply by the reactors' vendors and other fuel suppliers.
Q:How do you reply the critics of nuclear sources of energy, going by the nuclear incident in Japan?
A:I don't have to reply them. Nigeria is a sovereign country, it has its needs. We have a false impression about our energy security. Currently, Nigeria has enough oil reserves, based on estimates it will last for 25 to 30 years and after that, we might just be producing enough for local consumption. That might extend to another 20 to 25 years. At that point in time all of us here may be resting in peace. But the question to ask is, what will be the energy resources base for our own children and grand children?
That is why in every country they talk about energy security. It entails looking at all the energy sources they got around them and thinking of the appropriate strategy on how best it can be exploited. So, what we are simply saying is that yes, we have got a number of other energy resources, developing nuclear requires money and you have to invest and the earlier you do these things and the earlier you begin to work on the other energy resources the better for the country in terms of its energy security.
Q:Based on your roadmap, is the 2017 target for generating power from nuclear feasible?
A:When you have a roadmap, it is just some expectations on paper. What we have done since then is to develop a strategy on how we can implement and achieve the various elements of that roadmap. We attained milestone one and we are now implementing milestone two. The element of human resource development, building of the needed infrastructure, putting the legal framework in place, the regulatory framework in place, and building all that infrastructure are the major activities in that phase two. But the 2017 target was the initial period, by the time that strategy was fully developed and when you have to look at the timeline within various elements, it is going to take us 2020, it is no longer 2017.
Q:How does IAEA perceive the Nigerian nuclear project?
A:The IAEA is partnering with us, even the training sessions we are having, professors are coming from the IAEA. I can tell you that the IAEA is quite satisfied with what Nigeria is doing. We are good learners, we have our own ideas, but we also know that we have to learn more. (END)