Saturday, 24 December 2011 20:58
Revitalising Continent's Creative Assets
By Adewole Ajao
NAIROBI, Kenya, December 24, 2011 (ThisDay) - Arterial Network's first International Conference on Africa's Creative Economy added its voice to numerous debates on the potential of the creative industry. Adewole Ajao was in Nairobi, Kenya for a week-long event that went in sync with other activities.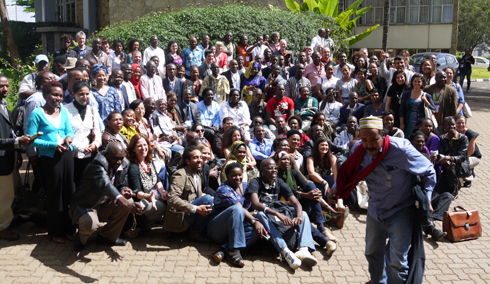 In line with its core aim of building base for the African creative sector, the Arterial collective had its third bi-annual conference in the Kenyan capital of Nairobi from December 4 to 8. A well-attended conference that had delegates from around the African continent brainstorming on new ideas and management strategies for the creative sector at the Desmond Tutu Conference Centre venue.
There was also an abundance of prospects as members provided interesting overviews on a budding industry. With the right touch, the creative sector is the next big income earner. Attesting to this fact was a plethora of events that are building up within and around notable African countries.
Nigeria has not been immune to this craze.
With a glut of arty activity, creative events like that of the Spirit of Enterprise Creative Forum, Pan African University and a recent one by the British Council in Lagos, have looked at putting a face to the sector while preparing the key players, just like the Arterial Network has been doing since it was formed in 2009 in Johannesburg, South Africa.
"At the government level, many are aware of the potentials but many still worry about production and where to take their works," explained Joy Mboya from Kenya during her keynote session.
According to the executive director of Godown's Art Centre in the Kenyan capital, the financial and political upheavals in Europe and Asia were enough reason for an African escape strategy. But that was not all.
"When we consider the creative economy in this changing scene, a question we must ask whether it is a concept of fiction, or creation of policy makers bereft of ideas or is it a frontier of economic integration? The UNCTAD reports of 2008 and 2009 capture the place of the sector and give insight into Africa as well. While the world economy has been in recession, reports around creatives suggest a resilient sector."
With Africa contributing less than one percent to the global creative scene, it all sounded hazy. But amidst some glaring weaknesses, Mbayo said there were still some reasons for optimism due to the feelers they were getting from around the African continent.
"In more traditional media, Africa is really active. Nigeria is also a big player in printing and publishing media. Africa's participation in visual arts remains negligible. It is now time for a creative network and (to) make it applicable where it will be globally sought."
Moroccan Aadel Essaadani's presentation titled "The Creative Economy, Development, Human Rights and Democracy" was the second presentation for the day as he tried to draw links between four realms.
With Millennium Development Goals looking like a bridge too far, South Africa's Mike van Graan argued that the creative sector was the missing piece in the push for development.
This was the crux of his paper which dwelt on the contribution of the creative industry to African cities. The Arterial Network Secretary General from South Africa also spared a thought for an African creative cities' network, an idea that tapped from a UNESCO version that was gaining popularity among most Arterial delegates.
Senegal was treading the path as clips from Senegalese Saliou Ndour showed. Ghana seemed to have taken it to its logical end as images from James Town identified a city embodied by art.
"Times have changed," argued Ghanaian representative Korkor Amarteifio. "We cannot allow government to determine the new identity. Since independence we have become industrialised and transfer the sensibilities from rural to urban. It is to develop the enhanced creativity of the people and use it to illustrate the potential of the cities, enhance wealth and living standards of the people. It is in line with international best practices and if we succeed, it will increase cultural participation in the arts and social cohesion among communities."
Lagos State was also a case study on a day of presentations. Ayodele Ganiu's portrayal of the metropolis as a contributor to the creative sector would have been apt if some loose ends had been tied up by the Yoruba Drum Festival's project director.
But minus some omissions, he was still able to drive home his point as per the recurring theory of culture capitals.
"I am fascinated that Accra has started and it is working. With it, Lagos can focus on challenges and local economies," added the drummer.
As Joy Mbayo put it some days before, the event was indeed "a historic one." With a UNESCO recognition and observer status in Arterial's line of achievements, there was no reticence on the enormity of work left remaining.
Apart from the drive for an African Creative Cities Network, Arterial is hoping to launch a support fund for the creative sector, enlarge training options for stakeholders, and increase its swelling membership that cuts across 34 chapters.
"The numerical goal for regional chapters has been exceeded," said Mike Van Graan. "The second part of the plan is making them sustainable while we aim for 500 members by next year."
Part of the 3rd biannual was the launch of the Art Journalists Network on December 8. This fell in line with its drive to develop expertise while enhancing stronger working relationships among journalists within the realms.
Camerounian journalist Mba Bizo was one of those instrumental in the launch of what started in 2008, and spoke glowingly of an initiative that will eventually become autonomous.
"Since inception, the idea of Arterial was to set up networks across various art disciplines. We were able to set up the festival discipline, now it is time to set up the art journalists. Our goal is to report the arts in Africa in a critical way, so that we can have a solid art market and creative economy across Africa. We have to recruit writers from across Africa. It will also be an observatory for us to see how good we are, and how capable we are at responding to our counterparts in Europe and the US while setting up a data base of art writers around Africa. All artistic disciplines will be considered." (END)
RelatedWebsite:http://creativeconomy.britishcouncil.org/Policy_Development/news/arterial-networks-biannual-conference/
Arterial Network: http://www.creativeindustriesafrica.com