Friday, 16 December 2011 21:51
Chinese, African NGOs Seek Closer Relations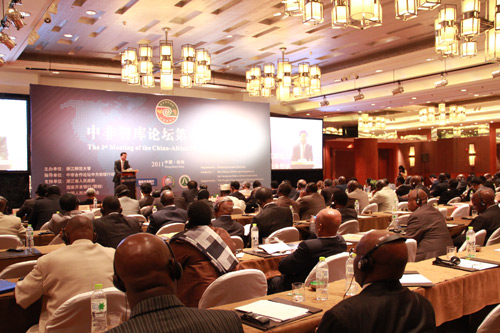 By Kester Kenn Klomegah
MOSCOW, December 16, 2011 (Buziness Africa) - The First China-Africa Think Tanks Forum (CATTF) was held from October 27 to 29 in the cities of Hangzhou and Jinhua, Zhejiang Province in China. The forum, hosted by Zhejiang Normal University (ZNU), aimed to build a mechanism for Chinese and African think tanks to cooperate and exchange ideas to promote Sino-African relations. After the event, Yuhua Xiao, one of the coordinators of the forum and an assistant professor at the Institute for African Studies of the Zhejiang Normal University (ZNU), shared his views on China-Africa think tank exchanges with Kester Kenn Klomegah from Buziness Africa.
Interview excerpts are below.
BA:What are some of the significant results of the first China-Africa NGOs summit held in Hangzhou and Jinhua in Zhejiang Province?
Yuhua Xiao:The event which we organized was officially known as "The 1st Meeting of the China-Africa Think Tanks Forum". It was held in Hangzhou and Jinhua, Zhejiang Province from October 27-29. One of the main achievements of the event is that we brought together representatives of think tanks, universities and academic institutions from 27 African countries and other parts of the world, and provided them with a high-level platform to have dialogue and discuss issues regarding "Sino-African relations in the Second Decade of the New Century" (which is the theme).
This is the first time that a forum for Chinese and African think tanks to stand on the same stage and interact. The size and topic of the meeting are tributes to the development of contemporary Sino-African realtionship which has been overwhelmingly characterized and dominated by government-to-government, bashing and defending rhetoric. Another key achievement of the forum was the Declaration of the 1st Meeting of the China-Africa Think Tanks Forum, which was passed at the closing ceremony at Zhejiang Normal University, Jinhua, Zhejiang Province.
But we cannot say that this was the first China-Africa NGO meeting as Heinrich Boell Foundation organized the first China-Africa Civil Society Dialogue in 2008 (in Nairobi) and the second China-Africa Civil Society Dialogue in 2010 (in Beijing with the Institute of Asian and African Studies under the Chinese Academy of Social Sciences and in Jinhua with the Institute of African Studies, Zhejiang Normal University).
I participated in the two civil society dialogues and did the organizational work of the second leg in Jinhua. We even held a short session in Yiwu for African participants to interact with African traders doing business there, which was the highest point of the whole dialogue. Following that, there was the 1st China-Africa People's Forum, which was held in Nairobi in August, 2011.
You can, however, say that the first meeting of the China-Africa Think Tanks Forum was best attended by renowned scholars and senior officials as it was also a sideline event of the 8th Senior Officials Meeting of the Forum on China-Africa Cooperation held in Hangzhou from October 26-27, 2011.
BA:How would you assess the likely impact of this summit on future China-Africa cooperation?
YX:I think the first meeting of the China-Africa Think Tanks Forum was a first step to promote academic and scholarly exchanges and cooperation at individual and institutional levels. But, how far can it go head depends on whether we can have sustained support from Chinese and African governments, regional organizations and funders. It would be extremely important to facilitate joint research between Chinese and African counterparts, promoting the role of media and communication for developing the existing relationship. These are issues that representatives raised during the meeting.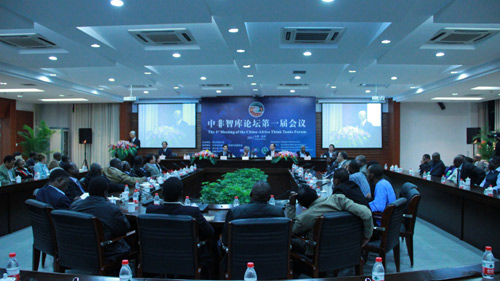 BA:What's the level of China's support for NGOs, academic research and other programmes organised by the educational institutions and exchanges of youth groups?
YX:China's support for academic, educational and youth cooperation with Africa is picking up momentum with the China-Africa Joint Research and Exchange Program, China-Africa Universities 20+20 Plan and the setting up of Confucius institutes in an emerging number of African universities. However, the number and caliber of researchers who take African studies as a career is still insignificant in China and, the institutional and financial support for the historical, cultural and field research of Africa is still low by western standards.
BA:Do you also consider this step as complimenting official efforts in strengthening relations between the two regions?
YX:As the first meeting, it will surely compliment official efforts in strengthening relations. However, we are more concerned about creating a platform for think tanks with an eye on China-Africa relations to exchange ideas and interact, some scholars like Sven Grim have even suggested to conduct joint research for mutual understanding. There is a huge potential here to develop in future.
BA:What are some of the specific challenges in this direction (Chinese and African NGOs summit) in China-Africa cooperation?
YX:I would say that challenges include the different contexts in which Chinese and African NGOs operate. So, it is essential for them to interact more to learn and understand each other's language and concerns before seeking cooperation possibilities. It is also important to understand the political and cultural background which might become barriers in the course of interaction.
BA:And future perspectives, long-term plans and expectations?
YX:Interestingly, many have expressed positive feeling towards strengthening relations and I personally think that we will continue to involve governments, embassies and enterprises although we are non-governmental. This will give us the opportunity to engage them and present our concerns. We also hope to institutionalize the China-Africa Think Tanks Forum as it brings together top-calibre of intellectuals who have actual impact on policies and strategies in individual countries. It would be most important to make it social and academic forum for peoples diplomacy, not one of the forums on China-Africa relations. (END)