Saturday, 05 November 2011 18:56
Africa: Russia Needs Comprehensive Agenda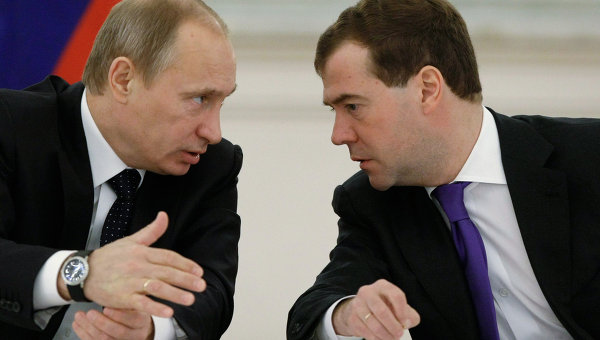 By Kester Kenn Klomegah
MOSCOW, November 5, 2011 (Buziness Africa) - Russian Foreign Minister Sergei Lavrov averred that Russia will continue to expand economic cooperation and engage in bilateral trade relations on the basis of privileges related to only traditional goods export with African countries, pointing out the enormous untapped potential that exists between the two regions.
Speaking an exclusive interview with the Voice of Russia, the Echo of Moscow and the Radio of Russia, Lavrov informed his listeners that "the main thing is to develop mutual economic ties, something that is yet to be implemented as far as our relations with African nations are concerned. Our trade turnover with African countries currently stands at $4 billion dollars, while China's trade turnover with these countries amount to $120 billion dollars."
Apart from trade, he said, Russia has developed a string of budding investment projects with the participation of Gazprom, RusAl, Renova, LukOil and AlRosa.
But, both Russian and African policy experts have acknowledged that Russia's investment, so far, is a drop of water in the African ocean. Experts further explained to Buziness Africa that during the Soviet era, it had more than 350 Soviet enterprises and well-functioning Soviet cultural centres, but these were shut soonafter the Soviet collapse in 1991. China then capitalized on Soviet's exit out of Africa and began to implement its African policy.
Buziness Africa's policy survey on Russia and Africa, polled between June 2010 and June 2011, has shown that nearly 80% of the respondents said Russia's policy problems in Africa was significantly due to absence of a concrete African agenda while 65% of the respondents indicated that Russian authorities lacked the will power and interest in prioritizing Africa. While some say Russia, exceptionally rich in mineral resources, is limited by financial resources in its policy pursuit in Africa, others still believe that Russia is as big as China. China has nearly 1.4 billion population and Russia has only 143 million.
As Lavrov indicated in his interview the vast difference in Russia's and China's levels of economic engagement with Africa, the landscape for engagement continues to change in favour of China simply due to the fact that China has indiscriminately fixed thousands of economic projects throughout the continent both at the private and state levels. Over the past 20 years, trade between China and Africa increased by 30 times; between the United States and Africa by 7 to 8 times; Europe by 3.5 times, and Russia's trade with Africa increased 3 times.
The authorities in Kremlin, high-ranking officials at the Ministry of Foreign Affairs RF and Ministry of Economic Development, researchers at the Institute for African Studies under Russian Academy of Sciences, directors of Russian NGOs and some Russian politicians in the State Duma and Federation Council have treaded softly with words and well-structured phrases such as Russia needs to focus on and deal with its post-Soviet internal economic problems, Russia has its own policy approaches and another popular phrase that Russia is not competing with China in Africa.
Vadim T. Kirsanov, African Affairs Advisor at the Regional Projects Department of Russkiy Mir Foundation, non-profit Russian NGO that promotes Russian language, image and culture abroad, in an exclusive interview with Buziness Africa pointed out that Russia is "impoverished" and the state budget, which is virtually the only source of economic cooperation with African countries has declined.
Russia ceased to be communist-oriented, so no longer needs to extend its ideological influence in Africa. Many of the means of production, for instance, capital are owned by private individuals who operate under the laws of the market. The Russian-African economic relations seem not to meet the laws international competition and the global market conditions, he explained.
He added that Russia, as a manufacturer of industrial products, was significantly inferior to the world producers, Russia maintains its current economic and financial health overwhelmingly due to energy supplies and raw materials, i.e. those commodities in which Africa needs, but to transport oil and gas from Siberia to Africa is unprofitable, it is easier to do it from the Middle East.
Nevertheless, Russia has a lot that can be offered to African countries. Such projects in the field of science, new technology solutions to African development problems, only the negotiations for their implementation need to be intensified.
"As you can see, to create new economic ties with African countries in the current environment requires political will and power of Russian subjects of power, and willingness of public and private Russian capital sources. Such conditions will effectively work when Russia's desire to strengthen Russian-African economic relations is supported by frequent exchanges of high-level visits, such as Russian president or visits of leaders of African states," Kirsanov said.
He added:"At the same time, Russian businessmen are given an extra insurance to their capital investments and efforts. Support for the strengthening of bilateral ties in the form of debt relief to African states, for instance, Russia has written off Ethiopian debts amounting to more than $10 billion."
After the global economic crisis, efforts aimed at accelerating Russian-African economic cooperation, for example, can be possible in the following areas:
- Strengthen the responsibility of the interstate and public opinion for the fulfillment of mutual obligations contained in the plans of the intergovernmental commissions on economic, scientific, technical and trade cooperation, existing in Russia with a significant number of African countries.
- Put in as one of the important tasks of strengthening the bilateral actions aimed at promoting opportunities for trade and capital investment in African countries and in Russia, in order to create the best possible conditions for Russian and African entrepreneurs in their efforts to develop mutually beneficial economic relations.
- Use new opportunities for mutually beneficial cooperation open to the accession of South Africa to BRICS group (Brazil, Russia, India, China and South Africa), taking into account the economic impact of South Africa on the African continent and the world at large
- Intensify the dialogue with the African Union (AU), the Russian Federation in terms of the development of multilateral cooperation among African countries with Russia.
- Search to develop bilateral ties not only in economic sphere but also in science, culture, exchange of people and ideas in the social sphere.
"We must use the full potential interest in Russian culture, Russian language, mutual sympathy and interest between the peoples of Africa and Russia, a great desire of Russians and Africans to visit each other to make friends, establish new connections. It will be of high interest to African countries when Russians do a lot towards the development of Russian-African economic relations," according to the Advisor at Russkiy Mir Foundation.
As for China, Africa will find Russia is profitable to trade with the fact that we have energy and raw materials as well as a number of industrial products, technologies and scientific achievements, in the views of Kirsanov, adding that, Russia, as the rest of the world, is in need of cheap Chinese consumer goods. China wins globally in international competition, hence the increase in gross indicators of the Russian-Chinese economic cooperation.
Many potential African exporters still harbour negative perceptions about Russia and its market often comparing it to export opportunities offered by the United States, Europe and now new attractive conditions by China. Russia's market is still not opened and business approaches are still not explicitly understandable for African exporters, experts say.
Catherine Grant, Programme Head Economic Diplomacy at the South African Institute for International Affairs (SAIIA), an institution that provides analysis, promotes dialogue and contributes to African policy making in a dynamic global context, told Buziness Africa from Johannesburg, South Africa: "The trading links between Africa and the US are well-established and AGOA has been able to build on those through offering preferences for some products. There are additional challenges with regards to Russia, such as the language and an unfamiliarity with the culture. And, I think it is not so much that Russia is perceived as not open for business but traders are unsure of how to get into the Russian market."
She, however, suggested the following points with regards to increasing trade and economic cooperation between Russia and African countries:
- To increase trade, Russia could consider offering preferential market access to products from African countries. This has been done by China and other trading partners. It would be mutually beneficial if the preferences were given on products that Russia does not produce itself. Reduced tariffs would bring down the costs for Russian consumers.
- There is little understanding of the Russian market among African exporters. To encourage trade, activities focused on promoting market analysis or intelligence could be undertaken. Some African traders already participate in trade fairs and events held in Russia but this could be extended. The same could be done to promote Russian products in African markets.
- With regards to investment, Russian companies are well-respected for their strong skills with regards to technological innovation and development. There are opportunities for Russian companies to explore cooperation with African partners in the manufacturing and marketing of products based on these technologies. For example, technologies of use in the mining and energy sectors in Africa would be particularly relevant.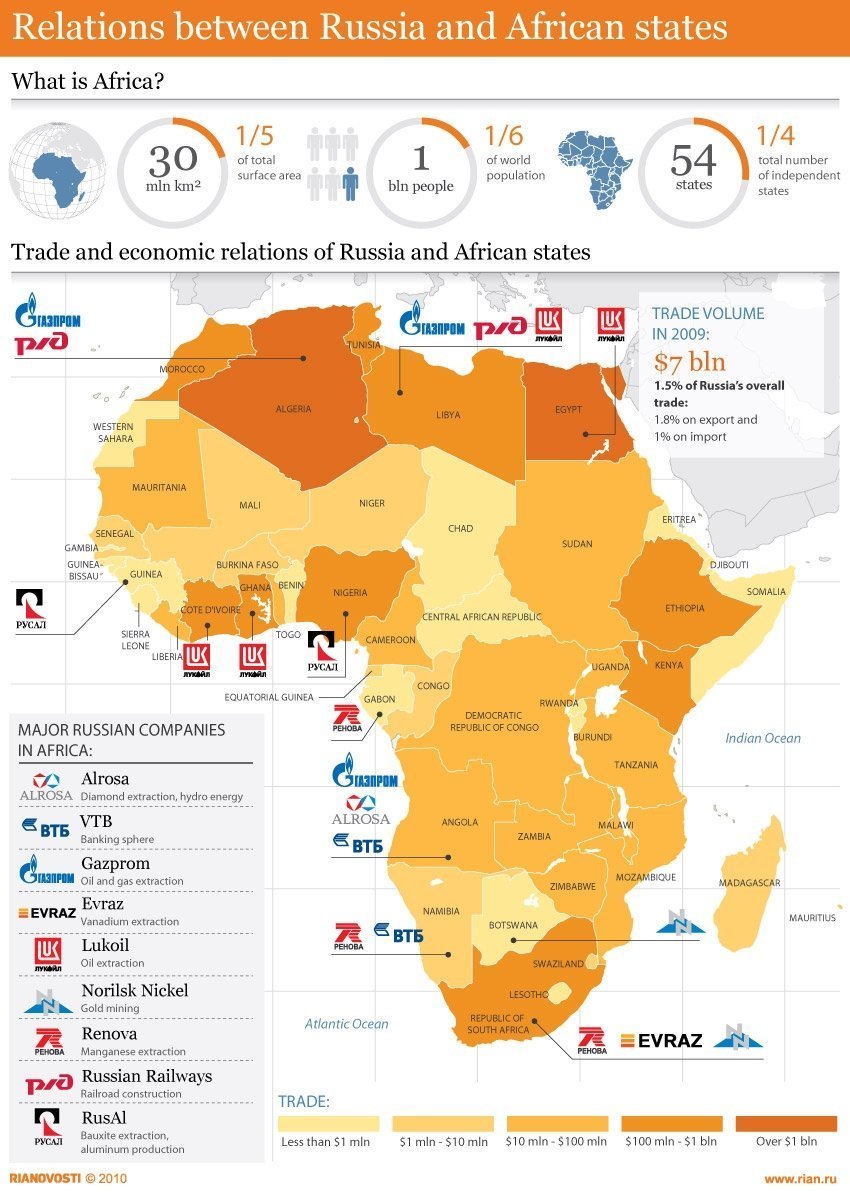 Interestingly, other experts and analysts strongly think that all was not yet lost, Russia can still find its place if it takes Africa by the horns.
Just few days after Lavrov's radio interview, Gabby Asare Otchere-Darko, Executive Director of the Danquah Institute, an Accra based Policy Research NGO, wrote in an electronic mail to Buziness Africa from London: "Is Russia in need of Africa's mineral/natural reseources/raw materials anywhere near China's appetite? Is Russia pursuing the kind of aggressive industrialisation and economic growth as China is doing currently? Can Russia be competitive? Certainly, Africa is not looking for finished products from Russia. What Africa needs is basically expertise, knowledge transfer and the kind of capital imports that can assist Africa to develop its physical infratsructure and add value to two of its key resources: natural resources and human capital."
Otchere-Darko believes that the creation of a regional bloc with a primary task to lobby for strengthening economic ties beween Africa and Russia is necessary. He further assertively suggested that such private initiative lobbying groups have to be supported with much vigor and enthusiasm on both sides by the African and Russian authorities as a supplement to official efforts.
But, the unfortunate thing really is, the absence of a common continental/regional lobbying bloc to lead Africa to redefine and reconstruct its commercial arrangements with the rest of the world primarily in getting the rest of the world to know that our mission in the 21st century is to internalize value-addition and not serve as a dumping ground for anything with a made-out-of-africa label, according to Otchere-Darko.
"Russia can certainly get a piece of the African action if it focuses more on what it may have a competitive edge and if it means well and works at it: infrastractural development assistance. Russia has respectable expertise in one key area for Africa: energy development. If it can leverage itself well, within the next 10 years it can see its trade with Africa increasing by some 20 fold," the expert said.
Otchere-Darko argued conclusively with a rhetorical question:"Has Russia the courage, for instance, to take on the stalled $8 - $10 billion Inga 3 hydropower project on the Congo river? It is the kind of project that can send out a clear signal to the rest of Africa that Russia is, indeed, ready for business."
An additional discussion reveals more interesting expert opinions. Keith Gottschalk, an Emeritus Senior Lecturer in Political Studies at the University of the Western Cape in South Africa, thinks China's vastly bigger trade with Africa reflects that it has six times Russia's population, and China's industrial revolution is from now on as dependant as the UK in 1939 upon importing its raw materials and fuel.
Gottschalk told Buziness Africa: "I think only in rare earths is China an exporter of raw materials. Overall, this ratio will not change much, but we can expect India's investments in, and trade with Africa to increase vis a vis China."
What Russia exports - oil, gas, gold, diamonds - are all produced in Africa, so that limits trade, Gottschalk explained and further suggested what Russia can do:
- Encourage investment. There have been several cases already of Russian companies buying and selling shares in South Africa mines such as manganese producers. Million is used in steel production.
- As Russia's own companies improve in information technology and other products to become more competitive against the West, this slow process will help them seek sales in South Africa and elsewhere in Africa.
- Russian civil engineering companies in the past sought to compete for tenders for major Eskom projects, such as the planned Weskor Inga 3, which Eskom never funded. Russia can throughout Africa seek to compete for major electricity and other power tenders. Nigeria has broken up NEPA into 13 companies which will be privatized via auctions. Russia could try to compete against Siemens etc for these.
- A Ukraine rocket launched Nigeria's latest two satellites. Russia can also compete to offer commercial space launch services for other African countries. Russia launched Sumbandila.
- Russia could try to compete with its Lada car as an export brand. I imagine that in heavy construction vehicles they could also have robust products, long distance trucks and buses. These might need adaption for tropical temperatures through bigger radiators and air-conditioners for African markets.
- Russia can also encourage the largest African companies in South Africa, Nigeria, Egypt, Kenya, to invest in Russian companies.
Professor Adams B. Bodomo from the School of Humanities of the University of Hong Kong in China thinks the lessons with regards to China's success in Africa for other investors include the age-old question of risk-taking in business enterprise, points to the fact that Chinese take risks in unstable markets but oil and resource rich countries such as Sudan, Angola, and Zimbabwe where others especially the west are not present.
- Second, Chinese authorities emphasize trade and investment over 'aid', compared to the west. Besides, Beijing has created a special-purpose multibillion investment fund for Africa aimed at further promotion of Chinese investment projects, brands, goods and services in all national markets on the continent. In addition to the investment fund, China grants large investments and credits to specific countries in the region and that is why Kremlin needs to thoroughly study China's positive experience of aggressive expansion of its zones of economic and geopolitical influence in Africa.
- Third, though it negatiates conditions like respect for One China policy, China does not impose conditionalities, like the need to democratize and privatize, on Africa, like the west does. The end result is that China has successfully created a paradigm shift with regards to investment in Africa, as contained in my book, - The Globalization of Investment in Africa (Bodomo 2011, Los Libros de la Catarata, Madrid, Spain).
As Professor Bodomo observes "there is still room for Russia and other countries to compete with China. For one thing, despite all the success, China has concentrated mainly on the mineral/extractive industries, especially oil. That is a weak point about China's engagement with Africa, and there-in lies an opportunity for others to compete with China. Less than half of African countries have oil, but most of them need investment, so any country/investor that can diversify into other industries such as agro-business, manufacturing, the provision of goods and services and so forth to the rapidly growing middle class is likely to find room to increase its volume of investment in Africa."
As mentioned above, Russia and other investors can diversify their investment portfolio to include not just only oil extraction but other sectors like manufacturing, the provision of goods and services. They must learn to take risks and venture into currently unstable countries, including even Somalia. Another thing Russia can do is to set up a Russia - Africa Think Tank Forum (to promote people's diplomacy) as China has done. Russia can learn some key lessons, experiences and challenges from China, why not? suggested Professor Bodomo.
Some high-ranking diplomats have also shown serious concern. Ethiopian Ambassador Extraordinary and Plenipotentiary to the Russian Federation, Professor (Dr) Teketel Forssido told Buziness Africa in his last interview before leaving Moscow that Russia's trade with many African countries has, over the years, been unbalanced. The main reasons why Russian businessmen and potential investors are not doing brisk business as generally expected are quite obvious. In a certain way, Russians have been transacting various businesses with African countries and the expectation is that the level of Russian investment should be as high as those of India and China.
"But, it seems generally and I still think it is the popular observation that Russians move at their own pace. On the otherhand, it's very difficult to penetrate the Russian market, there are requirements (customs rules, trade regulations and investment laws, and of course, not to talk of the bureaucracy), but somehow the challenges can be surmountable. Russians always count on the authorities to do business, but if they always rely on the state, business can be ineffective," he said.
"There are various ways to open the market for Africa. One surest way is to use the existing rules and regulations. The preferential treatments for agricultural products which currently exist but Africans don't use them. Then, individual countries have to negotiate with the Russian government for their products to enter the market. Further to that, the African regional economic blocs can be useful instruments because these blocs are very important and can work with their counterparts to facilitate trade between Africa and Russia," suggested Professor Forssido.
The Russian Ministry of Foreign Affairs 2008 report stated explicitly that despite the unfavorable tendencies linked to the global economic and financial crisis, purposeful work to reinvigorate economic and trade cooperation with the countries of Africa, whose current level did not yet match the available considerable potential would be the focus point in subsequent years.
"At the same time it has to be stated that economic cooperation with African countries still encountered a number of difficulties due to, inter alia, from insufficient information available to Russian and African partners about mutual possibilities and requirements. Yet, it is undoubted that these are growing pains, the complexities of a practical nature which can be overcome by joint efforts. Much has to be done to ensure that Russian cooperation with African states continues to develop along an ascending line. All the necessary conditions exist for that," the report said.
Despite these negative trends, work on strengthening the traditionally friendly relations with the states of the African continent has remained one of the important components of Russian foreign policy. Moreover, the need for continued diversification of foreign ties in contemporary conditions increases. Russia is interested in developing many-sided cooperation with the countries of Africa, which regard as not only good, time-tested, but also as very promising partners, according to the official report.
Professor Alexei Vassiliev, Director of the Institute for African Studies at the Russian Academy of Sciences in Moscow wrote in his article to Valdai Discussion Club [a club of foreign and Russian experts that meets regularly to discuss domestic and foreign policies of Russia] that "despite all its problems, Africa is developing faster than the rest of the world. It's important that Russia finds a place of its own in mutually advantageous cooperation with the African countries."
And thus discussed so far, of course, one cannot fail to recognize admirably notable efforts by Russian authorities to engage Africa, but there seems the need for a more vigorous and indepth dialogue at an enlarged Russia-African Economic Partnership Forum through which to draw a long-term and comprehensive Russia's Policy Agenda for Africa. (END)