Thursday, 13 October 2011 20:27
China/Russia In The Spotlight
By Natasha Doff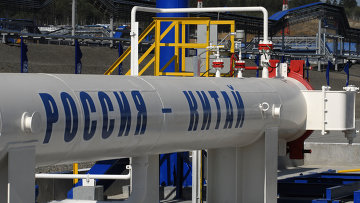 MOSCOW, October 13, 2011 (TMN) - There was a notable eastward shift at last week's VTB Capital Investment Forum in Moscow as Prime Minister Vladimir Putin geared up for a key visit to China this week.
The Asian dragon's increasing economic clout was an important theme among the panel speakers, mainly in the context of the brewing economic crisis in Europe and the United States, which is already beginning to sweep Russia in its wake.
One of the most notable references to China was in a joke made by Putin in his panel session speech in response to a remark by another panelist that China would soon overtake the United States in terms of GDP growth.
"What should we do? Keep our foreign currency reserves in yuan while China is keeping its in dollars? That would be an interesting situation, a bit like a matryoshka doll," Putin said.
Under Putin and Dmitry Medvedev, Russian governments have long sought to build stronger economic and trade ties with China, and key to these efforts are securing long-term oil and gas contracts. But pricing disputes have prevented any conclusive deals, and the two countries are also rivals in defense spending, which in China has far outstripped Russia's as Beijing seeks a stronger voice on the world stage.
The China focus at the VTB event, just ahead of Putin's two-day visit to Beijing starting Monday, was a clear indicator of priorities. The trip is Putin's first foreign visit since being nominated for the presidency at United Russia's conference last month.
Western investors at the forum noted a high presence of Asian investors and the managing director of the China Investment Corporation, Fan Kung Sheng, was a key speaker at the plenary session.
Strategic partnership?
Economically, Russia currently needs China much more than China needs Russia. While both countries are lumped together in the BRIC grouping, China's is miles ahead of Russia in terms of economic growth.
Recently Putin has been quick to brandish terms like "strategic relationship" when it comes to talking about China. In September he said that the two countries had "common challenges, common problems and common views on many of the events taking place on the international stage."
But while this partnership may hold firm when it comes to jointly vetoing UN resolutions on rogue Middle East leaders, it has yet to translate into better economic relations.
While Fan, the Chinese investment director, noted at the forum on Thursday that that his company had opened up investments in Russia through the Direct Investment Fund and its ties with VTB, he had little specific to say about his country's investment in Russia.
"This bilateral effort will undoubtedly bring together the best investment professionals on both sides and we are looking forward to that," Fan said. "Our two countries go back a long time, in good times and sometimes not-so-good times. Hopefully here is a new chapter in which we can achieve something, although it is very modest in the grand scheme of things."
Analysts say economic ties between the two countries remain just that – very modest. A report by the Stockholm International Peace Research Institute released last week warned that Russia's relations with China were growing increasingly uneasy given China's growing clout on the world stage.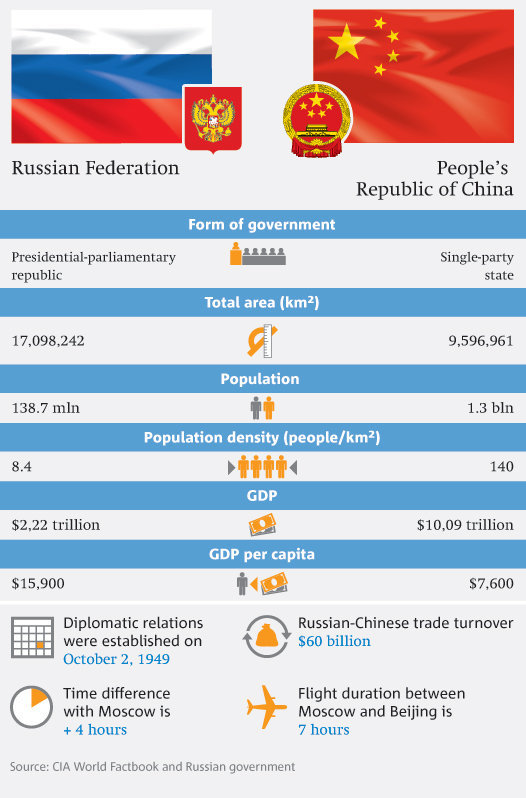 China/Russia In The Spotlight
"In the coming years, while relations will remain close at the diplomatic level, the two cornerstones of the partnership over the past two decades – military and energy cooperation – are crumbling," the institute wrote in the report. "As a result, Russia's significance to China will continue to diminish."
Underlining the tensions in the Moscow-Beijing relationship, Russia's Federal Security Service announced just days after the report came out that it had arrested a suspected Chinese spy who sought sensitive military information while posing as a translator, RIA Novosti reported.
Energy disputes
The biggest indicator that economic ties are flagging is the drop in energy cooperation between Russia and China over the past decade.
Although Russia is one of the world's largest energy producers, the country was only the fifthlargest supplier of oil to China in 2010, largely due to the Asian giant's policy of diversifying reliance away from any one supplier of oil and gas.
Bilateral talks over pipeline agreements and gas supplies have stalled due to pricing disputes. Russia wants China to accept European prices for its oil and gas exports, but the Chinese are holding out for a better deal.
Russian officials were hoping for a pricing breakthrough when Chinese leader Hu Jintao visited Russia in June and the two sides discussed a $1 trillion deal to supply Russian gas to China over 30 years, but price disputes got in the way again.
Analysts expect Putin to push for a breakthrough during this week's meeting as it becomes increasingly important for Russia to diversify gas exports contracts away from Europe.
"[This year's] EU anti-monopoly raids, the dispute with Ukraine and Turkey's decision not to renew the lapsing 25 year contract have all served to increase pressure on Moscow to cut its [gas] pricing formula," Troika Dialog chief strategist Chris Weafer wrote in a morning comment Monday. "If the China contract is soon agreed then the Kremlin's negotiating position in Europe will be improved."
Yuan gains weight
Although Russia is unlikely to start converting its foreign reserve currencies into yuan, the country has been making some attempts to show its commitment to China through acknowledging the growing importance of the Chinese currency.
At last week's conference, VTB president Andrei Kostin announced that the bank's retail lending arm, VTB 24, would begin accepting deposits in yuan on Monday. The move followed an announcement by Putin that Russian banks would begin accepting deposits in yuan as well as rubles.
In December, VTB became the first company from an emerging market outside Asia to place a yuan eurobond. The move was part of efforts by Russia and China to reduce their reliance on the U.S. dollar as a global reserve currency.
However, Alfa Bank economist Dmitry Dolgin told The Moscow News that Russia's move toward yuan deposits was more a sign of recent concerns over the dollar and euro than any kind of preference toward China.
"Some individuals are looking for a safe haven to diversify their currency portfolios and China seems to be an attractive investment at first glance, given the stronger economic state of the country," Dolgin said. "However I don't think the liquidity of the exchange rate allows for a massive flight into yuan." (END)
С ненавистью смотрит Колхаун на Мориса Джеральда.
1 ""Если бы саксы позволили этой войне, ""этой мести бушевать еще столетие.
Охотник поднялся на ноги ""и, снова обогнув хижину, вошел через дверь, которая оказалась незапертой.
Ich melde gehorsam, Herr Feldwebl!
Пока еще настоящие военные действия не начинались, но группы индейцев, опустошавшие владения белых, ""одновременно появлялись в ""разных местах.
вскричал Снежок, рассмотрев китов.
с ""хохотом продолжал Робладо, дымя своей сигарой.
В обществе его не любили, ""так как было определенно известно, что ""он доносил на своих ""коллег.
Что и говорить, при таких обстоятельствах ""сундучок представлялся им весьма заманчивой вещью.
Враг не показывался, видны были только его следы.
или навести порядок и затем сообщить "Набор ключей и головок"мне.
Для меня, во всяком случае, все решено.
Только ""не надо дерзить, Прыткий.
Однако ""голову ее взял ее с собой.
Немного выше ""через реку ходил паром, и там же, вероятно, молодой индеец "Бесплатный скайп скачать windows 7"оставил свой челнок.
Тем не менее, если я дам положительный ответ, ""вы достигнете положения в ""Церкви, которого мало кому удается добиться.
Не буду вас долго задерживать, желаю всего наилучшего.
Ревитса убили террористы, а теперь Римо, вероятно, отыскал тело доктора Декстера Морли, бывшего помощника Ревитса, который тоже погиб.
А во-вторых, хороший "объединенные кредитные карточки"профессионал внимательно следит за "Антивирус скачать ключ касперского скачать бесплатно"деталями.
Римо расслабил грудные мышцы, и женщина вскрикнула.
Ваш президент прожил большую жизнь.
Дара заслонила собой белый короб-рефрижератор с химическим феромонам, выделенным доктором Ревитсом.
В-третьих, вы разрешаете ему оскорблять ваше начальство.
Мы бы хотели, чтобы вы непременно включили камеру перед тем, как начнете распыление химикалий, сказала молодая женщина.
В ответ "Мул фильмы скачать"на все эти упреки Суэйн не нашел ничего лучшего, как покорнейше просить его милость принять треску без всякой платы и на том покончить дело.
Настоящий мужчина знает "Скачать торрент курсоры"все факты заранее, парировал Чиун.
На полу вокруг постели валялись вперемешку принадлежности мужского и дамского туалета.