Sunday, 25 September 2011 16:42
Russia Rediscovers Africa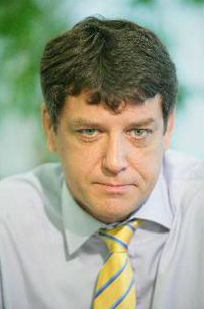 By Tai Adelaja
MOSCOW, Sept 25, 2011 (Russia Profile) - Russia's Renaissance Group has announced elaborate investment plans in Africa, which could help the company to strengthen its foothold across the continent and impact its potential for economic renaissance.
The bank, a pan-emerging markets investment bank, said it would build a 6,400-acre city in the Democratic Republic of Congo, in addition to a $5 billion Tatu City that the company is currently building in Kenya.
The latest plan represents a major strategic thrust for Africa and is the latest evidence that ever more Russian firms are shifting focus from the continent's extractive industries to capitalize on its economic growth and emergence of a growing urban middle class.
The Group, which sold a 50-percent stake to Russian billionaire Mikhail Prokhorov's Onexim Group at the height of the financial crisis in 2009, said it is working on a master plan for the new urban center after securing the land outside Lubumbashi, the country's second-largest city, Arnold Meyer, Renaissance Partners' managing director in charge of real estate in Africa, told Bloomberg in an interview.
Renaissance is considering similar projects in Ghana, Nigeria, Senegal and Rwanda, Meyer said. "The West has peaked in terms of economic growth and the new markets are in Africa," 39-year-old Meyer said, Bloomberg reported. "And the main drivers of this growth in Africa are going to be cities."
Meyer did not say what Renaissance's Lubumbashi project will cost, but said it will be more than double the size of Tatu City, the $5 billion center that the Russian firm is building from scratch outside the Kenyan capital of Nairobi.
Tatu City, a 2,500-acre site about nine miles north of the capital, will eventually have 62,000 residents and include a stadium, a technology park, a hospital, shops, office towers and playgrounds, the firm said in October when it started the project.
In Nairobi, where the population has been growing by about four percent a year over the last decade, one in four residents lacks access to piped water, and about 40 percent of people use open-pit toilets, according to Kenya's statistics agency. The Nairobi Stock Exchange is in talks with Renaissance about relocating there, Meyer said.
"We've had two meetings with the stock exchange, and we have another presentation in two weeks," Meyer said. "We created a zone which would be ideal for them."
A host of Russian firms have been particularly active in Africa in recent years, especially after President Dmitry Medvedev's 2009 African tour.
Russian companies led by Gazprom, RusAl, Nornikel, Alrosa and Renova have invested billions in Sub-Saharan Africa. Others, like metal group Evraz and oil giant Lukoil are also active, so are a number of banks, including Vneshtorgbank, which opened the first Angolan bank to have predominantly foreign ownership.
But, while most of those that ventured out into the continent are involved in exploration and production of mineral resources, Renaissance Capital has extended its investments in the continent to several areas, including real estate and infrastructure projects.
Renaissance is now installing electricity and water lines in Tatu – its megaproject in Kenya – which will function as an independent municipality, and expects the first buildings to be erected by the end of 2013, Meyer said.
The firm will sign an agreement with Kenya's government this week to include Tatu in the country's Vision 2030 plan, designed to boost infrastructure. The firm is also working on the design of two projects of about 2,500 acres each outside Accra and Takoradi in Ghana, Meyer said.
It is considering buying land near Port Harcourt, Nigeria's oil harbor, as well as near Dakar, the capital of Senegal, and Kigali, the capital of Rwanda, he said.
New Zealander Stephen Jennings founded Renaissance Capital (Rencap) in 1995 as a Russia-based investment bank, but has in recent years pushed aggressively into markets such as Sub-Saharan Africa.
In May of last year, Renaissance Capital acquired BJM Securities, number three brokerage in South Africa. The bank already owns 25 percent of the shares in Ecobank, one of the most advanced Nigerian banks, with branches in 11 African countries.
In the longer term, the markets of Africa offer the greatest growth potential, Jennings told Reuters Insider television in an interview at the St. Petersburg International Economic Forum in June.
"Long term it's obviously Africa, Africa is going to be the fastest growing region in the world, even the IMF is saying that now, and that certainly isn't priced in," Jennings said.
The International Monetary Fund estimates that sub-Saharan Africa's economy will expand by 5.5 percent this year, and 5.9 percent in 2012, and that seven of the world's ten fastest-growing economies in the next five years will be in the region.
"In 1980, you had 400 million people on the continent," Meyer said. "Last year they went through the one billion barrier. And in another 30 years, that doubles to two billion. Imagine the combined energy." (END)