Sunday, 11 September 2011 16:02
Heavy Vehicle Market Taking Off in Africa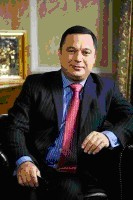 By Kester Kenn Klomegah
MOSCOW, Sept 11, 2011 (IPS) - Russian president Dmitry Medvedev's recent official visit to a handful of African countries has provided new impetus to Russian business's interest in the region. Given the focus on mining and agriculture in African economies, Russian heavy machinery has been in use for decades on the continent.
Medvedev's visit in June this year has provided an added impulse for the Machinery and Industrial Group, a leading producer of facilities and spare parts for light and heavy engineering and off-road machinery, to find markets for its trucks in sectors such as oil and gas, agriculture, construction and road-building sectors as well as mining, metallurgy, transport and defence industries.
In this interview Albert Bakov, first vice-president of Machinery and Industrial Group (also known as Concern Tractor Plants), speaks to Kester Kenn Klomegah about efforts to extend the company's reach in the African market.
IPS: What are the reasons for the expansion of your company's sales into the African market during the past few years?
Albert Bakov (AB): We undoubtedly see Africa as a region with great potential for Russian manufactured trucks and long distance haulage vehicles and other construction equipment.
Governments of African countries have set very ambitious goals for upcoming years, primarily in such spheres like health care development, combating child mortality, increasing adult literacy and education uptake. Together with economic and industrial development measures, this should lead to rapid overall development, growth of key markets and increasing demand.
Thus, trading with African countries means creating bigger opportunities for the future.
IPS: In your opinion, how open is the African market to these manufactured products, including Russian-made tractors and other agricultural equipment?
AB: Speaking about openness, we should first of all consider such factors as government protectionism and corruption. Protectionism is not a problem. Corruption is what really matters. Political issues also play an important role. But the most important factor in every business is the kind of trade policies that are put in place by government authorities.
We are looking at mutually beneficial policies, especially from the side of African countries so that we can export our machines, together with Russian technology, to help their economy develop faster than at the present pace.
For instance, methods of agriculture should be mechanised. Value should be added to agricultural products. Moving the products to the consumers as quickly as possible will raise living standards, and that's why African leaders need our equipment. Further to that, I can say that entering the African market is a rather challenging task.
IPS: How do you estimate your involvement in this sector in Africa, most especially when there are other keen foreign competitors in the market?
AB: Almost every prospective developing market is full of keen competitors. Competition in the African market means that we should carefully choose the right models and types of machines when compared with the product lines presented by our competitors.
If we speak about the market and its competition, the key factor is not the manufacturers' country of origin but quality, price, product lifetime, maintenance conditions and so on. If we take government procurement, then politics also plays an important role. Governments pay attention to the origin of the machinery. That is normal.
In the Soviet period, Russia had quite good political and economic relations with many African countries and, of course, we hope that this historical factor will help us to do business successfully in Africa now.
Our Russian-made machines have a number of competitive advantages and we are confident about the niche that our machinery occupies in the market. We do not fear competition; we consider it a positive stimulating factor. Given our experience, the quality of our trucks and other services that we provide are increasing becoming known among African customers.
IPS: So are African buyers, both in government and the private sector, purchasing your products?
AB: African businesspeople are showing great interest in our machinery, especially in bulldozers and agricultural tractors.
This year, we have delivered quite a number of machines under the brand Chetra to Zimbabwe, which is when our cooperation with this African country began. We have also signed a number of contracts with Algeria and Egypt.
Besides that, we have signed a memorandum of understanding with the representatives of the Nigerian Kogi state for the delivery of heavy industrial machinery and there are other negotiations lined up.
IPS: Are there political or economic events that have affected the company's business since it started operating there?
AB: In June 2009, the president of the Russian Federation, Dmitry Medvedev, visited a number of African countries which included Egypt, Nigeria, Angola and Namibia. The Russian delegation was really large and included businesspeople representing the most important and powerful Russian companies.
In Abuja, for example, within the framework of this visit, a meeting between the Nigerian business community and representatives of Russian business took place. We signed a memorandum on cooperation between business councils of Nigeria and Russia.
The company also plans to launch production of heavy bulldozers in India this year and we are currently studying the possibility of entering the African market and opening an assembly line in Nigeria. Talks are expected to begin soon.
We have also discussed with many African countries the next steps or measures in enhancing the effectiveness of trade and economic interaction in the context of the current global crisis.
Intergovernmental agreements on support and mutual protection of investments signed with the countries concerned will help us to develop our business cooperation.
IPS: What's your vision for developing business cooperation with African countries against the backdrop of the challenges still posed by the global recession and economic crisis?
AB: When entering the market of any country, one has to deal with existing conditions. We have to accept government policies as they are and adopt our activities to the conditions we are put in while, at the same time, minimising possible risks and losses.
Every action, I think, will have to intensively focus in that direction. We see huge opportunities in Africa and we consider three regional markets as the most prospective. North Africa countries, for example, Algeria, Libya, Sudan, Morocco. We are negotiating the possibility to supply these oil producing countries with CHETRA heavy machinery such as bulldozers and pipe layers. (END)