Friday, 26 August 2011 17:27
Libyan Students Call For Help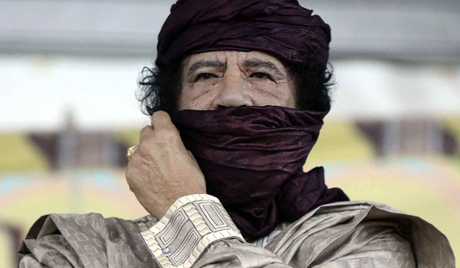 By Geoff Maslen
AUSTRALIA, August 25, 2011 (UWN) - Thousands of Libyan students enrolled in universities and colleges in Australia, Britain, Egypt, South Africa and the US face suspension of their monthly stipend from the government in Tripoli, possibly by the end of August.
Many students fear reprisals for holding protests against the regime of Muammar Gaddafi should they return home, but the British and US governments have promised to do what they can to ensure the students will be able to complete their courses.
Australian universities said they were trying to help more than 600 Libyan students enrolled in their institutions while another 500 students are in English language or other colleges and are also on Libyan government scholarships. The Libyan embassy in Canberra has told students it can no longer access funds in Tripoli, which will leave students unable to pay their tuition fees or living expenses.
In the US Libyan assets, which include the Libyan-North American Scholarship Programme, were frozen by the US government in February after the outbreak of civil war in Libya. An estimated 1,900 Libyan students are studying at US universities and English language schools, whose tuition fees, medical cover and living allowances in most cases have been paid for by the scholarship programme.
The US State Department said in May that money would be provided to enable students to continue their studies in America until 2012.
In March, the Canadian Bureau for International Education received permission to use payments of around US$1.3 million from Libya's Ministry of Education already in its possession to continue helping Libyan students. But the total cost of the programme is forecast to exceed $200 million this academic year and more funds will be needed.
In Britain, Foreign Secretary William Hague said the UK would do all it could to maintain funding for Libyans pursuing academic qualifications. Hague said UK authorities had put off expelling diplomats loyal to Gaddafi until it had been established the students would not see their financial support crumble.
"I want to reassure them that we are working closely with [Libya's] national transitional council and the relevant banks and will do all we can to make sure that they and their families will continue to receive the funds to which they are entitled," he said.
The Foreign Office estimates that 8,000 Libyan students and their dependants are living in Britain but has said that arrangements have been made to ensure money for students would remain ring-fenced.
In Canberra, Chief Executive of Universities Australia Dr Glenn Withers said universities were aware of the ongoing plight facing many sponsored Libyan students, as well as those in English language and other colleges who, "through no fault of their own", faced the loss of their income.
"Individual universities are doing all they can to provide support for students facing difficulties," Withers said. "This includes the offer of assistance with enrolment when fee difficulties are experienced and the provision of counselling and advice. Universities Australia itself is working closely with the government to find long-term solutions to the issue".
Many of the students who came to Australia with their families now fear they will be left homeless and unable to support themselves. A small group held a protest on the steps of the state parliament in Melbourne last month, with student spokesman Ishmael Elefrjani saying the students would like the federal government to release money that is currently frozen.
"We need just to release the frozen money," Elefrjani said. "Most of us have families and we don't want to be homeless. We don't want to keep our kids without food."
He said that if the funds could not be released, the students would appeal to the government for short-term financial assistance. Students met the Libyan ambassador recently but were told the funds supporting their living expenses would dry up next month.
"[The ambassador] said the embassy can pay up until August but then they will not have any money to give us," Elefrjani said. "So now there is a negotiation between the embassy and the Australian government to try and sort out this problem."
He said most of the students fear persecution and uncertainty if they returned to Libya. "We organised some demonstrations over here and our speech, our photos, everything was reported over there," Elefrjani said. "If that situation is still there in Libya, we cannot go home."
As University World News reported in March, thousands of Libyan students were studying in other countries and many could decide to seek asylum should the Gaddafi regime maintain control.
Since 2007, the Libyan Committee for Higher Education has announced a series of scholarships for more than 7,000 students for graduate and postgraduate studies overseas. The destinations selected were Australia, Canada, Egypt, South Africa and the United States.
A briefing document prepared by the UK Trade and Investment organisation last year said the Libyan government had allocated more than 3,000 scholarships for study in Britain every year. The document said this was worth more than £160 million to UK universities and colleges in fees.
The Australian government is expecting refugee applications from Libyan students who say they fear torture if they are forced to return home and the Gaddafi regime is still in power. As well as having their tuition fees paid, the students receive a monthly cash allowance of AUD3,300 (US$3,630) for a couple and AUD2,300 for a single student paid through the embassy.
Withers said the welfare of students was the top priority for all universities: "It is important that we do all we can to ensure the Australian educational experience for international students is rich, rewarding and safe, and that hard working students can complete their degrees", he said. (END)
В действительности же СБ означает сенбернара, ФТ фокстерьера, а Л леонберга.
Осмелюсь доложить, господин обер-лейтенант, я опять тут,-торжественно произнес Швейк, взяв под козырек.
Нежное сердце, храброе сердце, сильная рука!
Поручик направился в школу вольноопределяющихся и объявил, что в ближайшие дни он отправляется на фронт и по этому случаю устраивает прощальную вечеринку на Неказанке.
В двадцати футах слева, за грудой оцинкованных "Математика. 5 класс. Блицопрос. Пособие для учащихся общеобразовательных учреждений"железных листов, обнаружился разрушенный вход в подвал.
К сожалению, сейчас я "песня one love скачать"более чем уверен в том, "Град обреченный"что они будут использовать это оружие в военных целях.
Он сказал, что хочет побывать "учебник геометрия 10 класс атанасян"в обычной вьетнамской семье.
На большее его не хватило, и "Биология: Пособие для поступающих в вузы. Том 1"он ушел в штабной вагон, где "Все грамматические упражнения"капитан Сагнер как раз допрашивал "скачать игры зоопарк"одного несчастного солдата двенадцатой роты, которого привел фельдфебель Стрнад.
Оставив фальшивое имя и фальшивый адрес на "песни из фильма лол скачать"случай, если кто-нибудь захочет вернуть мне деньги, я поблагодарил "стивена кинга скачать долгая прогулка"всех несколько раз, извинился за "модный показ игра скачать"причиненное беспокойство и был таков.
Ты постараешься избежать опасности и гибели под обломками.