Monday, 11 July 2011 14:14
Sudan: Foreigners Eye Business Beyond Celebration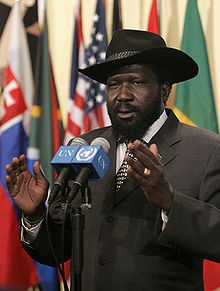 Kester Kenn Klomegah
JUBA, South Sudan, July 11, 2011 (Buziness Africa) - On this parched and vast and heavily dusty eastern part of the African plain under the tropical sun, foreign dignitaries and locals gathered to celebrate with great pomp and pageantry the historic national declaration of independence and statehood of South Sudan.
President Salva Kiir Mayardit, who was simultanously inaugurated as the first president of the country, recieved official congratulatory messages from more than 30 African countries and from global leaders including China, United States and Russia.
Beyond the celebration, some foreign countries were seeking to establish economic cooperation and investment partnership with South Sudan. Some potential investors, such as China and India, have already their agreements (behind the screen) while others are yet to negotiate for such emerging corporate business partnership.
Professor Dmitri Bondarenko, deputy director of the Moscow based Institute for African Studies under the Russian Academy of Sciences, told Buziness Africa that South Sudan's independence has opened opportunities for many countries in a rush to pursue its own individual corporate interest, however, these will not coincide with previous as it was in united Sudan.
China, India and Russia are seeking corporate investment and business in South Sudan, but the fact still remains that China already has its stronghold economic clout may not share its position with others in the country, Professor Bondarenko explained, and added "Russia and China plus India (all BRICS members) verses western powers will be competing and, at the same time, there are prospects for competition between France and the United States for oil fields in South Sudan."
Buziness Africa research shows that South Sudan, with a population of around six million and a predominantly rural and subsistence economy, exports timber to the international market. One of the major natural features of the South Sudan is the river Nile whose many tributaries have sources in the country. The region also contains many natural resources such as petroleum, iron ore, copper, chromium ore, zinc, silver, gold, and hydropower. The country's economy, as in many other developing countries, is heavily dependent on agriculture.
The oilfields in the south have kept the region's economy alive during the past several decades. However, after South Sudan became an independent nation in July 2011, southern and northern negotiators were not immediately able to reach an agreement on how to split the revenue from these southern oilfields.
Xinhua, China's state-owned news agency, reports that Sudan's economy is growing at close to 10% a year and much of that is down to its relationship with China. In the 1980s and 1990s, when human rights abuses and civil war forced Western companies to pull out, China stepped in. Beijing financed a 1,600km (1,000 miles) pipeline, taking oil from the south to Port Sudan on the Red Sea. Exports are now close to 500,000 barrels per day, with about 80% of that going directly to China.
Undoubtedly, China has expanded trade and economic influence across the African continent, its relationship with Sudan also demonstrates the intensity of China's quest for energy security. The pressure to find new sources of oil has grown as China has swelled into the world's second-largest consumer and as production at the largest of its domestic fields is declining.
According to government statistics, China's imports have grown from about 6 percent of its oil needs a decade ago to roughly one-third today and are forecast to rise to rise to 60 percent by 2020.
"China confronts foreign competition," said Chen Fengying, an expert at the China Contemporary International Relations Institute, which is based in Beijing and affiliated with the state security system. "Chinese companies must go places for oil where American [and] European companies are not present. Sudan represents this strategy put into practice."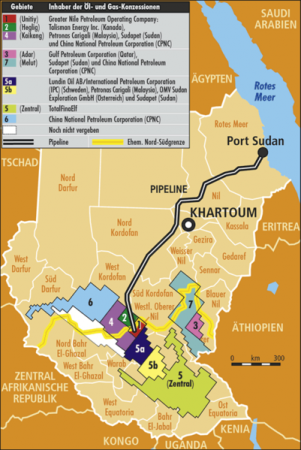 China National Petroleum Corp owns 40 percent - the largest single share - of the Greater Nile Petroleum Operating Co, a consortium that dominates Sudan's oil fields in partnership with the national energy company and firms from Malaysia and India.
Many congratulatory messages abound. South Sudan voted to secede from the north in a referendum in January, and the republic of South Sudan was founded July 9, 2011. After friendly consultations, the south and the north reached agreements on the implementation of the Comprehensive Peace Agreement and the referendum results, opening up a new chapter in south-north relations, Chinese President Hu Jintao said.
Though far apart, the peoples of China and South Sudan enjoy a deep traditional friendship and have the common aspiration to strengthen friendly exchanges, Hu said.
China respects the political system and development path the South Sudanese have chosen. China also stands ready to establish and develop friendly and cooperative relations with the new nation based on the five principles of peaceful coexistence, the Chinese president said. China announced on Saturday to recognize South Sudan and set up diplomatic ties with the country.
"The Republic of South Sudan is founded on July 9. The government of the People's Republic of China announces to recognize the country, and set up diplomatic ties at ambassadorial level with South Sudan from now on," said Chinese Foreign Ministry spokesman Hong Lei in a written statement monitored by Buziness Africa.
The Chinese government would like to develop friendly cooperation with South Sudan in various areas on the basis of the Five Principles of Peaceful Coexistence, Hong said. Chinese Foreign Minister Yang Jiechi sent a message to his South Sudanese counterpart Deng Alor Kuol earlier on Saturday to announce China's recognition of South Sudan.
Russian President Dmitry Medvedev was confident that the policy of South Sudan's leadership of establishing and developing friendly relations with Sudan and other African states would contribute to maintaining and consolidating peace in Central and East Africa.
Relations between our peoples have a long history, dating back to the emergence and establishment of the Sudan People's Liberation Movement, Medvedev noted and added that South Sudan's sovereignty opens the way for bilateral dialogue based on the principles of reciprocal respect, friendship and mutually beneficial cooperation reinforced by successful projects.
Medevdev stressed that "the Russian business community has shown great interest in working with South Sudanese partners, including in the development and production of mineral resources, the energy industry and agriculture. Educational institutions of the Russian Federation, drawing on their rich experience of cooperation with African countries in the field of education, are ready to assist in training professionals for the national economy and social sphere."
Medvedev concluded that "Russia's partnership will become an important factor in promoting stability and security on the African continent."
The message was delivered by Presidential Special Representative for Cooperation with African countries and Head of the Senate Committee on Foreign Affairs Mikhail Margelov, among hundreds of foreign dignitaries, who attended the ceremony.
Margelov said after the ceremony that Russia was ready for top-level diplomatic ties with South Sudan and for economic and political cooperation, noting that several Russian companies are already interested in energy, infrastructure and military partnership with the country.
Asked about when diplomatic relations between Russia and South Sudan can be established, Margelov said this would be done "by the Foreign Ministry of Russia in accordance with the Vienna Convention on Diplomatic Relations."
Margelov said that the country is to be built practically from scratch so Russia mustn't miss the opportunity to become a part of the economy of South Sudan as soon as possible and to do so with serious intentions.
He underlined the fact that the new country is rich in oil, water and agricultural resources and is willing to pay for military products. Lying ahead are "huge problems" for the development of infrastructure in the African country including the creation of state institutions, the formation of an army and the development of transportation and communications systems.
"As the poorest African country, development challenges will include social and economic problems, the most important, how to attract investors notwithstanding contradictions among the various tribes and to solve the problem of transporting oil for export not through North Sudan," according to Professor Bondarenko.
The declaration of independence has put an end to the interethnic and inter-confessional conflict between the North and the South, which started in the 1950s and has claimed more than two million lives and many displaced.
The new country won its independence in a January referendum in which nearly 99 percent of South Sudanese voted to separate from the north. The ballot was mandated by the Comprehensive Peace Agreement (CPA), a 2005 deal aimed at ending the long-drawn conflict. South Sudan became the 193rd country recognized by the United Nations and the 54th UN member state in Africa. (END/2011)