Saturday, 02 July 2011 14:05
Time to Elect a Female Ghanaian Leader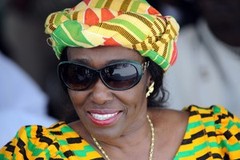 By Kester Kenn Klomegah***
MOSCOW, July 2, 2011 (Buziness Africa) – Experts on Gender Equality and Democracy have unreservedly supported Nana Konadu Agyeman Rawlings, the founder of the 31st December Women's Movement and now the increasingly popular presidential female candidate for the next 2012 elections, to raise Ghana further on the global stage for promoting democracy and women's status.
Since its establishment, the UN on Women and Gender Equality, an organization dedicated to gender equality and the empowerment of women and to participate in the Millennium Development Goals (MDGs), has advocated for and raised the flags high for many women around the world.
United Nations experts have reminded in separate interviews that Ghana has already scored high marks and praises from U.S. President Barack Obama during his first trip to sub-Saharan Africa in 2009, from reputable western and local democratic institutions, and many political experts and academic scholars for nurturing democracy for over two decades and it would be appreciated if the electorate seized the opportunity to showcase the importance of women's participation in politics by backing a Ghanaian female candidate.
In an exclusive interview with Buziness Africa DotCom, Letty Chiwara, Chief of African Division of the United Nations Women Organization, pointed out from New York that Ghana, like many other countries, has already made some gains in improving upon the status of women and in promoting gender equality. 
Women currently represent 24% of the ministerial appointees. There are 14 women out of 75 Ministers and Deputy Ministers in government currently. Ghana is proud of many outstanding women including Vice President of International Court of Justice, the Speaker of the Ghanaian Parliament, Chief Justice of Ghana, First female Vice Chancellor in Ghana amongst others, Chiwara cited these examples in the interview.
"For the last elections in 2009, two women stood as candidates for vice president – paving the way for the possibility of having a woman president. Having a woman stand for the presidency will definitely draw attention to the need to improve the status of women in Ghana and elsewhere but this by itself does not represent improvements in the status of women. A lot more still needs to be done. The need for policies and programmes that actually lead to improving upon the situation of women and girls in our societies is paramount," she told Buziness Africa.
Despite the steady position gains and existing challenges in achieving set goals on gender equality, however, Chiwara cautioned that there can be a woman president and more women in parliament – but if this does not translate to changing the lives of women – then these gains will not be meaningful.
Remember these women in authority have to struggle to make an impact and keep their positions in a male dominated environment, and countries like Ghana should commit to having more women in parliament and in other positions of authority in both the public and the private institutions, she explained, added that "these efforts in addition to others will help improve upon the status of women and engender gender equality in our countries."
In addition to Ghana and Liberia, countries like Rwanda, Botswana, Uganda, Congo Brazzaville, Kenya are good examples of African countries that have promoted positive developments in gender equality.
"We are still not focusing on women and their ability to contribute to the achievements of the MDGs. There is not a single MDG that does not need to focus on women for the goal to be achieved. In the same way, the women's movements need to be strengthened to help set the development agenda and participate in finding solutions to addressing our development challenges," she suggested assertively.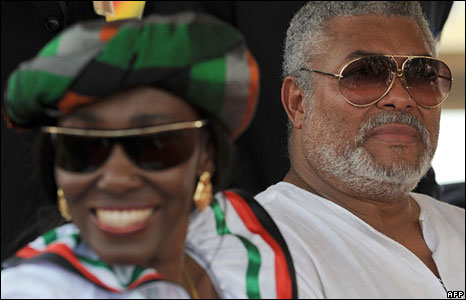 Nana Konadu Rawlings, who founded the 31st December Women's Movement (DWM) in the 90s and championed women cause in the country, is contesting with incumbent president John Atta Mills whose term stipulated by the constitution ends next March. Both are members of the NDC, a social democratic political party in Ghana, founded by former President Jerry John Rawlings in 1992.
Last month, Nana Rawlings launched her campain and accused Atta Mills government for failing to pursue what she called "the NDC avowed commitment of defending the will of the people" and made an irreversible promise to uproot the culture of apathy, the culture of indiscipline and the culture of carelessness that has engulfed the country. She further promised to push for social justice and to infuse dynamism and vitality into the NDC to meet development challenges under her leadership and presidency.
Carolina Rodriguez and Violaine Beix, both from the Africa Progress Panel (APP) the added their voices: "An increase in women's participation in the political life of any country is a step in the right direction. And it's ultimately good news for society at large if everyone, including the electorate, recognizes the importance of actively engaging women in the political and economic life. Ghana boasts some good examples of women's empowerment."
There is a growing understanding that women are keys to Ghana's development and that investing in them can help make the country a model for the region. But, there is still a long way to go. Ghana has one of the lowest percentages of women parliamentarians in Africa, and this number is declining, they said.
According to the experts, IPU's figures from last April show that women's participation and representation in the country's Legislative House has dropped from 10.9% in April 2005 to 8.3% in April 2011. When compared to Rwanda that has 56% of women parliamentarians or South Africa, that has 44.5%, it is evident that Ghana can aim for more gender equality in the State House.
"As many African countries, Ghana is taking steps in the right direction but still faces important challenges in terms of implementing the right policy environment to enable positive action aimed at creating equal opportunities for women," Carolina Rodriguez and Violaine Beix told Buziness Africa from Geneva, Switzerland.
The experts further told Buziness Africa DotCom: "Women's essential role in development has been broadly recognized but development cannot happen if women are not empowered and able to fully participate in all levels of society. At the political level, gender equality through female political representation is a key to ensure that women have a voice in national decision-making processes."
Strong female leaders around the world, including African ones such as Ellen Johnson Sirleaf and the APP's Graça Machel, are testimony of the potential women have and everyone can look up to them as pioneering examples of women's empowerment. But, it is not just about shining examples. Africa needs more women in parliaments and more women ministers (and not only as Ministers for Gender and Woman Affairs), more senior women in the private sector and in boardrooms. African leaders need to work on creating adequate spaces for female leadership.
On another front, it is important to highlight that gender equality measures also come through specific policy measures, political will and commitments. Instruments and mechanisms such as the AU Solemn Declaration on Gender Equality in Africa (2004) should serve as a basis to improve gender equality and women's empowerment in African countries. The Solemn Declaration should be signed by the countries that haven't done so and ratified by all the signatories. Ratification should be followed by the creation and implementation of National Plans of Action for women's empowerment and gender equality.
Two examples to look at are the DRC Constitution and the recently adopted Moroccan Constitution. They include gender equality principles which if fully implemented; may begin to result in a real shift of mindsets on the continent.
As stated in the Africa Progress Report 2011, African women's empowerment is critical to the achievement of all MDGs and not only to the goal of gender equality. Generally speaking, the continent has seen great progress: most countries are on track to achieve gender parity in primary education (MDG2) and female representation in parliaments rose from 15% to 18.5% between 2010 and 2011 (MDG3).
Several obstacles are still blocking progress towards the achievement of the MDGS: gender gaps in health and higher education, income and employment insecurity, or access to credit and to property. Thousands of women still find their talents, opportunities and aspirations blocked by various formal and informal barriers. Failing to use women's energy and skills hinders progress towards reaching the goals set by the MDGs.
As Barack Obama pointed out in his speech in Accra in 2009, "the people of Ghana have worked hard to put democracy on a firmer footing, with repeated peaceful transfers of power, and with improved governance and an emerging civil society, Ghana's economy has shown impressive rates of growth."
Now, to realize that promise, Ghanaians must first recognize the fundamental truth in Ghana: development depends on good governance. That is the ingredient which has been missing in far too many places, for far too long. That's the change that can unlock Africa's potential. And that is a responsibility that can only be met by Africans, to bring into focus the words of U.S. leader Barack Obama. This democratic change necessarily needs a new ingredient: women. Thus, it's Time to Rethink about Gender Equality and Democracy!
***Kester Kenn Klomegah is a regional bureau correspondent for Inter Press Service (IPS) and African News Agency (APA), a lecturer at the Moscow Institute of Contemporary Journalism and founder of Buziness Africa DotCom. He is also a keen independent observer and researcher on Russia and China policy in Africa.
Она ""горько заплакала; я и раньше заметил на "Ферма зомби скачать игра"лице ее следы слез.
Ходили слухи, что Морис Джеральд поведал им какую-то чудовищную "Игры создай своего питомца"историю.
Хотя это был ""только намек, он прекрасно его понял.
Весть ""о случившемся едва не разбила сердце Каталины.
Но вы все "Зеро кс скачать"равно подойдете к ней, как слепой, гуляющий над пропастью.
Иногда даже проект по строительству тысячи "Скачать мастера загрузки"коттеджей не стоил того, чтобы ради него работать на Доломо.
Оттуда показались старухи и дети.
Ты "Маяк скачать сплин"не сопротивленец и не бунтарь.
Но за "Скачать игру война и миръ"эти полные волнения минуты передышки на море произошла перемена, которая должна была "Шансон радио песня скачать"решить судьбу и беглецов и преследователей.
Волчица, женщина, мужчина, хвостатый и рогатый сатаноид.