Monday, 09 May 2011 22:14
Leading Social Entrepreneurs Awarded At World Economic Forum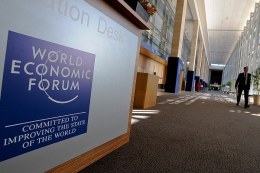 Press Release
GENEVA, Switzerland, May 9, 2011 (World Economic Forum) - Four leading social entrepreneurs will be recognized as Regional Social Entrepreneurs of the Year for Africa during the World Economic Forum on Africa in Cape Town, South Africa on 4-6 May. They will be presented with their awards by Hilde Schwab, Co-Founder of the Schwab Foundation for Social Entrepreneurship, after the opening plenary.
"The next chapter for Africa requires us to look both at the tremendous opportunities for economic growth, and the challenges the continent faces in being able to tap into this growth. Social entrepreneurs, and their innovations promoting inclusive economic growth, are critical to improving the state of the world, and therefore the work we do at the World Economic Forum." said Hilde Schwab.
Mirjam Schoening, Head of the Schwab Foundation for Social Entrepreneurship, explained: "Social entrepreneurs are the driving force behind the innovations that improve the quality of life of individuals around the world. While the primary focus of social entrepreneurs is to make a specific change in one area, such as access to finance or affordable housing, social entrepreneurs' approach to delivering social impact, which utilizes innovative and effective business models and cross-sector collaborations, has inspired change among governments and private sector alike.
In effect, social entrepreneurs are not only delivering change to communities, they are transforming the way governments and companies serve their constituents as well."
The Schwab Foundation for Social Entrepreneurship is proud to award Aleke Dondo of Juhudi Kilimo, Juliana Rotich of Ushahidi, Olivia Van Rooyen of the Kuyasa Fund and Evans Wadongo of Sustainable Development for All with the title of Social Entrepreneur of the Year.
Aleke Dondo - Juhudi Kilimo: Aleke Dondo, often called the grandfather of microfinance in East Africa, built Juhudi Kilimo from two of his strongest passions: microfinance and rural development. He holds a Master's degree in economics and has carried out more than 30 major studies in the fields of small enterprise and microfinance development.
In sub-Saharan Africa, 60-75% of people are employed in agriculture, mostly as subsistence small-scale farmers, and often they have little access to bank loans or technical training.
Juhudi Kilimo has provided asset financing to over 7,500 smallholder farmers, roughly half of which are women. The average income of Juhudi Kilimo clients doubles or triples as a result of their loan. In addition to offering loans for rural farmers to invest in productive assets such as cows, agricultural equipment and transport, Juhudi Kilimo offers compulsory asset insurance and life insurance to the borrower at a small cost. These two insurance products ensure that the borrower and her family cannot be further indebted by the loan, mitigating the risks the rural poor often face when becoming clients of many micro-lending institutions.
Schwab Foundation Chairperson Hilde Schwab said, "Juhudi Kilimo's model of providing six months of financial literacy and animal husbandry training to borrowers before receiving their first loan, and then pairing the loan with both asset insurance and life insurance takes a multi-pronged approach to empowering small-scale farmers to create a virtuous cycle of income generation and asset accumulation."
Olivia Van Rooyen - The Kuyasa Fund: Olivia van Rooyen, MBA, established Kuyasa in 1999, after working with rural workers in the hospitality and retail industry as a trade unionist and as a project manager for end-user financed community projects.
Nearly 1.1 billion live in deficient homes around the world. In South Africa, the demand for housing far outweighs supply, especially in urban areas where there is an ongoing inflow of population due to economic migration. An estimated 68% of South Africa's population falls into the low-income portion of the population that remains unbanked and therefore unable to access credit. The Kuyasa Fund bridges this gap, providing demand-led, short-term loans to finance incremental building and supplying a suitable mechanism through which the poor have been able to build financial and social capital through investment in housing.
The underlying belief of Kuyasa is that by improving the quality of housing, people improve the education, health and social status of the household. It enhances pride and the process of improving a home builds the self-esteem of the borrower, mostly women, and creates empowerment in other aspects of their lives.
Chairperson Hilde Schwab said, "Critical for Africa's next chapter of growth is the creation of stable homes and vibrant communities. The Kuyasa Fund has built successful partnerships with governments, federal and local, as well as with commercial investors, to help South Africans build stable houses and create vibrant communities."
Juliana Rotich – Ushahidi: Julian Rotich was in Western Kenya in 2008 when election violence broke out. It was almost impossible to get accurate and timely information. It was because of this that the impetus for Ushahidi was born. Ushahidi builds tools for democratizing information, increasing transparency and lowering the barriers for individuals to share their stories.
Since 2008, Ushahidi has grown to nearly 2 million users and has 17,000,000 unique visitors. With Ushahidi, an individual with a cellphone can be instrumental in enhancing the availability and accuracy of information that makes governments more transparent, responsive and accountable, and makes markets more efficient.
It has strengthened democracy and economic development, such as verifying election results across Brazil or tracking teacher absenteeism in Uganda. It has facilitated market efficiency, through mapping biogas markets prices and production across six countries in Africa. And, it has helped aid workers in Haiti and Japan reach those affected by natural disasters.
Chairperson Hilde Schwab said, "Ushahidi is one of the few social enterprises that has, in just a few short years of existence, dramatically changed the face of how individuals and communities can influence democracy and economic development around the world."
She added that "Ushahidi is a social enterprise that was born out of the frustrations of what was not working in the world and it was started by a team of young, driven and passionate African professionals. It serves as a superior example of how social entrepreneurship can and will change the world."
Evans Wadongo - Sustainable Development for All: Evans Wadongo grew up in a rural village in Kenya without electricity, studying at night by kerosene lantern. Using part of his university scholarship, he built the first SDfA lantern which lead to the creation of this social enterprise.
Most children in rural areas of sub-Saharan Africa need to work during the day, leaving only the night time for studying. Families without electricity can spend up to 60% of household income on paraffin or kerosene in rural villages of sub-Saharan Africa. Both kerosene and paraffin have adverse effects on health, weakening eyesight when used as a light source and irritating lungs.
SDfA's solar lanterns are made from scrap material, are easy to assemble and provide free, individualized light in remote areas.
In addition, the production and distribution strategies are an operational innovation that allows this renewable energy social enterprise to scale "virally" as users become producers and sellers. SDfA begins working in communities by first securing grants to build the first batch of lanterns for the community and teaching the community members to build the lanterns. SDfA-K then helps the community build and sell the lanterns to other communities, providing a source of income generation.
SDfA connects them with microfinance and business training. As of 2011, 14,000 households had lanterns, with average of 5 or more people per household using them. In communities in which it works, secondary school drop-out rates decreased from 7% in 2007 to 5.3% in 2009, and absolute poverty decreased from 62% in 2006 to 57.47% in 2009.
Chairperson Hilde Schwab said, "SDfA seeks to resolve this through providing a low-tech solution to this multifaceted problem. What is innovative about their approach compared to other organizations working in the sector is that the SDfA lanterns are made from recycled materials and their assembly can be taught to rural communities who can then sell them as a form of income generation." (END)
Однако писарь прилагал все усилия, чтобы преодолеть это неожиданное препятствие, "Чехов тоска скачать бесплатно"и поэтому, отбивая такт, колотил кулаком по столу и топал ногами.
Я видел, как полдюжины солдат вышли из рядов, кинулись на Оцеолу и окружили его.
Не знаю,-ответил Швейк, добродушно "Кривых зеркалах скачать"улыбаясь.
Во второй половине дня у нас было много свободного "Скачать наполеон тотал вар"времени, и мы отправились купаться в прибое.
И он, то есть суд, состоялся в назначенный срок и был сенсационным.
Он находился неподалеку от того места, где вырос, неподалеку от сиротского приюта в Ньюарке.