Saturday, 09 April 2011 12:19
How Can BRICS Help Africa's Economic Development?
By Kester Kenn Klomegah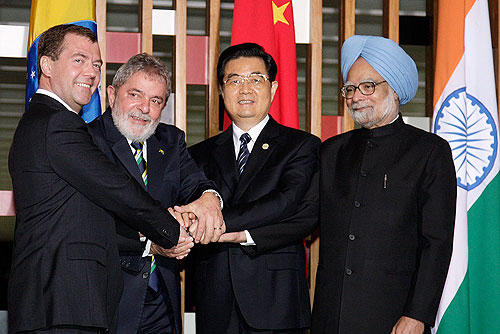 BEIJING, China, April 8, 2011 (Buziness Africa) - Leaders of the five world's top emerging economies, now known as BRICS, will meet mid-April to review international economic issues, particularly those relating their regions and the internation world, and to draw a new strategic economic roadmap directed at the improving economic cooperation and to discuss how to work towards a sustainable development.
Significantly, South Africa will be accepted officially a full-fledged member into the bloc, Brazil, Russia, India China and South Africa (BRICS) at this summit. South Africa has been formally asked to join the BRIC group of major emerging markets, comprising Brazil, Russia, India and China, bolstering its position as Africa's champion.
Chinese President Hu Jintao wrote a letter to his South African counterpart, Jacob Zuma, to inform him of the decision and inviting him to the BRIC's third heads of state meeting in Beijing in April 2011, Chinese Foreign Minister Yang Jiechi said in a statement on his ministry's website.
Moscow greeted the adoption of South African republic into the composition of the economic bloc, BRIC, which currently has Brazil, Russia, India and China as members. The official statement said that "this important international event became possible because of the joint decision of the leaders of Russia, Brazil, India and China."
This step contributes to further strengthening of the political authority of this association in the international arena, first of all taking into account that important role, which republic of South Africa plays in the African Union (AU), in the matters of African continent as a whole. Connection to BRIC, in which already participate the states of Europe, Asia and Latin America, also leading African continent, it strengthens its global nature, answers the promising trends of world development, including the formation of multi-centric international system.
The admission of South Africa - an active participant G20, the largest economic powers of Africa - not only will increase the joint economic weight of the association, but also it will contribute to the expansion of possibilities for the mutually beneficial practical collaboration within the framework of BRIC. Thus, Moscow expressed the hope for the fact that South Africa in BRIC will contribute to further progressive development of friendly Russian- southern African relations and will give to them new important measurement.
South Africa, which has a population of 49 million compared with China's 1.36 billion, is betting on raising its clout on the world stage by joining BRIC, while strengthening political and trade ties within the bloc. The country accounts for about a third of gross domestic product in sub-Saharan Africa and will offer BRIC members improved access to one billion consumers on the continent and mineral resources including oil and platinum.
Joining the group is "the best Christmas present ever," South Africa's Minister of International Relations and Cooperation Maite Nkoana-Mashabane told reporters in Pretoria. "We will be a good gateway for the BRIC countries. While we may have a small population, we don't just speak for South Africa, we speak for Africa as a whole."
Zuma has made state visits to all of the BRIC nations since coming to power in May 2009 and the government has "lobbied very hard" to be included in the group, which will now be known as BRICS, Nkoana-Mashabane said.
Africa's biggest economy is a "powerful country," even though it's small compared with the other BRIC nations, Professor Alexei Vasiliev, then President Dmitry Medvedev's envoy to African countries and Director of the Institute for African Studies under the Russian Academy of Sciences, commented last year.
South Africa has an economy of $286 billion, which is less than a quarter of that of Russia, the smallest of the BRIC nations. Its population is also dwarfed by India's 1.2 billion, Brazil's 191 million and Russia's 142 million.
Goldman Sachs Group economist Jim O'Neill coined the BRIC term in 2001 to describe the four nations that he estimates will collectively equal the U.S. in economic size by 2020. "South Africa's economy is very small," O'Neill, who is now chairman of Goldman Sachs Asset Management International, said in an interview from London. "For South Africa to be treated as part of BRIC doesn't make any sense to me. But South Africa as a representative of the African continent is a different story."
At their first summit in Russia in June last year, the BRIC heads of state called for emerging economies to have a greater voice in international financial institutions and for a more diversified global monetary system.
"South Africa as a country is small, but if we go there as a regional market, that's a different story," said Martyn Davies, chief executive of Johannesburg-based Frontier Advisory, which provides research and corporate finance services on emerging markets. "For South Africa, it's nice to be associated with the big boys."
South Africa is the only African nation represented in the Group of 20, and will take up a two-year seat on the United Nations Security Council along with India and Brazil, resulting in all BRIC nations being represented on the council. The African nation is also part of a trilateral group with India and Brazil, known as IBSA, created in 2003 to coordinate action between the three emerging economies in global forums.
"We bring the most diversified and most advanced economy on the continent," said Nkoana-Mashabane. "We may not be the same size, but we can open up opportunities for them and through that, we can complete our economic integration on the continent.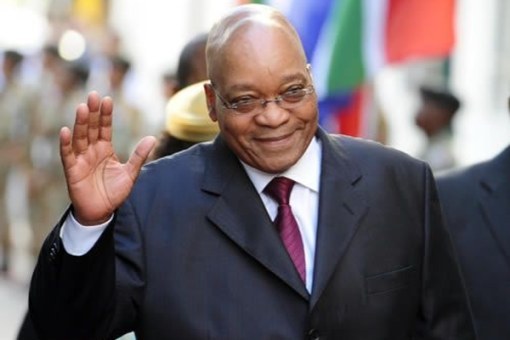 South African President Jacob Zuma, while on a state visit to China, expressed the desire and willingness of his country to join the informal club of four developing nations, namely Brazil, Russia, India and China, known as BRIC. This statement made by the South African leader clearly demonstrates the growing global interest towards this informal grouping which until very recently was basically disregarded both by world policy makers and political scientists.
The very term BRIC was coined by Goldman Sachs' economist Jim O'Neill as early as 2001 and ever since has been used to define the four rapidly rising economies of the world which by 2050 would surpass the total economic potential of G7 countries and become the most dominant economies in the world. Some economists even predict that this could happen even much earlier that the initially outlined date.
Although the theses of Goldman Sachs' experts concerning the purely economic aspects of the four nations' development have never been seriously questioned, another question for quite a long time remained much vaguer: is there anything, apart from similarities in the course of economic development, which can bring the four together? First, geographically speaking, Brazil is too distant from the other three to have much common interest with them. But even if we look upon the three regionally close powers, we must state that there are too many contradictions that hardly help them form a strategic alliance.
The idea of a strategic triangle "Moscow - New Delhi - Beijing" was first put forward by the then Russian Prime Minister Evgeny Primakov in December, 1998. But this idea was never realized, and one of the reasons that it was actually dead-born was the old rivalry between China and India for regional supremacy, as well as some old unresolved border issues between the two countries.
So, even little more than a year ago, for many observers the concept of bringing together the four major developing nations seemed unrealizable. A famous Russian public intellectual and member of the Public Chamber of the Russian Federation Vyacheslav Glazychev wrote in February 2009, "BRIC is an intellectual phantom." And this view was shared by many observers. But, time has shown that skeptics were far from being right. Despite all difficulties, BRIC has turned into an effectively working body, even if it has not been institutionalized. All four countries belong to the G20 group which, in many aspects, has started to play even a greater role that the G7 in formulating the global principles of coping with the challenges the world is facing.
All four countries, like the rest of the world, were hit hard by the global economic crisis of 2008-2009 and the rate of economic growth slowed down. But, as many economist point out, the negative impact on the developing economies was much lesser than the one suffered by developed nations of Western Europe and North America.
The South African President's statement made in Beijing shows that BRIC's role is not limited to economy, and the phenomenon may well surpass the G7 group not only in purely economic terms, but in politics as well. Before coming to China, Jacob Zuma within a short period of time had made visits to the other three BRIC countries, and therefore his optimism concerning South Africa's future membership in the group is well founded.
"We think that the BRIC expresses a very important grouping in a changing world today," said Jacob Zuma, and also mentioned that there is currently no African member in BRIC. South Africa's "participation in BRIC would mean that an entire continent that has a population of over one billion people is represented."
Professor Adams Bodomo, who is a Director of the African Studies Programme at the University of Hong Kong, China, where he teaches courses on Africa-China relations and Africa's experiences with globalization, told Buziness Africa media that "South Africa's 2010 Christmas Day present from BRICS was also a present for all of Africa.
This is because it acknowledges Africa's rising prominence, and it is indeed only the beginning of Africa's rise to international prominence despite continuing political, social, and financial instability in some African countries." But, beyond South Africa, more African economies are capable and destined to improve their Gross Domestic Products (GDPs) and per capita incomes, thus playing important roles in global economic blocs Professor Bodomo indicated explicitly.
He added that "this African renaissance will most likely begin with the prominent economies in each of Africa's five main geopolitical blocs: South Africa in Southern Africa, Nigeria in West Africa, Egypt in North Africa, Kenya in East Africa, and the Democratic Republic of Congo (DRC) in Central Africa. It's time for Africa!"
Dr Shabaani Nzori, an economic analyst from Tanzania explained that there is a strong hope, however, that all sides can strengthen coordination and attempt to work towards a mutually economic cooperation but doesn't think anything extraordinary would happen when South Africa joined the BRIC group of nations.
"What I really think is that South Africa has a lot to do within itself to bring better economic development and opportunities for its majority poor black population," he suggested affirmatively in a comment to Buziness Africa.
Sanusha Naidu (Ms), a former Research Director in China/Emerging Powers in Africa Programme at Fahamu in South Africa, said that SA's admission to BRIC is that it is more politically informed than economically influenced.
"From some of the commentaries I have seen on this, I think the decision to join and be admitted has to do with the South Africa government need to expand its political influence and align with the some of the powerful countries from the southern bloc. In terms of mutual economic gains, it is unclear whether South Africa can be identified from starting from the same par...just like IBSA, it seems that South Africa is punching above its weight," she told Buziness Africa media by email.
For the other BRIC members, Sanusha pointed out that South Africa is definitely a strategic partner given its gateway into southern Africa and the rest of the continent, the influence it can gain from from South Africa's current two year non-permanent seat at the UN Security Council, access to minerals, aligning with South Africa corporates and capital to exploit market opportunities in African economies and so forth.
Sanusha and many others experts are really interested to know how much South Africa will gain out of this relationship...what kind of leverage will Pretoria use to actually reform the global inequities of the regimes like the UN etc, and perhaps in the end the admission of South Africa into BRIC was about allowing the African voice (if indeed this is the case then the issue if whether South Africa really represents the African voice)...but again the question of utility is important to gauge how will BRIC be different to IBSA and other organizations.
In a speech at the meeting with Russian ambassadors and permanent representatives of international organizations, Russian President Dmitry Medvedev pointed out frankly that it is imperative for Russia's policy of strengthening multilateral cooperation and promoting new investments, and that excellent opportunities exist within BRIC group for business partnership and economic ties, and the important task is to fully take advantage of the potential for investment and the technological resources in strengthening strategic partnership with China and also to further develop cooperation with India as well as South Africa. Indeed, BRICS can help Africa towards a continental sustainable development, the potential exist as pointed out by President Medvedev. (END/2011)