Lundi, 28 Mars 2011 15:37
Dangote Now Richest Man in Africa
By Kunle Aderinokun
LAGOS, Nigeria, March 27, 2011 (This day) — With a net worth of $13.8 billion, President of Dangote Group, Alhaji Aliko Dangote, has emerged the richest man in Africa for the first time.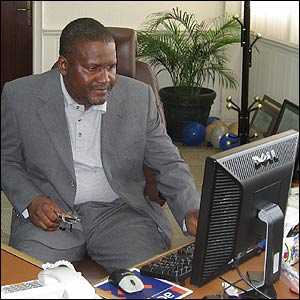 Forbes magazine, which revealed this in its annual world's billionaires ranking report released Thursday, also had Chairman of Globacom and Conoil, Otunba Mike Adenuga, on the list. Adenuga is valued at $2 billion.
Among the world's richest in 2011 as published by Forbes are 14 Africans, including four South Africans and eight Egyptians.
Dangote's fortune surged 557 per cent from $2.1 billion in 2010. He moved astronomically from 436 positions to 51 in 2011, making him the world's biggest gainer in percentage terms and Africa's richest individual for the first time.
Adenuga makes his debut on the list after making waves with mobile technology.
Globacom, the second national carrier, recently launched a 4G network, and he has invested $1 billion on a submarine cable connecting Nigeria to the rest of the world.
He owns a major stake in the Equitorial Trust Bank (ETB),and chairs Conoil Plc. He made his first million at the age of 26, selling lace and distributing Coca-Cola, then won a contract to build military barracks in the late 1980s.
With presence in 14 African countries, Dangote has emerged the continent's biggest cement maker, contributing significantly to other African countries' economy.
Dangote began his career as a commodities trader; built his Dangote Group into conglomerate with interests in sugar, flour milling, salt processing, cement manufacturing, real estate, oil and gas among others.
Dangote is now richer than long time white South African billionaires Nicky Oppenheimer of Debeers and Johann Rupert of luxury goods group, Richemont, which owns Cartier, Dunhill and other premium brands.
Oppenheimer and Rupert ranked 136th and 219th with net worth of $7 billion and $4.8 billion respectively.
Dangote is said to be gearing up to introduce Dangote Cement to foreign investors. Companies listed on the Nigerian Stock Exchange (NSE),are required to have a minimum free float of 25 per cent. Dangote initially listed 5 per cent of shares.
According to analysts at Thaddeus Investment Advisors, the Nigerian market was too shallow for a stock of Dangote Cement's size to be listed on the exchange. This is why, the analysts said the balance of the free float would be listed outside of Nigeria.
Dangote, who recently bought himself a $45 million Bombardier aircraft for his birthday, is said to be shuttling back and forth to London in anticipation of a public offering in London later this year.
Mallam Nasir el-Rufai, former Minister of Federal Capital Territory (FCT), described Dangote as a rare breed and the pride of Africa.
He said: "When the producer of the BBC documentary described Dangote as the wealthiest black man in the world, several people challenged him. Well, Forbes just released their wealth list today and you guessed it, Dangote is not only the richest black man but he is also richer than Mark Zuckerberg, founder of facebook. The Nigerian spirit is an excellent spirit. Believe it today and always."
Meanwhile, Carlos Slim remained the world's richest person for the second year with a net worth of $74 billion, said Forbes magazine. The net worth of Mexico's Slim, 71, whose holdings include the largest mobile phone operator in the Americas, rose $20.5 billion.
Bill Gates, 55, Chairman of Redmond, Washington-based Microsoft Corp. (MSFT), was second again as his net worth rose $3 billion to $56 billion.
Warren Buffett, 80, Chief Executive Officer of Omaha, Nebraska-based Berkshire Hathaway Inc. (BRK/A), held on to third place with $50 billion. There were a record number of billionaires in 2011, with 1,210 in total, compared with the previous high of 1,125 in 2008.
Of the 214 newcomers this year, 54 were from China and 31 from Russia. The Asia-Pacific region had more billionaires than Europe for the first time in more than 10 years and gained the most billionaires of any region, with 105 newcomers.
Moscow displaced New York as the city with the greatest number of billionaires with 79, compared with New York's 58.
Explaining the methodology it adopts to arrive at its list, Forbes explained on its website: "More than 50 reporters in 13 countries worked on compiling our 25th annual World's Billionaires rankings. Throughout the year our reporters meet with the list candidates and their handlers and interview employees, rivals, attorneys and securities analysts. We keep track of their moves: the deals they negotiate, the land they're selling, the paintings they're buying, the causes they give to.
To estimate billionaires' net worths we value individuals' assets, including stakes in public and private companies, real estate, yachts, art and cash and account for debt.
"Not that we pretend to know what is listed on everyone's private balance sheet, though some folks do provide that information. We do attempt to vet these numbers with all billionaires. Some cooperate, others don't.
"We have not included dispersed fortunes (as in those of the Du Ponts and Rothschilds) when individual net worths are below our minimum of $1 billion per name. But we do include wealth belonging to a member's immediate relatives if the wealth can ultimately be traced to one living individual; in that case & family indicates that the number shown includes money belonging to more than one person.
"Our estimates of public fortunes are a snapshot of wealth on Feb. 14, 2011, when we locked in stock prices and exchange rates around the globe. Some on our list will become richer or poorer within weeks - even days - of publication. Privately held companies are valued by coupling estimates of revenues or profits with prevailing price-to-revenues or price-to-earnings ratios for similar public companies." (With Agency Report)