Thursday, 03 March 2011 12:33
Words "Jasmine", "Tunisia", "Egypt" are blocked in Chinese microblogs
MOSCOW, March 2, 2011 (Voice of Russia Radio) – Interview with Aleksander Gabuyev, Russian expert on China and lecturer at the Institute of Asian and African studies.

 

Q: Thank you very much for joining us! My first question to you: do you think that present developments in the Middle East are going to influence somehow the situation inside China and its international position?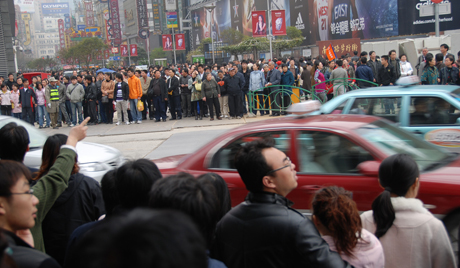 Gabuyev: First of all we can consider it from two points: one point is the access of the Chinese economy to their resources, which they import from the Middle East, especially oil, gas and raw material, and the second point is the political stability inside China, the grip on power from the Chinese communist party and its ability to suppress any quite volatile manifestations.

Let's address the second point first. As we have seen there were some calls to the so called Jasmine revolution inside China, launched from an overseas operated website, which server is located in the United States, and its main audience is Chinese dissidents and emigrants living in Europe and in the United States. They suggested gathering every Sunday on the main street of 23 largest cities, and put on civil demands for democracy, for more food, more transparency, fighting corruption and so on.

On the first demonstration of that kind the turnover was about 10 people, and there were more than hundred foreign journalists that were covering these actions. The turnover rate is quite slow, because the Chinese Party monitors the Internet; as we know the words "Jasmine", "Tunisia", "Egypt" are blocked in Chinese microblogs, they police the worldwide web, they blocked the access to the sites they considered to be damaging. Although there are many people who disagree with the current regime, who see some fault on the corruption side, on the side of social change, that the Eastern provinces have become more and more rich, while the Western provinces are neglected by the central government.

Although these sentiments are present in today China, I don't see these protests can be coordinated in a way it was done in the Middle Eastern revolutions, though the regime is afraid, they put on some additional police measures. They picked up the state security apparatus.

We see a lot of Chinese delegations coming to Russia inquiring what our position is, what we are thinking, which measures we are going to take to tackle these problems. I think the response of the party will be quite strong and it would include police measures as well as economic measures not only to combat direct causes, but also deep problems inside the economy and the Chinese society. Whenever it will be successful we will see in next several years, but I don't think anything significant will happen this year. As for now the regime seems to be quite stable, although there are a lot of long-running factors which can cause destabilization and we should remember that the Soviet Union fell just in one night.

Q: Last Saturday in the Speech to national and provincional officials President Hu Jintao ordered them to "solve prominent problems which might harm the harmony and stability of the society". So what are those prominent problems?
Gabuyev: There are many of them. Every year in China occur about 85000 local protests – demonstrations and so on. The causes can be different, corrupted officials and developments can confiscate some peasants' land to make some commercial development project, and people go on protesting, or there are cases of corruption and violence where a son of a local police officer can rape and kill his girlfriend in public.
These things happen in China every day and there are huge problems that there is only one governing party without any checks and balances and institutional system to control it.

On the other hand the party knows the problem very well, and if it tries to tackle it from the very top, starting with fighting corruption, allowing local media to cover low corruption cases, there is investigated journalism already permitted in China, though the journalist cannot dig into huge corruption cases, for example connected to Hu Jintao or his family. But on a local scale, given that the size of a province in China is a size of a normal European country, for instance, like 100 million inhabitants, which is larger than any European country. This is quite an achievement. They try to adjust the mechanism of popular control into one party state. Whether they are successful or not, future will tell.
Q: Some experts say that China has got a circle of centralization and decentralization, obviously over the 6 thousand years of its history. Then they point out that the centre historically becomes too rigid and alienates itself. Do we see the same in the Chinese modern history?
Gabuyev: It is happening now and then, we may see some characteristics of this circle happening now as well. The centre loses its grip on its provinces, because it wants the provinces to compete with each other, to make kind of competition, but on the same side when the center does not control them quite tough, they lose their grip. The situation can deteriorate.

The local officials can abuse power. But now they try to establish a more balanced system of efficient management where people have a more say on a county level, and in some counties there are millions of people. The center delegates more power to the local elected or appointed leaders – whether this system will be stable on the long run we shall see.
There are some very dangerous things we see in the Chinese society, like polarization, corruption, ecological pollution etc. While the Chinese model is attached to high growth and when it loses the speed of growth it can cause social instability, because many people will get unemployed, they don't have social security network developed. So we will see.

Q: Do I get it right that the government is still aware of this problem?
Gabuyev: Absolutely. They are much more aware than any western experts can imagine, because they have all data, and although there is a problem of faked documents submitted by the local officials in order to improve their own records. The party tries to establish an independent channel of collecting data and trying to figure out what the situation on the ground is. They are pretty much aware. The question is whether they can adjust their model in time and quite efficiently in a short period of time to avoid any mishappenings.

But Hu Jintao and all the leadership are aware of the whole spectrum of problems. The Chinese communist party lives in a huge internal crisis and pressure since the fall of the Soviet Union because they learnt a lot from the fall of the Communist party of the Soviet Union. This state of a crisis makes them run against the time and improve their work style.

Q: Do I get it right that Hu Jintao is to soon step down from his position?
Gabuyev: Absolutely. This is one of the lessons they learnt from the fall of the Soviet Union: that there should be succession in leadership, and a person should not stay longer than 2 presidential terms, that is 10 years altogether. They established quite a working model for leadership succession. When you step down, it means that you step down - you don't go work as Prime-Minister, or as Minister, you can have some vast influence, but you don't have any official position.

Though you may advise the current government on how you view the overall situation. He is going to step down as a Party Secretary, which is his main position, in 2012, there will be the 18th party congress. He will step down in March 2013 and hand his position to his successor, which is I believe the Vice-President.
Q: It is very interesting, which means that we still have a lot of interesting events ahead of us.
Gabuyev: Sure, but there is some insight party power struggle, but the main candidates are for 2 top jobs, the Party Secretary and the President, and the Prime Minister are already set. Since 2008 we have had 5 years of quite stable leadership where people know that these guys are in charge for 5 years now and these guys will be in charge for next 10 years. You don't see real power struggle, though there are many fractions.

***To find out more on the issue, read or listen to Burning Point program from February 25, 2011 in Radio section.(END/2011)