Thursday, 24 February 2011 13:48
South Africa Expands Wine Business in  Russia
By Vladimir Gorodkov
MOSCOW, February 24, 2011 (Buziness Africa) - It is bitterly cold in Russia in February! Side roads are covered with ice and pedestrians negotiate the streets with extreme caution. Those with cars are struggling through the snowy roads and fighting for parking among the huge heaps of snow. The days are short and the sun rarely breaks through the clouds. But life is not standing still! Beginning of the year is always an eventful period in the business life of Russia. Time of renewed hope and positive expectations! That was once again confirmed by Prodexpo exhibition in Moscow.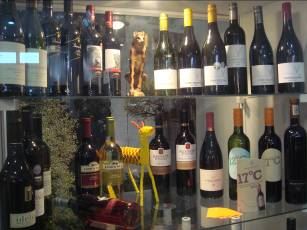 Prodexpo is the largest and most prominent specialized wine and food exhibition in Russia and Eastern Europe.  Food and beverage producers from all over the world gathered at the Expocentre pavilions in the heart of the Russian capital to showcase their products to this dynamic and insatiable market. Many exhibitors were grouped in National pavilions: Spain, Germany, Italy and France occupied prominent positions. More remote from Russia countries such as Thailand, Argentina, Australia, Japan, China and many others have also grouped their produces into national expositions.
The 17th year of running saw this trade fair raising to a new level. Over 85 000 m2 of exhibition space, over 2 000 exhibitors from 55 countries, almost 70 000 visitors – the scale of the exhibition is enormous. Professional performance has also improved with efficient administration and services, excellent number and quality of visitors and buoyant general atmosphere of the show.
Russian economy is quickly recovering from the financial downturn, which is helped by the growing oil prices. All importers are expecting a dynamic and positive year and many of them are planning to expand their portfolios. With 25% increase in 2010 Russia became the 4th fastest growing market for South African bottled wine outside of Africa (after China, UAE and France). Russia also remains the 5th largest market overall for South African bulk natural wine. The prospects for South African wine on this market remain very good!
Cobus Joubert, who was representing several SA producers at Prodexpo, noted that "Russia will be easier to penetrate than China. Wine is an essential part of the Russian culture, wine is seen as a product of integrity and class, and the taste for Old World quality is well in place!" Yngvild Steytler of Kaapzicht Estate has added that "the attitude of Russian wine buyers is entirely positive towards South African wines: we do not have to overcome an undesirable political image in Russia, they did not flinch an eye when they saw alcohols of 14,5 %, they loved the quality of the wine, they did not look for bargains at low price points only". Yngvild attended the show for the second time and this year her wines were exhibited at the stand of the recently found distributor.
Seven South African companies: Aruba Wines, Maison Joubert, Slent Farms, Swartland Winery, Vinimark, Vondeling Estate and Waterstone Wines exhibited wines at the Wines of South Africa generic stand. Three producers arrived to the show to present their wines personally. The stand attracted lavish attention from importers, distributors, hotel and restaurant sommeliers and journalists. A buyer from the largest supermarket chain, several of the top ten Russian alcohol distributors and famous Russian wine critics were among visitors to the stand. There were also buyers from Kazakhstan, Turkmenistan, Ukraine and Belorussia. The exposition was also attended by the recently appointed Ambassador of the Republic of South Africa in the Russian Federation Mr. Mandisi Mpahlwa and the diplomats of his Embassy.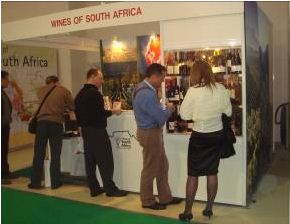 WOSA has been participating in Prodexpo for the sixth year in a row. Every year brought a new success story and introduced new South Africa producers to the Russian market. Perdeberg Winery, Springfield Estate, Bouchard Finlayson, Jordan, Cloof Estate are among those who found distributors in Russia after participating in the previous Prodexpo exhibitions. It is too early to say but there are all indications that this exhibition will prove to be more fruitful than ever: there were a couple of "hand-shake" deals made right at the show! Martin Clarkson, Export Director in Europe for Slent Farms, have summarized the views of all participating producers: "Having had many years of experience all over the world in different fairs, (I am confident that) the Prodexpo exhibition and WOSA stand rank among my top ones for cost/benefit ratio."
The exhibition was pre-empted by an intensive PR campaign by the WOSA Russian office. The information on the participation in Prodexpo was published in the Imperia Vkusa wine magazine and in the monthly WOSA news-letters distributed in Russia. Numerous personal contacts with major importers were also made and invitations sent. WOSA will also do the necessary follow-up with all visitors to the stand. The wine samples that were left after the exhibition has finished will be used for media and sommelier presentations in Moscow and St. Petersburg, as well as for wine ratings and other promotional purposes.
It is however very important that the producers follow up on all contacts made during the exhibition. Please, enclose your pricelists or price points to your initial offers. This will save you from an unnecessary correspondence and delayed responses. Most of the importers are asking for pricelists to start the conversation.  The contact details of the visitors to the WOSA stand at Prodexpo are listed in the Annexture 2.
In the Annexture 1 the comments of the producers who personally attended the show are summarised. We are grateful to all producers who presented their products at the generic WOSA stand at Prodexpo this year. The experience shows that it often takes more than one participation in the show to find a suitable and reliable partner on this market. We sincerely hope that there will be more fine South African wines on the supermarket shelves and on the restaurant tables in Russia soon! (END/2011)