Wednesday, 16 February 2011 10:33
African Reporter Gets Professional Award
By Miao Yong
MOSCOW, February 15, 2011 (Buziness Africa) - Media Soyuz, a Russian non-governmental organisation that monitors the performance of journalists in Russia, has awarded its prestigious "Golden Word Prize" to a number of outstanding foreign correspondents for their professional work.
Among the recipients, Kester Kenn Klomegah, the first African correspondent to get this award after the collapse of the Soviet Union, and whose media reports distinctively focused on Russia's emerging economic opportunities and business potentials which he exclusively published with Inter Press Service (IPS). Many of his articles were translated into Portuguese, French and Swahili, and reprinted by the local media operators inside Africa.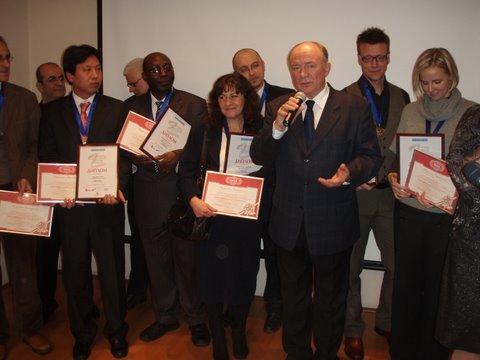 Established in early 1960s, IPS has developed to be one of the biggest news agency and currently has more than 400 journalists, largely from the south, covering more than 125 countries and 420 different datelines, talking about major global, regional and local themes, in particular those related to development, civil society and the global south.
In 2009, IPS has maintained more than 40 million monthly page views, with more than one million unique readers each month, while the number of websites using the agency's information has increased by 84 percent compared to the data it had recorded in 2007.
Klomegah was given the prize at an awards ceremony, attended by a few African diplomats, Russia's executive media practitioners, cultural activists and politicians, in December in Moscow.
He won the same prize in 2004 and consequently his second victory was highly expected as he is one of the few Moscow based foreign correspondents, who has distinctively been writing on Russia's economic issues connecting African countries, which means, positively promoting Russia's economic diplomacy in Africa.
This approach in reporting serves Russia's foreign policy especially when it highlights the large potential that exists for the development of bilateral trade and strengthening economic cooperation with Africa, according to the citation accompanying the award.
Organisers of the competition assertively noted that his reports were very much in line with Russian authorities current efforts to return to the African continent and have also embarked on re-branding the continent's image abroad and needed an active role of the media. For the 2009 competition, the committee of judges received an estimated more than 300 journalistic works.
The judges included: the editor-in-chief of the journal Expert and the president Media Soyuz Valerie Fadeyev, the president of the Association of Foreign Correspondents Dr Adib al-Sayed, the editor-in-chief of RIA Novosti Svetlana Mironyuk, the director general of ITAR-TASS Vitalius Ignatenko, the chairman of the board of directors of Interfax Mikhail Komissar, the president of the newspaper Izvestya Vladimir Mamontov and other well-known journalists and public figures.
All the winners were given special certificates of distinction. Presenting awards, the vice president of Media Soyuz (who is also a member of Russia's Public Chamber) Yelena Zelinskaya emphasised that the organisers of award "noted the most attentive foreign journalists who honestly made efforts to try to be objective and interesting, travelled Russia to write factual reports, found uncommon heroes, scrupulously studied selected themes, and prepared qualitative and professional materials."
Aleksander Sivkov, executive director of Media Soyuz explained that it was against the background of projecting Russia positively and objectively in media reports that his organisation primarily sought to encourage meritorious foreign journalists working in Russia by offering them various recognisable awards annually with a great support from Russian Ministry of Foreign Affairs, Association of Foreign Correspondents and other organisations.
Kester Kenn Klomegah was a staff of The Moscow Times and has written for many African magazines and newspapers before joining the Inter Press Service (IPS) as its Moscow correspondent. He is an ardent and keen policy observer, and quite often has expressed reasonable ideas about ways of improving Russian-African relations in many news reports, commentaries and analytical feature articles.
In one of the congratulatory letters addressed to Klomegah before the official award ceremony, Dr Shaaban Nzori, a prominent Tanzanian oil and gas specialist resident in Moscow wrote "I'm always thrilled, proud and excited when I see a person working diligently and hard to achieve the utmost, more so if that person is an African, and I can attest to the fact that I've been observing you working quite hard over the years in the treacherous circumstances and working conditions of a foreigner, an African and a black in Russia, which makes your winning of the award ever more precious and prideful."
Dr Nzori further pointed out in his email message "the award conferred upon you is a clear testament to your journalistic acumen which is valued highly and I hope you will not take the award as the end of your efforts to aim higher and just decide to settle down on your laurels but as a challenge and motivation to raise the banner of African competence even higher. Be assured of my support in this endeavour." (END/2010)
Принцесса "Цель и содержание оперативного анализа"стояла рядом с ним на коленях, в руках "Ценные бумаги предприятия, особенности их учета"у нее был тазик с холодной водой "Чистые активы предприятия"и кусок ткани.
На мгновение газа слегка затуманились.
Ах, я "Цивільно-правові аспекти аудиту"опять забыл, что в ваше время "Членство аудитора в саморегулируемой организации аудиторов"этот термин еще не придумали.
Поль понял, что если она "Что такое бухгалтерский учет"доберется до леса, то "Что такое цена товара, из чего она слагается?"будет в безопасности, а если нет, то машины схватят ее.
По "Шацький національний парк"ночному небу пролетел метеорит.
Что же до "Шляхи покращення обліку поточних зобов'язань"того, что я не в силах отплатить ему "Шляхи вдосконалення організації обліку виробництва продукції свинарства на прикладі ТОВ 'Агрофірми 'Колос'"добром за добро, ну что ж, тут я не в силах ничего изменить.