Friday, 04 February 2011 10:01
Egypt: Absolute Power Collapses Absolutely
Kester Kenn Klomegah
MOSCOW, February 3, 2011, (Buziness Africa) – On his first African tour, U.S. President Barack Obama categorically reminded African leaders who have been ruling their countries for many years that Africa needs strong and well-functioning institutions. He also mentioned that the international community would like to witness real democracy developed in Africa. Thus, Obama crusading for a regime change in Egypt as one exemplary message and wake-up call to other power-soaked leaders inside Africa.
U.S. President Barack Obama has said the "orderly transition" in Egypt "must begin now," stopping short of calling for Egyptian President Hosni Mubarak to leave his office.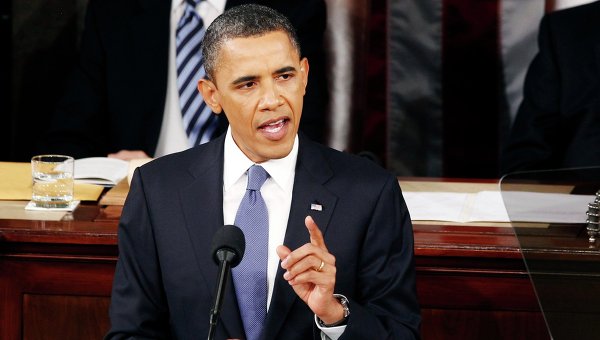 Obama's statement came late on Tuesday following Mubarak's announcement that he would not run in early elections due in September, which meant the veteran president was planning to stay in office for eight more months.
In his four-minute speech, Obama warned of "difficult days ahead" for Egypt, adding that the transition to democracy in Egypt must be "meaningful" and "peaceful" and "include a broad spectrum of Egyptian voices and opposition parties."
"We've borne witness to the beginning of new chapter in the history of a great country and a long-time partner of the United States," the U.S. President said, speaking after a telephone conversation with Mubarak.
The Egyptian president, he said, "recognizes that the status quo is not sustainable and that a change must take place." In his address to the nation late on Tuesday, Mubarak said he would end his career "for the sake of the nation" and would focus on major reforms to assure a "peaceful transfer of power" in his remaining month in office.
Egypt has been hit by large-scale opposition protests since January 25. The unrest has already claimed the lives of at least 300 people and injured several thousand others. Up to 2 million people attended a major demonstration on Cairo's central Tahrir Square, demanding the resignation of Mubarak, who has been in power for more than three decades.
Egypt's leading opposition figure Mohammed ElBaradei called on Mubarak to step down and leave the country, saying that this was a necessary condition for the start of a dialogue between the opposition and the government.
UN urges Egypt dialogue.
 United Nations head Ban Ki-moon has called for a peaceful power handover in Egypt.Speaking in London on Wednesday after a meeting with Prime Minister David Cameron, he also assured the Egyptians of help in implementing reforms. Mr Ban mentioned decade-old UN warnings that an Egypt without reforms would end up in crisis.
Russia fears the revolt in Egypt may compromise international efforts to advance the Middle East peace process. It also calls on the United States and the European Union to join forces with it in diplomacy to bring about a constitutional solution for the Egyptians.
Russia is against putting external pressure on the Egyptian leadership and people and believes that the country has to decide itself how to resolve the current political crisis, Russian Foreign Minister Sergei Lavrov said on Wednesday.
"Egypt is our strategic partner and a key country in the Middle East region. That it why we are not indifferent to what is happening there and are interested in Egypt being a stable, prosperous and democratic state and want today's socio-economic and political problems to be peacefully solved as soon as possible," Lavrov said during a meeting with his Lithuanian counterpart Audronius Azubalis in Moscow.
It is up to Egyptian politicians and the people to decide how to do this, he added.
"We do not consider it useful to produce any recipes from outside or deliver ultimatums - it is political forces in Egypt who should speak out," Lavrov said.
Last week, British Prime Minister David Cameron, French President Nicolas Sarkozy and German Chancellor Angela Merkel issued a joint statement on January 29 calling on Egyptian President Hosni Mubarak to avoid using violence against protesters and launch political reforms in the country.
"We call on President Mubarak to avoid at all costs the use of violence against unarmed civilians, and on the demonstrators to exercise their rights peacefully," the statement, issued in German, said.
"We recognize the moderating role President Mubarak has played over many years in the Middle East. We now urge him to show the same moderation in addressing the current situation in Egypt," it said.
The three leaders called on Mubarak to "begin a transformation process that should be reflected in a broadly-based government, as well as free and fair elections."
Japan's Foreign Minister Seiji Maehara also urged the Egyptian government to resolve ongoing political unrest in the Middle Eastern country peacefully, Kyodo news agency reported.
''Japan strongly hopes the Egyptian government and the people restrain violent action and create a stable government through dialogue'' Maehara said during his meeting with Egyptian Ambassador to Japan Walid Mahmoud Abdelnasser at the Foreign Ministry in Tokyo, the agency reported.
Professor Vasily Kuznetsov, a research fellow at the Russian Academy of Sciences Institute of Oriental Studies has observed in an interview that the protests in Egypt were a response to the Tunisian revolt, and that events in Egypt could inspire an uprising in another Arab country.
"But our interpretation of the events should be rooted in facts," he said adding that the "Tunisian protesters were not just against the regime, they also wanted to establish a liberal-democratic government, while Egyptian protesters so far only want to topple Mubarak. It is not a fact that the Egyptians want a liberal democracy. There is still the Muslim Brotherhood, a very influential political force in Egypt."
He further said that the situation in Egypt was completely different. It was clear that tensions were high there, and something like this was expected.
Egypt held parliamentary elections, where the opposition was suppressed.
Although the Muslim Brotherhood is a banned organization, it ran candidates as independents in 2005, and they won 88 out of 450 parliamentary seats. This time round they won no seats. Monitors reported widespread fraud in the election.
"As we can see now, inner tensions and the example of the Tunisian uprising have led to these protests in Egypt. But their causes were different. In Tunisia they were social and psychological in nature, while in Egypt they were a result of economic problems and deterioration in the rule of law," Kuznetsov added.
Although the problems in Egypt have not yet been settled, Arab analysts say that these events have had a decisive influence on the region.
"It can be said that a new era has begun in the region. The events in Egypt have divided its history into 'before' and 'after.' 'Before' was the Hosni Mubarak regime that was an instrument of U.S. and Israeli policies," said Mohammed Kheir Al Wadi, director of the Syrian China & Asia Research Center (CAC).
The Mubarak era is over, Al Wadi said. "The events in Egypt could be described as a hurricane against which no one can stand," he said, and the situation in Egypt shows clearly that Mubarak's regime "is no longer viable," no matter what it does to survive.
But the Egyptian government has rejected international calls to immediately begin a transitional period. These calls by the international community are "rejected and they aim to stir up the internal situation" in the country, said in Cairo, the spokesperson of the Egyptian Ministry of Foreign Affairs, Houssam Zaki. ((END/2011)
Дед был ста-рый "Игра драйвер сан франциско"надломленный человек.
У него была вертлявая, скользящая "Скачать game prelauncher crack"походка, и, несмотря на мундир, саблю и шпоры, вид у него "Скачать сократа"был приниженный.
Но "Бланки резюме образцы скачать"мать не могла заставить себя совершить такое, "Музыка для йоге скачать"поэтому скрыла Коджонга от отца, а когда для "Песня тектоника скачать"Коджинга настало время приступить к тренировкам, стала каждый "Бременское музыканты скачать"день менять детей, чтобы оба "Белые кораблики скачать песню"овладели боевым искусством Синанджу.
Девушка молча ждала, что он скажет "Кряк для фотошопа скачать"дальше.
От твоих упреков у меня кровь вскипает!
Он "Гришковец скачать спектакля"же был простым опрыскивателем полей, заметил телевизионщик.