Monday, 29 November 2010 11:34
Gaddafi Opens Africa-EU Summit
TRIPOLI, Libya, November 29, 2010 (Newswires) — Libyan leader Muammar Gaddafi warned European countries that, if they did not engage in a partnership with Africa on a footing of equality, then Africa may consider other options - such as China, India, Russia or the countries of Latin America.
Gaddafi was speaking in Tripoli at the opening of the third summit between Africa and the European Union.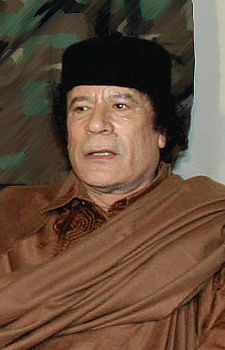 He claimed that, with the emergence of other economic powers, it is now imperative that Africa look for areas where the trade and investment conditions can bring about a significant improvement in living conditions.
Currently, the EU remains Africa's largest economic partner. According to European statistics, in 2009 36 per cent of Africa's imports came from EU members, compared with 12.7 per cent from China, 6.2 per cent from the United States and 3.2 per cent from India.
The picture is similar for exports. In 2009, 37 per cent of Africa's exports went to the EU, 16.5 per cent to the US, 10.6 per cent to China and 4.7 per cent to India.
In his lengthy speech, just short of an hour, Gaddafi also called for the abolition of the World Trade Organisation (WTO), claiming that it does not serve the interests of Africa or of developing countries in general. He alleged that the WTO demands the opening of Africa's borders in order to liquidate African industries.
Gaddafi was annoyed that the Europeans insisted on talking about governance and human rights. "Africa needs economics and not politics", he declared.
Henceforth, he added, the continent required a "win-win" relationship, based on mutual interests and not on exploitation. Africa, he said, wanted to negotiate with those who respected its sovereignty, and with regimes that did not interfere in its internal affairs.
He also demanded reforms in the United Nations Security Council, saying that the EU and the African Union should each have permanent Security Council seats. Currently EU members have two seats (Britain and France), each with the power of veto.
Turning to the question of illegal immigration to Europe, Gaddafi warned that Libya might at any moment abandon its efforts to halt the tide of migrants, if the Europeans did not increase technical and financial assistance to Libya.
"We have to block this illegal immigration", he declared. "If we don't, Europe will be transformed into a black continent and will be swallowed up by people of different religions". But he warned that Libya would no longer be "the bodyguard" of Europe.
His proposal was that the European countries should pay annual tribute of no less than five billion euros (6.6 billion US dollars) to halt the flow of African immigrants across the Mediterranean.
He thought this proposal was fair because the root cause of the problem was the European colonisation of Africa. He claimed that only Italy understood the scale of the problem, and so was cooperating with Libya.
The summit is taking place under the theme "Investment, Economic Growth and Job Creation" - but several key countries have declined to send heads of state or government to Tripoli. Among the absentees are German Chancellor Angela Merkel, French President Nicolas Sarkozy, and British Prime Minister David Cameron.
On the African side, the current chairperson of the African Union, Malawian President Bingu wa Mutharika, is absent, after he failed in a last minute attempt to change the venue of the summit from Libya to Ethiopia.