Thursday, 07 October 2010 11:23
Gazprom Expresses Interest in BP's Assests in Algeria
By Kester Kenn Klomegah
MOSCOW, October 7, 2010 (Buziness Africa) - As part of Russian President Dmitry Medvedev's first working visit to Algeria, corporate business talks were held at the El Mouradia presidential palace, addressing the development of industrial cooperation, investment projects, and military and technical cooperation.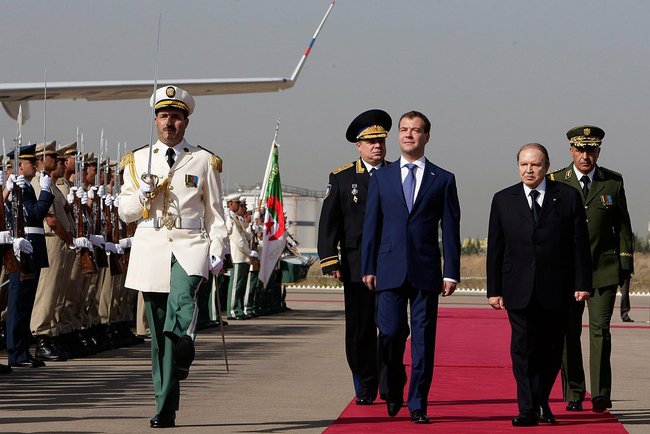 Presidents Dmitry Medvedev and his host Abdelaziz Bouteflika discussed current international and regional issues. Following the talks, a number of documents aimed at promoting interaction in the economic, energy, and sea transport sectors, in standardisation and conformity assessment, and the humanitarian sector were signed in the presence of both presidents.
Russian- Algerian agreement about the collaboration in the field of sea transport, was also signed, will make possible for vessels of two countries to achieve the direct entry into the ports of each other. It was reported that questions of air traffic were also discussed at the meeting. Russia offers An-140 aircrafts to Algeria and the Russian gas gaint, Gazprom, will take part in Algerian new gas tenders.
President Medvedev was pleased with the development of military-technical cooperation with Algeria. "Military-technical cooperation with Algeria continues for many decades and has quite sizable volumes, and we are pleased with how it develops," the president said after the talks with President Bouteflika.
"We outlined a number of questions for additional effort, including questions of technologies," the Russian president said. He believes military-technical cooperation with Algeria "is highly developed, is gaining momentum; the pace set some time back persists, and we are very pleased with this."
Medvedev said, "Cooperation in the military-technical area is always political and very trustful cooperation, and it is precisely such cooperation that links Russia and Algeria" and note further noted that bilateral cooperation has recovered from the financial crisis and will be growing.
Gazprom does not rule out a possible purchase of BP's assets in Algeria.
"If the Algerian side offers these assets to us, we will consider this possibility," Alexei Miller said in response to a reporter's question.
Mikhail Fridman, the billionaire chairman of the TNK-BP joint venture, said earlier in the day that the company was interested in acquiring BP's assets in Algeria.
TNK-BP deputy CEO Maxim Barsky said the company had the wherewithal to make such a purchase, although Russian Energy Minister Sergei Shmatko suggested the company might have to offer an asset swap to BP's Algerian partner, Sonatrach.
"Algeria is one of our biggest partners we have a rich history of cooperation with in the political sphere and in solving many regional problems," Russian president's aide Sergei Prikhodko told Itar-Tass.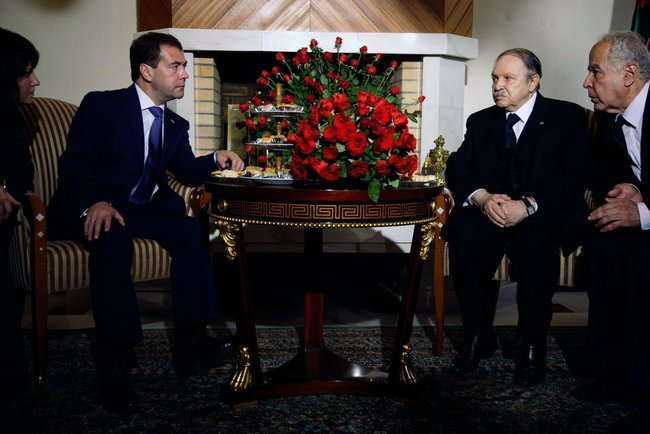 "Algeria has won great authority due to its independent and open policy, this country's opinion is being considered both as concerns the Middle East settlement and as concerns Mediterranean cooperation," he said.
Russia and Algeria, the first- and third-largest gas suppliers for Europe, will prioritize "stronger cooperation in the energy sector," Medvedev aide Sergei Prikhodko said. "We are interested in developing cooperation with Algeria in European gas markets."
One of large projects that could be implemented by rail monopoly Russian Railways in Algeria is the construction of railroads linking the capital Algiers with its suburbs, as well as the development of infrastructure.
Russia and Algeria have agreed to open investment bureaus, the Russian energy minister said.
"The intergovernmental commission decided to open the Algerian investment bureau in Russia and the Russian investment bureau in Algeria," Sergei Shmatko said in the Algerian capital.
The bureaus will support Russian companies set to work in Algeria and vice versa.
According the Finance Ministry, Algeria is among Russia's three biggest trade partners on the African continent. Bilateral trade in the first half of 2010 grew 154.2% to $752.5 million year-on-year.
Russian officials from building and energy companies, equipment manufacturers and producers of technologies for the oil, gas and petrochemical industry, and also communications, transport and financial companies accompanied the president.
This has been the first time that President Medvedev visited Algeria. By contrast, President Abdelaziz Bouteflika has already paid two visits to Russia, in 2001 and 2008. (Buziness Africa)