Tuesday, 28 September 2010 17:44
China Offers Ghana Loans to Strengthen its Economy
By Zenebe Kinfu Tafesse and Kester Kenn Klomegah in Shanghai
SHANGHAI, China, September 28, 2010 (Buziness Africa) – China and Ghana have opened a new chapter in their 50-year-old diplomatic relations with a mutual promise to be reliable and strategic economic partners when President John Evans Atta Mills visited Shenzen, the economic hub of China's Guandong Province, and wooed Chinese companies to invest in Ghana.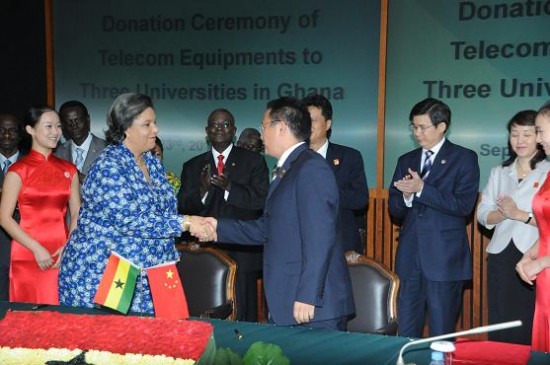 President Atta Mills said China has been generous to Ghana, adding: "China points to the way what can be achieved with sacrifice, hard work and discipline.If African leaders are flocking to China, they want to see the source of Chinese magic of development."
China has massively transformed its economy in the last three decades and is turning its attention to new investment opportunities in Africa. President Mills urged Chinese investors to make Ghana a preferred investment destination and stressed greater business collaboration between the two countries.
Ghana has procured a number loan agreements from China to assist in the development of the oil and gas sectors, bauxite and aluminium, road and rail transport and ancillary industries, and to build its infrastructure.
He explained that the Chinese development experience was a demonstration of what could be achieved in Africa with focus and unity of purpose.
He announced that his administration was charting a new path of development under the "Better Ghana" agenda, and called on African leaders to subject their individual interests to their national interest, and to ensure that they did not abandon the very people who elected them into power.
Buziness Africa learned from diplomatic sources that this year marked the 50th anniversary of the establishment of diplomatic ties between China and Ghana, and expressed the hope that China and Ghana parliamentary organs will increase coordination in international parliamentary organizations in a bid to enhance China-Ghana relations.
China Exim Bank and Government of Ghana signed a $10.4 billion concessionary loan for the development of a railway system from Kumasi to Paga, Ghana's Eastern Corridor road network and other sectors of the economy.
Four billion dollars will go into the railways system, six billion dollars for ancillary energy infrastructure, education and sanitation among others, and 400 million for the Eastern Corridor roads.
The President of China Exim Bank, Mr Li Rougu, signed for the Bank while Mr Fiifi Kwetey, Deputy Minister of Finance and Economic Planning, Mr Joe Gidisu, Minister for Transportation and Mr Dan Markin, Chairman of the Ghana Railways Development Board, signed for Ghana. The signing took place in Beijing, China, on the sidelines on the third of the five-day state visit of delegation to China.
The loan, payable in 20 years, would start rolling next year after approval by both Cabinet and Parliament of Ghana. The facility is the second to be announced as a result of President Mills' visit to China after an earlier one of more than three billion dollars from the China Development Bank for the development of Ghana's energy sector and its ancillliaries.
The total facility so far clinched amounts close to $14 billion, including a-$260 million package for expansion works project and $150 million for Ghana's e-governance project and a grant of 100 million yuans.
The execution of the road and railways project is expected to open up the eastern, middle and the northern parts of Ghana for accelerated development. The initative also seeks to promote the exploitation of mineral deposits and the execution of the Savanna Accelerated Development project meant to open up the Upper West, Upper East and Northern Regions towards poverty reduction.
With various concessionary loans and investments, the Chinese government also has positioned itself as one of Africa's major foreign partners. Last year, China signed a $6bn loan agreement with mineral-rich Congo for infrastructure projects.
The financing and infrastructure projects have, in turn, helped pave the way for Chinese companies in Africa. In 2009, state-run oil company China Petroleum and Chemical Corporation, known as Sinopec, bought oil-exploration company Addax Petroleum, which has major assets in west Africa, for $7.2bn.
And this year, state-run China National Offshore Oil Corporation, or referred to as CNOOC, put itself in direct competition with US oil giant Exxon Mobil when it signed an agreement with Ghana's state oil company, GNPC, to buy a stake in the Jubilee oil field, one of the biggest recent oil discoveries off Ghana's coast and one in which Exxon had been trying to purchase a stake.
But, Bright Simons, an expert on Sino-African policy at IMANI, a non-governmental educationa and policy organization based in Accra, Ghana, argued in an email note to Buziness Africa magazine that the Chinese Development Assistance (CDA) package announced by the Atta Mills government amount to over 70% of Ghana's Gross Domestic Product (GDP), the details, none of which has been publicly disclosed.
He said further that Ghana's existing "development partners" are likely to be worried about "debt sustainability" since this has the potential to double Ghana's debt burden once the moratorium is over.
"Coming in the wake of another debt-heavy deal with the Koreans, there is a possibility that unless matched by rapid economic growth and huge new reserves of oil, the debt burden may begin to adversely affect Ghana's foreign direct investment (FDI) prospects when rating agencies begin to bad-mouth the country," Simons told Buziness Africa from Accra, Ghana.
"Naturally, the payback from infrastructural investment, especially in the railway sector, shall over the long-term prove critical to sustained growth, and the concern some people have is that the Chinese may tie the package to ownership rights in the country's new-found oil wealth thus limiting the flexibility of the government to engage multiple potential partners and hence maximise the return from the resource," Simons concluded.
But many organizations like IMANI are insisting that the opacity that has marked some Chinese investments on the continent in recent years will not characterize all the economic deals that Ghana has signed with China.
Ghana's deputy minister of finance and economic planning, Mr Seth Tekpeh, confirmed the $10.4bn infrastructure loan.
"The repayment for these loans would not come from the budget but through exports," Mr Tekpeh said. He did not elaborate on which exports would pay for the loans.
Some see a signal for the West in such agreements.
"China doesn't just give away money. What they're really saying is we'll get a Chinese company to come in and do a project for some amount," said Yofi Grant, an executive director of Data Bank, an investment bank in Ghana. "But it's a good signal to the US and the UK that China gives state support for these kinds of projects," Mr Seth Tekpeh said.
Shanghai Construction Company in China has also agreed to build two regional hospitals in Wa and Kumasi to enhance healthcare delivery. The gesture by the Chinese company is in support of the government's 'Better Ghana's agenda in the health sector.
Buziness Africa learned further from Shanghai that in a related development, a telecommunication company, Huawei, had pledged $6 million towards Ghana's e-Governance project. Additionally, the company has agreed to offer scholarship to 30 Ghanaians to receive training in communication in China.
Later addressing the Ghanaian community in China at the Chancery in Beijing, President Atta Mills called on stakeholders in national development to implement with transparency the numerous programmes for which China is giving Ghana assistance.
President Mills said the Chinese had been more than generous to Ghana not because of any speciality, but that they were making a point to use their resources to propel Ghana's development. Close to about $30 billion dollars development package is to be made available by the Chinese Government to Ghana as a result of the visit during which President Mills, accompanied by a delegation of Ministers of State, business people and entrepreneurs, held bilateral discussion with his Chinese counterpart, Mr Hu Jintao, and struck a number of investment deals.
President Atta Mills advised Ghanaians in China to continue to be law-abiding and to channel all issues concerning their stay and business through the Ghana Ambassador to China, in a coordinated manner. President Mills later visited the New Poly Plaza, offices of the Poly Plaza Group, which is constructing four submarines for the Ghana Navy. (With reports from other news agencies.)