Wednesday, 22 September 2010 13:15
Continent's Children to Take Centre Stage At UN Assembly
By Samantha Spooner And Charles Onyango-Obbo
NEW YORK, September 22, 2010 (The East African/All Africa Global Media via Comtex) – UN Secretary-General Ban Ki-moon will hosts the world big men and women to review  progress on Millennium Development Goals (MDGs), in New York from September 20
to 22.
There are some good African MDG stories that the conference will hear, and also some scary and extremely uncomfortable ones too. None more so than MDG 4; Reducing Child Mortality.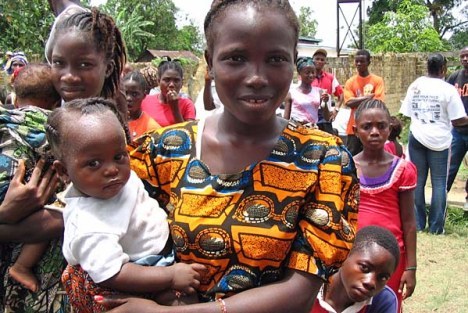 Africa accounts for 22 per cent of births globally. If fortune and misery were distributed equally in the world, then 22 per cent of the child births in the world would happen in Africa.
Not quite. Nearly 50 percent of the 10 million child deaths a year in the world occur in Africa. In 2008 4.4 million children died in Africa.
It gets worse, because to say these deaths occur in Africa is an over
generalisation. After all, it is a big continent that can swallow all of the USA, India, Argentina, Western Europe, Argentina, and China and still have land to spare!
That said, it is quite remarkable that just three countries in the world (India,Nigeria, the Democratic Republic of Congo) account for 40 percent of the total child deaths in Africa.
Take Sierra Leone, one of the worse cases in the world. Here 269 children out of every 1,000 born die before reaching the age of five and in 2008 they had 43,000 children die that year.
These were levels last since in France in the 18th century. So, over 200 years ago France was suffering from the high mortality rates that Africa is today!
Even better, compare this with Norway that had 3 deaths per 1,000 children under age five in 2008.There are great countries for a child to be born in Africa.
But conditions for children in some of them are horrific. In Central African Republic one in every five children die before their 5th birthday. In Eritrea, 40 percent of children under five are underweight.
In Chad, most children are "invisible" because 91 per cent of births are
unregistered. This means that as a child grows up, with no official identity,the chances of access to health care and education are even smaller.
In quite a few countries when child survive beyond their 5th birthday, they faced more nightmares. Child-trafficking and kidnap, for example, are very high in countries such as the Central African Republic and Niger where conflict is rife.
It is not a consolation, but the crisis for children is bigger than Africa.
About 24,000 children die every day around the world (1 child every 4 seconds!). Then four million newborns die within the first month after birth each year globally.
In 2008, 8.8 million children worldwide died before their 5th birthday in 2008.
Against these numbers France's example is reason both reason to hope and a call for some realism. It tells us that child mortality is not an Third World or African problem.
All countries had to deal with it, and it can be overcome. On the downside, it suggests that realistically, it will take longer than the next five years for some countries to considerably reduce child mortality, so we
should prepare for many more decades of heartbreak.
On the bright side, such cases tell us what countries with high child death
rates, to cut out the long learning curve and reduce them quicker.
For one, it tells us that the pay-off from reducing poverty is huge, it can save millions of lives.
Secondly, that political stability is a public good that should be pursued with all legitimate means.
Indeed, as most of the world became better governed after the en of the Cold
War, the annual number of under-five deaths has fallen from around 12.5 million in 1990 to less than 9 million in 2008 as we have already reported.
This happy ending is playing out in many African countries. Already, Africa's middle income countries of Algeria, Cape Verde, Egypt, Libya, Mauritius, Morocco, Seychelles and Tunisia are thought to be on track to achieving the target of reducing under-five mortality by two-thirds.
Then there are countries in Africa whose governments have taken deliberate steps in child welfare, in Namibia, Algeria and Botswana health has been made an extremely high priority and immunisation programs are doing well [in Algeria 100 per cent of routine expanded programme on immunisation (EPI) vaccines are financed by government], and in Mauritius quality public health care has been made free for all.
Schools around the continent have been revamped, teachers trained, some to avoid situations of sexual discrimination, and there have been concerted efforts to supply as much free primary education as possible.
Cape Verde has been exemplary in this field and is pushing ICT education to be a big issue the national curriculum.
After posting some very grim child health statistics for a good part of the 1980s, and all of the 1990s, Kenya got its groove back with the election of the National Rainbow Coalition government in December 2002.
In The African Report on Child Wellbeing in 2008 found that Kenya emerged in the top 10 most child-friendly African governments. Kenya was ranked 1st for its effort to put in place and good laws and policies for children.
Big rich South Africa does not outperform its southern African neighbours, as the probability of dying under-five death (per 1,000 live births) is 69.
However, South Africa has taken significant step in subsidising housing,
electricity, water and sanitation and other essential services for people in need; huge actions in preventing deaths.
These cases show a cheaper and quicker to end the needless death of millions of children. Indeed, in 2007 Unicef estimated that 9.2 million children worldwide under the age of five died from preventable causes.
These "preventable causes" range from malnutrition to inadequate hygiene and illnesses, such as pneumonia or malaria.
There are cheap and potentially life-saving possibilities that non-state groups that work with children and governments can seize.
Nearly one in five child deaths, about 1.5 million every year, is due to
diarrhea and one of the causes of this is bad drinking water.
Childhood illness and death contribute to the impoverishment of families through expenditures on medical care they can ill afford, resulting in reduced income for other things, such as food and education.
Sure enough, someone has been totting the numbers: The economic cost of child mortality on lost productivity has been estimated for Senegal and Uganda among the world's poorest countries - at $1,200 per death for each of the 14,000 annual child deaths in Senegal and the 33,000 in Uganda.
On the other hand the average cost of saving a child 's life is $887. If this child-saving business was a capitalist venture, the entrepreneur would be making nearly $400 on each child 's life saved.
There is no legal business anywhere in the world, or stock on any exchange, that can give those kinds of margins.
All the more surprising that Ban Ki-Moon's meeting in New York is a political fiesta, not a private business summit.