Sunday, 26 September 2010 12:59
World Bank to Boost Support to Agriculture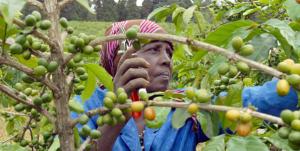 NEW YORK, September 26, (UN) - The World Bank has announced it will provide $9.350 billion in soft loans to aid the agriculture, health and education sectors in developing countries.
The move will help countries meet or make progress towards achieving the UN Millennium Development Goals by 2015.
Specific to agriculture, the World Bank officials say given rising food prices and the possible return of the food crisis, the World Bank Group will boost support to agriculture to the tune of $8.3 billion a year up from $4.1 billion annually before 2008, under its Agriculture Action Plan.
The bank will also increase its zero-interest and grant investment in basic education by an additional $750 million, with a focus on the countries that are not on track to reach the education MDGs by 2015, especially in Sub-Saharan Africa.
For the case of health, the Bank will focus on 35 countries, particularly in East Asia, South Asia, and Sub-Saharan Africa, which face challenges in achieving their MDGs because of high fertility and poor child and maternal nutrition and disease.
This will expand the reach of the bank's result-based programmes by more than $600 million to scale up essential health and nutrition services and strengthen the underlying health systems which are essential to sustain better health results over the years. All these are are outlined in a new report titled Unfinished Business:
Mobilizing New Efforts to Achieve the 2015 Millennium Development Goals - a new Bank report prepared for the MDGs review summit.
Since the inception of UN MDGs in 2000; the World Bank MDG results indicate that the World Bank Group is fully committed to assisting countries meet and reach the MDGs by: more than doubling the International Bank of Reconstruction and Development (IBRD) and International Development Association (IDA) zero-interest lending, from $50 billion in FY07-08 to $106 billion in FY09-10.
The World Bank estimates that as a result of the food, fuel and financial crises, 64 million more people are living in extreme poverty. By 2015, 1.2 million more children under five may die, and about 100 million more people may remain without access to safe water.
Speaking in Washington, the World Bank Group President, Mr Robert B. Zoellick, said: "As we take stock of the MDGs so far, we see the crisis only made things worse with too many of the world's people hungry, poor or vulnerable to poverty, with too few jobs and too little access to services and economic opportunity."
"We must therefore redouble efforts to target support to the poor and vulnerable. We need to invest in what works and fix what doesn't. And as we do, we always need to keep in mind that this work is ultimately about empowering people."
Taking a critical look at the regional perspectives on MDGs, the World Bank says although SSA countries are off-track on most MDGs, the region has made important gains. Over the past decade, the poverty rate has declined at about one percentage point a year - from 58 per cent in 1995 to 51 per cent in 2005, with most of the decline occurring over the past decade.
Before the crisis, SSA demonstrated the fastest regional progress in primary school completion from 53 per cent to 65 per cent between 2000 and 2008. Several countries had improvement in completion rates of 50 per cent or higher, although admittedly from a low base. SSA countries have also made progress in closing the gender gap in primary school enrollment.
While progress on health MDGs has lagged, evidence indicates that child mortality, after stagnating for some time, had begun to fall sharply before the crisis. Ethiopia, Gambia, Malawi, and Rwanda saw declines of 25 to 40 per cent in under-five mortality during 2000-08. The crisis could stall hard-won progress or could make it harder to sustain gains.
The poverty rate is now expected to fall to 38 per cent by 2015, not 36 per cent. This will leave an additional 20 million people in extreme poverty in 2015 and under-five mortality might fall more slowly: to 139.5 per 1,000 (post-crisis trend) instead of the pre-crisis trend of 129.2 per 1,000.