Friday, 24 September 2010 13:21
Tanzanian Government Signs Electricity Contract With Borodino

By Miao Huixia

MOSCOW, Russia, September 24, 2010 (Buziness Africa) - The government of Tanzania, acting through the Ministry of Power Industry and Mineral Resources, and Russian-based JSC "Zarubezhstroy" (Borodino Group of Companies) signed an official memorandum on mutual understanding to construct a huge hydro power energy project under the project title "Rumakali" in Tanzania.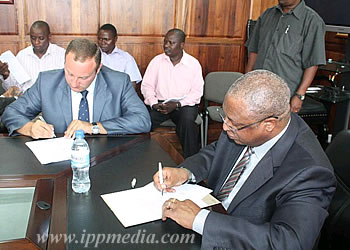 Permanent Secretary at the Ministry of Energy and Minerals, David Jairo said in Dar es Salaam that the 'Rumakali Hydropower Project' will be implemented in Iringa region for the medium term between 2013 and 2018 under the power master plan, but the investor would be allowed to start production upon completion of the project even before the deadline of 2018.
Jairo said the Russian company 'BORODINO' will invest more than $700 million for the construction of water dams and a generation plant. According to the reviewed electricity law, the foreign investors is allowed to produce and sell power to the Tanzania Electricity Supply Company (Tanesco) or later sell its plant to the government.
"We are proud of the Russian energy investment as it will help us meet our daily electricity demand which keeps increasing," he said. Jairo said the current daily energy demand in the country is 897MW, saying Tanesco is able to produce 793MW only and the latest statistics show that the demand for electricity in Dar es Salaam alone has increased to 433MW, Mbeya 28MW and Mwanza 44MW.
He said power from the Rumakali project will also be connected to nearby villagers not connected to the national grid. Jairo said the government is firmly committed to policies that encourage independent power producers, adding that Tanzania is among the best investment destinations since it has created attractive environment for investors.
"Your decision to support the country's energy sector is clear testimony of the commitment you have in Tanzania. It consolidates the cordial relationship between the two countries," Jairo stressed. He reiterated that this year there will be no power shedding since due to the existence of thermal and gas sources of generating electricity.
The hydro energy project "Rumakali" – is the most significant contract for building a hydro electric power station, realization of which would be really important in a strategic way for Tanzania and even for the whole Africa, the sources said.
 "Rumakali" hydro electro station would be the greatest and the most effective for this region: HEP capacity – 222 Megawatt.
All the steps of "Rumakali" project will be realized by a panel of experts and specialists of transnational company Borodino and its subsidiaries: "Stroyecologia", "Baltic-CGEM-Komplekt", "ACC Engineering", etc.
In the frames of this project, there would be laid 140km of power lines. At the same time for realization of the project there would be used new Russian technologies and up-to-date equipment and modern knowledge, skills and practices in construction and building.
For example, a new construction technology planned to be applied which helps to cut down construction and building period. Traditionally hydro electro station contraction and building need 7-10 years. But period of "Rumakali" hydro electro station construction and building planned to last only for 3-5 years.
Target period would likely be cut down with application of new technology. Now more than 75% of preparatory phase (financial, technical settlements and regulations) are already done.
On his part, BORODINO General Director, Razmik Tarverdyan, said they have decided to invest in Tanzania because it is one of the richest countries in East African with a lot of potential. Tarverdyan said: "Tanzania has a lot of investment potential, but we have chosen to start with electricity because it is the main source of development."
He said that Russia is interested in working with Tanzania which it considers a friend. Tanesco Communications Manager, Badra Masoud, was quoted in the local media saying efforts have been made to increase power production in the country. She said they also depend on the new 100MW power plant at Ubungo in Dar es Salaam, Tegeta power generators which produce 45MW. She said they expect to launch another power plant in Mwanza which will produce 60MW.