Tuesday, 21 September 2010 13:15
EU States Should Embrace Laws on Trade in Conflict Minerals
By Paul Redfern
NAIROBI, Kenya, September 21, 2010 (East African) -  A senior UN figure has asked European Union states to follow the lead of the US government and establish new laws on conflict minerals from central and Eastern Africa.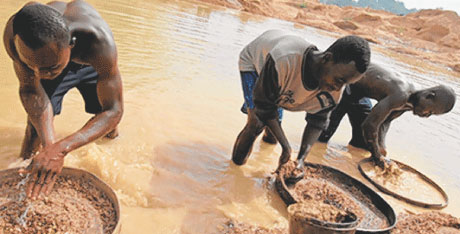 Margaret Wallstrom, the UN special representative on sexual violence in conflict says the US Congress and President Obama "have shown great leadership by including the amendment on conflict minerals in the final law.
It is now time for Europe's leaders to step up to the plate, as a sign of universal resolve to protect the most vulnerable."
The recommendation follows new evidence that the trade in vital conflict minerals such as coltan from the Democratic Republic of the Congo – used to make mobile phones – is being run by armed gangs who use slave labour to obtain the product.
Pressure groups such as Global Witness and Enough say the trade in minerals is processed through Rwanda, Burundi, Tanzania, Uganda and Kenya before being shipped to foreign refiners and smelters, usually in China, India and other East Asian countries.
According to Ms Wallstrom, the new US statute will also help to prevent mass rape in the region.
A report in the Guardian newspaper notes that more than 200,000 rapes have been reported since war began in the Democratic Republic of Congo more than a decade ago.
The eastern part of the country has been labelled the rape capital of the world.
"Control of Congo's natural resources and minerals has always been contested, and these vast riches have fuelled the country's conflicts," the report says. "They have helped enrich militant groups, who have employed sexual violence as a tactic of war."
A leading aid agency World Vision says that the sales of these minerals fund militia operations, and in turn, the armed groups "continue to terrorise civilians as a means of controlling the mining zones and obtaining labor.
Forced labour, often by children, is endemic to mining zones controlled by armed groups where miners work under slave-like conditions. The lack of regulation continues to spur conflict and abuses of women and children."
The newly adopted US financial reform law stipulates that any company doing business that involves minerals must disclose annually whether conflict materials originating in the DRC or an adjoining country were used in the process.
This applies not only to electronics companies, but to all publicly traded US firms that use gold, cassiterite, tungsten or coltan in their products.
Companies are required to exercise due diligence on the source and chain of custody of these materials, and measures to ensure oversight shall include an independent audit of the report.
In less than 180 days, US secretary of state Hillary Clinton and USAID chief Rajiv Shah have to submit to the US Congress a strategy to address the linkages between human rights abuses, armed groups, mining of conflict minerals and commercial products.