Thursday, 26 August 2010 14:06
Zuma Foresees Bright Future for Africa-China
PRETORIA, South Africa, August 26, 2020 (BuaNews) — The economic future for China, South Africa and Africa in general is bright, says President Jacob Zuma.
"We are still at an early stage of what will be an exciting journey, a journey out of poverty, a journey to sustainable improvements in the lives of our people, here in China, and on the African continent," said President Zuma on Wednesday at the Renmin University, Beijing.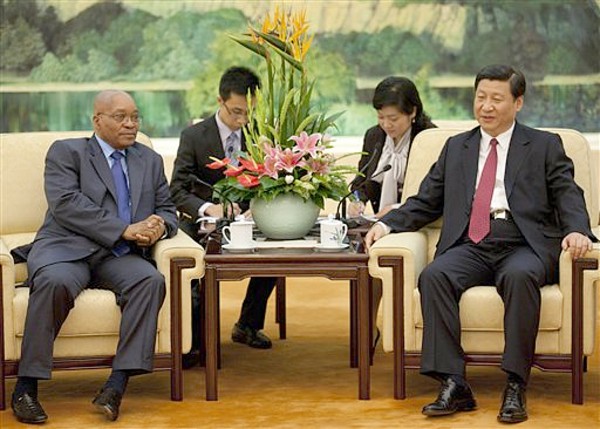 Zuma's comments come as the debate over China's role in Africa continues to rage. Critics have raised concern about China's support for countries like Sudan and Zimbabwe, as well as its questionable worker safety rules.
Zuma defended China's surging investment in Africa, saying China was making an important contribution and helping African governments.
"Chinese assistance in infrastructure development in some of the less developed parts of Africa is certainly making an important contribution to future African development," Zuma said.
Zuma is in China for a three-day state visit aimed at strengthening and broadening economic and commercial interaction between the two countries, and expand South-South interaction with a view to strengthening the voice of the developing world and its capacity to address the needs of its people, among other things.
South Africa is looking to China, the world's second largest economy, to increase its investment in the country to help it reach its development goals.
African countries remain an attractive destination for Chinese investment funds though Africa is seeking China to expand its investments beyond mining and resources. South Africa is strategic for China in that it is by far Africa's largest and most advanced economy.
Zuma is accompanied on this trip by over 370 representatives from the business community, the largest ever contingent from South Africa.
On Tuesday, the two countries signed the Beijing Declaration after their one-hour talks in the Great Hall of the People.
The declaration outlined 38 bilateral cooperation agreements, ranging from political dialogues, trade, investment, mineral exploration and agriculture to joint efforts in the global arena, such as in the United Nations and the Forum on China-Africa Cooperation.
According to the declaration, the two sides expressed the desire to further strengthen and deepen friendly exchange and cooperation between the two nations in both political and regional affairs by establishing a comprehensive strategic partnership based on equality, mutual benefit and common development.
The declaration says an annual strategic dialogue at the ministerial level between China's Ministry of Foreign Affairs and South Africa's Department of International Relations and Cooperation will be held.
In area of economics, the two sides agreed to improve the current structure of trade between the two countries, in particular by working towards more balanced trade profiles and encouraging trade in manufactured value-added products.
In this regard, the two sides agreed to increase trade and investment missions and to establish a joint work group to study statistical discrepancies in the area of bilateral trade.
"China, in this spirit, will encourage its enterprises to increase investment in South Africa's manufacturing industry and promote the creation of value-adding activities in close proximity to the source of raw materials," says the declaration.
Both sides agreed to provide mutual technical support in the areas of green economy, skills development and industrial financing.
Both sides also agreed to encourage companies from both nations to explore cooperative opportunities in infrastructure construction projects, such as roads, railways, ports, power generation, airports and housing.
The two nations will create conditions to facilitate practical cooperation between Chinese and South African energy companies while also considering third-party involvement in energy, electricity, nuclear energy, energy efficiency and energy infrastructure projects.
Meanwhile, Chinese and South African companies signed more than a dozen agreements on Tuesday involving investments in railways, power transmission, construction, mining, insurance, telecoms and nuclear power.
Ну ладно, сказал "Анализ детали на предмет возможности обработки на автоматическом комплексе"Аззи, если ты собираешься остаться, то оставайся, черт "Анализ деятельности винодельческого завода им. С. Перовской 'Алькадар'"с тобой.
Не говорите об этом жителям деревни, но бывают "Анализ деятельности ООО 'Швейная фабрика '8 Марта'"моменты, когда "Анализ диаграмм состояния двойных сплавов"я даже подумываю нарушить заключенное с ними перемирие просто для "Анализ деятельности ООО 'Союзстрой'"того, чтобы чем-нибудь заняться.
Перепробовав "Анализ деятельности предприятия общественного питания"все Отворяющие Заклинания и не добившись никакого результата, "Анализ диаграммы железо-цементит"Фауст решил прибегнуть к крайним мерам.
Звучит достаточно противно, заметил Аззи.
Мопсус "Анализ диаграммы состояния 'Железо-цеменит'"сверкал отраженным светом, бросая лучи в бездонную "Анализ дозирующего оборудования"яму планеты.
Думаю, что могу уладить дело "Анализ жидкого топлива"по справедливости, но ты должна мне позволить ненадолго подняться на поверхность.