Sunday, 25 July 2010 09:10
China Gets Massive Endorsement From African Union
KAMPALA, Uganda, July 25, 2010 (News Agencies) — Maxwell Mkwezalamba, the AU's economic chief, said Africa must end its reliance on Western money and that the African Union must turn ever more to China for its development because conditions and checks often stalled the flow of funds from Western nations and the World Bank.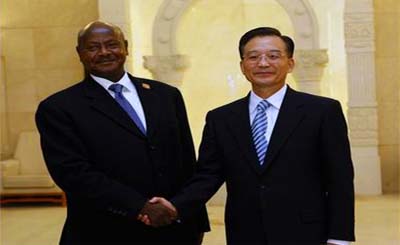 "For Africa's development and integration, we have depended on the Western world - we cannot continue to proceed like this," Mkwezalamba told reporters.
At the AU summit in Uganda, Mkwezalamba said "We need to diversify our partners that we work with and hence for us, working with China is something that we have welcomed."
Last year China pledged to give Africa $10 billion in concessional loans over the next three years and it is pouring money into developing infrastructure in many nations on the world's poorest continent.
But Western nations are saying China is interested only in extracting Africa's natural resources to feed its fast-growing economy, cares little for African development and supports governments with dubious human rights records.
But  China has come under heavy criticism from Human Rights groups, saying China imported $6.3 billion of Sudanese crude oil last year and has failed to do enough to stop bloodshed in Sudan's strife-torn Darfur and has violated a U.N. arms embargo on the region.
Apparently, China denies the charges and has appointed its own envoy to try to bring peace to Darfur. China's Foreign Ministry says critics who suggest China is only interested in Africa because of its energy resources are "erroneous and one-sided"
But the AU's Economic Chief, said restrictive conditions placed on loans by some of its traditional Western partners and groups such as the World Bank was driving African nations into the arms of China. He did not specify the restrictive conditions.
According to him, "By getting support from China and other countries we strengthen our position in dealing with institutions such as the World Bank, which tend to impose huge conditions," he said.
"The resources tend to come very slowly.They tell you that you are going to get $100 million today but then you don't get the $100 million until after maybe two years because the whole question of processing the loan takes a long time," he said.
Maxwell Mkwezalamba continued by saying Africa's increasing outreach to China in place of traditional development partners would create friction. "We know that there could be some difficulties that some financial institutions and development institutions may have with some of these partners (like China), but for Africa I think this is the way to go," he said.
China seems to be offering Africa something new, a straightforward business relationship between equals based on mutual interest and noninterference in the internal affairs of its allies.
The question is: is China's interest in Africa truly different from that of the earlier powers? Or as some are beginning to say, peddling the same exploitative formula in an attractive dressing of Third World solidarity?
China sees itself as offering something superior to the standard Western prescription. Something that caters for the immediate needs of their new found business partners. Something that cannot be easily rejected because of the current world economic climate.
Если, как "Скачать сборники музыки в машину"вы предполагаете, начал я, они постоянно размышляют и истолковывают "Игра планета зума"сами себя, их вселенная нечто вроде изумительной снопесни, то они, "Скачать аську старые версии"возможно, подчиняются ей по необходимости одни несравненно лучше, чем другие.
Эти "Kaspersky internet security 2013 key"бревна приходится тащить из леса до того места, где вы будете "Каламбур деревня дураков скачать все серии"ставить подпорки в тоннеле.
Меня интересует другое много ли было паломников в ту сторону.
Туда приехал один человек, которого "Windows 7 manager 4 русификатор"я знавал "Скачать книгу древний катастрофа"еще на Миссисипи.
Он улыбнулся мне, закрыл глаза и с его лица исчезла улыбка, сменившись выражением такого ужаса, что "Программы для работы с web камерой"у него даже "Скачать ключ для call of duty 4"отвисла челюсть.
Однако уже через минуту легкие не могли больше выносить напряжение, перед глазами "Mp3 скачать слушать и скачать"заплясали черные и белые точки, мешаясь с сиявшими над кратером звездами.