Saturday, 10 July 2010 13:34
Last Word: Russia – Still A Great Potential For Africa
By Kester Kenn Klomegah and Zenebe T. Kinfu
MOSCOW, July 10 (Buziness Africa) - His Excellency Professor (Dr) Sospeter M. Machage, Ambassador Extraordinary and Plenipotentiary of Kenya was appointed on 20th April, 2005 by Honorable President Mwai Kibaki in recognition of his meritorious achievements in his previous employment down the years.
Professor Machage has accumulated enormous experience after having served in the Public Service in different capacities for over twenty six years. In 2007, he was honored as Professor and Academician of the Academy of Problems of Security, Defence and Order (Russia).
With a small Kenyan staff, supported by locally hired Russians, his diplomatic work extends from the Russian Federation to the former Soviet republics. The mission promotes, strengthens and enhances the cordial bilateral relations existing between Kenya and the Russian Federation, Belarus, Kazakhstan and Ukraine through effective diplomatic engagement.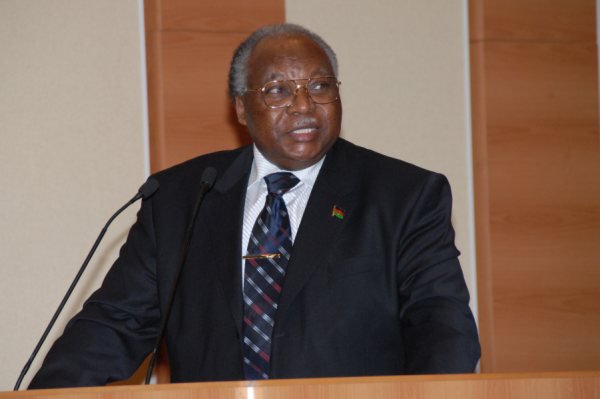 In late June, a few days to the end of his diplomatic tour, Professor Machage spoke to Kester Kenn Klomegah and Associate Professor Zenebe T. Kinfu in an interview about some important aspects of Russia-Kenya relations, his views about changes in Russia and future perspectives for Africa.
Below are the interview excerpts:
Q. What were your first impressions when you arrvied as Kenyan Ambassador five years ago (precisely in 2005) in Moscow and what has changed since then in your own eyes?
A: Thank you very much for giving me this opportunity to recall my impressions with you. Well, to begin with, I would like to point out that on my arrival in Moscow in 2005, I successfully moved our diplomatic office from Bolshoy Ordinka to a new location, Lupokhinsky, where we operate now. It's comfortable to work in the new premises. We have a total of 25 staff, seven of us are Kenyan diplomats. The diplomatic relations was established in 1963, after our political independence, one of the few African embassies to be opened duriung the Soviet times.
Today, any talk about Russia, we are indeed talking about the period after 1990. Even before that there were interesting political developments including the "perestrioka and glasnot" introduced by the Soviet leader, Mikhail Gorbachev, a period that preceeded the collapse of the Soviet Union.
Yes, we are talking about Russia. Russia is a country of extreme contrasts, but at the same time, one can say that Russian society is not static. There are a lot of significant positive changes since after the collapse. In our eyes, we have witnessed how rapidly democracy has evolved, how the economy has transformed and how culturally the people have changed.
We always remember the Soviet days, the essential commodities very cheap and one could access them, for instance housing, employment and then the political break came with the socalled revolution and now capitalism won. And resultantly, Russia emerged and did away completely with social programmes which I think was a great and irreversible mistake. Unlike China, it modernized and still modernizing with its existing social development programmes. The institutional sturctures were fused into modernization.
Russia has deep vested interests in maintaining strategic ties with several influential countries on the African continent and is gradually regaining its political influence in the world arena, in my view Russia is doing progressively well. Russia has quickly recovered (although not completely) from the global economic crisis, and the economy is again getting healthy for businesses. The market conditions have shown that the potential is here. African countries equally have the chance to explore some of these emerging economic potentials especially in their individual countries' bilateral relations with Russia. Russia is becoming interesting that African countries can always identify some economic interests of a sort.
Q: Do you think the changes are positive? What African countries, especially Kenya, can make out of the new changes emerging in Russia, in your objective opinion?
A: In the first place, African businesses do not have access to sufficient business information and, as a direct result, they are unaware of the diverse business potentials that have emerged in post-communist Russia. As you know, Russia is one of the most important emerging markets in eastern Europe now, although it has presented some tough challenges for those who want to operate here. The market is very competitive and has its own peculiar ups and downs.
Looking at the change, Africa countries make something out of the change. For Africa, unfortunately, Russia is not open to Africa after the collapse of the Soviet Union. As we see, all Soviet investment in Africa were stopped due to the sudden change of the system…now it has to start from zero and their priority is focused on the neighbouring republics that are in need. Russia is particularly concerned about its borders, about security in the region among other problems.
However, we can say that Russia's interest emerged only last year when Russian President Dmitry Medvedev paid an offical visit ever to Africa by any incumbent Russian head of state, securing vital partnerships and signing lucrative deals in Nigeria, Namibia, Angola and Egypt. At a certain point in time, Russia realized that it could't without Africa in pursuit of its strategic policy at the international arena.
But for Kenya, we export some products including Kenya flowers and tea directly to Russian market. It's no longer through a third country. As far as Kenya is concerned, we have increased more than twice of Kenya products into Russia. Kenya is one of the leading in export of flowers and tea, these areas are now exporting, interesting to say that 40 % of the flowers from the Netherlands is Kenyan flowers…re-export to Russia. Horticulturally, we have opened the market here.
Russia has its industrialized machines and the technology. We don't import industrial products from Russia primarily due to the distance, we prefer maufactured products from the COMESA region, I think we are relatively doing well. But, we buy a lot of fertilizers and steel.
Regarding trade relations with the African continent, Kenya is a developing country, our primary goods don't get much. We import more than we export, so trade has been always imbalanced.
Russia has opened its market to Kenya, in my objective views, whether we like it or not, Russia should open the maket to other African countries. Franking speaking, had it not been the global economic recession, Russia would have gone far with Africa especially with the southern Africa countries. On the other hand, Russia continues to play significant roles, for instance, showing unflinching support by training African specialists in educational institutions here.
I sincerely believe that non-government organizations emerging now in Russia, such as Africa Alliance, can successfully compliment government efforts in promoting economic and cultural relations between Russia and African countries. It needs people who are strongly committed, have the desired perspectives on organizing frequent business dialogues and adopt a kind of pragmatic approach in strengthening Russia-Africa business cooperation.
The important primary objectives of these private initiatives cannot be overlooked. We would like to see them evolving into an influential business advocacy organizations in Russia or vice versa. One could also anticipate that the organizations effectively help in removing obstacles hindering the smooth expansion of economic, trade and businesses between Russia and African countries. So to say, the expectations are still very high.
Q: Maybe, you would like to recall one of the most interesting moments while in the country? And say your last words?
A: Can I make a general one? (…laughs)! The most interesting moment, for me, is when I left after my academic studies back to Nairobi, Kenya, during those old good Soviet days, the Soviets were hard communists, but when I came back five years ago, as an accredited Ambassador of Kenya, I have seen that many of the staunch communists have, without much doubts, turned into real capitalists in conformity to the dictates of current market conditions in the country. This is simply understandable due the sudden political and economic change we are experiencing, and again this situation points to the fact how rapidly things change with time.
The final words…it has been highly interesting to come back to work here as an Ambassador, especially in a country where I have received my education, made a family from an Ukrainean, so you realize that socially and academically, I am closely linked to the region. As for Africa in general, and for Kenya in particular, I will strongly recommend that we take adequate measures to strengthen mutual economic cooperation and to develop a purely business relationship between our respective countries and Russia.
Further to that, the issue of borrowing or seeking financial favors and the question of requesting for development assistance, in my objective opinion, should now be a thing of the past if we want our countries be respected as business partners and we will be able to stamp out with full-fledged authority. These are my final words.