Saturday, 03 July 2010 09:02
Sport: Mandela Feels For Ghana's Gyan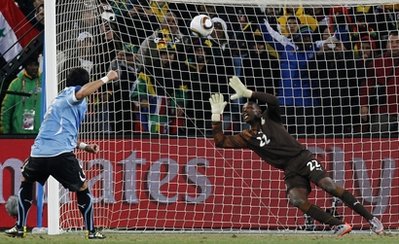 By Martin Rogers
JOHANNESBURG, South Africa, July 3 (Reuters) – Heartbroken Ghana star Asamoah Gyan received a message of condolence from Nelson Mandela after his devastating penalty miss led to his team's dramatic World Cup exit against Uruguay.
Former South African president Mandela, who sent a letter of support to the Ghana team before the match, was further moved to pass on his sympathy to Gyan upon seeing the forward in a flood of tears after missing a chance at winning a place in the semifinal.
"[Mandela] wanted us to know he was proud of our players," Ghana Football Association president Kwesi Nyantakyi said. "He wanted Asamoah to know he was proud of him and his efforts and what he gave for his team. That support is very special and significant to everybody."
With just seconds remaining in extra time on Friday, Luis Suarez's handball on the goal line gave Gyan the opportunity to seal victory with a successful penalty. Gyan had already scored twice from the spot during the tournament, but on this occasion he crashed his effort against the crossbar.
As a result the quarterfinal moved on to a penalty shootout. Uruguay prevailed 4-2 to set up a showdown with the Netherlands in the semifinals on Tuesday.
After Sebastian Abreu sealed Uruguay's passage with the final kick, Gyan sobbed inconsolably and had to be assisted back to the locker room by national team staff.
Ghana was the only African team to qualify from the group stage. After seeing off the United States in extra time in Rustenburg last Saturday, the Black Stars were seeking to become the first team from the continent to ever make the last four of a World Cup.
Ghana took the lead just before halftime thanks to a brilliant long-range strike from Sulley Muntari, but was pegged back when Diego Forlan smashed home a superb free kick after the break.
As the sides were level at 1-1 after 90 minutes and headed into extra time, there was little hint of the mayhem to follow. Yet in the space of a few astonishing minutes, the African dream at this World Cup died and the hearts of Gyan and his teammates were ripped to shreds.
"This is cruel," Ghana coach Milovan Rajevac said. "But it is football. What can you say to him [Gyan]? We were so close and somehow it did not happen. We were so close to history.
"There were times when it seemed like there was someone else in control of this, someone above."
With host nation South Africa having been dumped out of the tournament early on, local sentiment switched heavily to Ghana, which enjoyed huge crowd support. But on a night that twisted and turned with reckless frequency, it was not enough.