Saturday, 26 June 2010 09:21
Russian Parliamentarians "Resetting" Button With Africa
By Kester Kenn Klomegah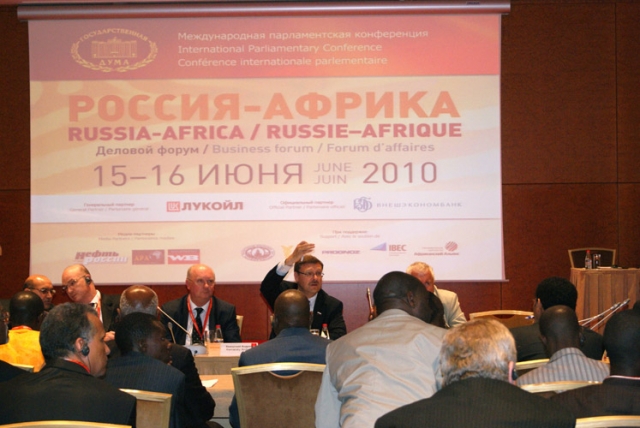 MOSCOW, June 26 (Buziness Africa) – Russian parliamentarians have taken the bull by the horns in mid-June when invited their African colleagues to Moscow to discuss radical ways of "resetting" mutually beneficial ties and to brainstorm ways of strengthening parliamentary diplomacy and economic cooperation.
As expected, the first Russian-African interparliamentary summit brought together some 400 participants, has laid the foundation for the future. Most participants at the forum seemed tacitly convinced about a new bright future, promised to leave behind all Soviet political dogmas, to address bureaucratic barriers, and to involve both the public and private sectors in forging a strong economic cooperation in both countries.
"These are surely necessary steps toward a more vigorous trade relations between Russia and Africa. We need to discuss strategic ways of enhancing progessive economic partnerships and effective cooperation with Africa," the deputy chairman of Vnesheconombank and also the deputy chairman of the African Coordinating Committee for Economic Cooperation with African Countries (AfroCom), Peter Fradkov, told Buziness Africa in an exclusive interview before the start of the summit.
He noted that, to some extent, Russia's political and economic influence were damaged by negligence of Africa by post-Soviet Russia in throughout the 1990s as it was engrossed in its internal problems that erupted from the collapse of the Soviet Union. But, that time has passed and it wouldn't be an exaggeration to say that Russia is back to Africa.
It's probably both a mix of negative perceptions and inadequate knowledge about the emerging business potentials that have an impact on trade development. Besides language obstacles, there are perceptions about unstable political situation, poor governance, quality of management and services.
To address these challenges, in 2009 AfroCom was established under the auspices of the Russian Chamber of Commerce and Industry, and Vnesheconombank.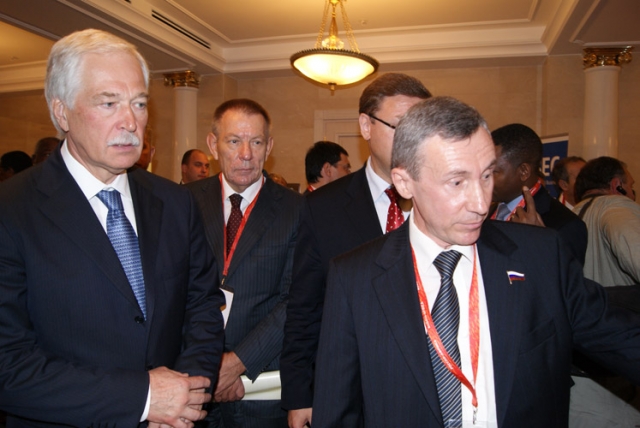 "We want to explain that for much of sub-Sahara Africa, all of these conditions are gradually improving, although with difficulties. For example, we see dramatic decline in the number of armed conflicts since the end of cold war. During the past decade, Africa has made advances in three important areas: democratization, economic development, and conflict prevention and resolution," Fradkov explained.
Nonetheless, Russian economic involvement in Africa currently and in the coming years has been welcomed as an alternative or balancing force to western and Asian economic powers.
Fradkov said: "I believe that Russian business does not have any hidden agenda in Africa. We intend to pursue only win-win solutions. Russian corporations, companies and private individuals can contribute most effectively by building business partnership and reaching out to the African private sector in the areas that Russia knows best: high technology, technology transfer and management."
But experts viewed a few ethnic and cultural problems still pose great challenges to Russian business on the African continent, and strongly suggest that Russian authorities hold more international business forums on such issues for corporate business leaders and entrepreneurs.
"In view of the changes and transformations in Africa enabling new players, such as Russia, to come to the market, we must exert a lot of efforts together to teach our business directors some level of knowedge of culture, national phychology and mentality of Africans as all other countries did as well as how to do business in Africa in general nowdays," Viktor Polikarpov, former executive director of the Russia-South Africa Business Council, told Buziness Africa.
"This should be a priority of both Africa and Russia. Africa should be more exposed to Russia and Russia should be having a better understanding of Africa. Therefore, we must use different grounds to meet each other similar to the forums like EU - Africa, China- Africa, Japan- Africa, US- Africa. Talking on an interparliament level might be the first step which should lead to the second, otherwise Russia will miss its historic chance in Africa for ever," Polikarpov assertively pointed out.
Dmitry Suchkov, an executive director of the Coordinating Committee on Economic Cooperation with African States (AfroCom), has also expressed frank views that Russia and Africa should now pool together practical and concerted efforts in the area of innovation and transfer of Russian science and technology to help develop the economy of African countries.
Speaking in an interview with Buziness Africa, Suchkov said that the Russian-African business meeting held within the framework of the summit brought up many diversified views from African participants which could be incorporated into a working document for Africa.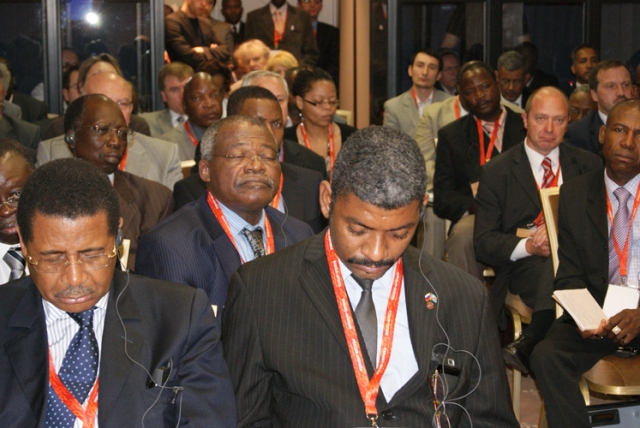 According to him, confidence-based dialogue between the Russian and African parliamentarians and businesspeople "should move beyond the borders of exchange of opinions into actualizing viable projects and rethink about building up the two countries' political and economic positions.
Russia, Suchkov pointed out, has a vast experience in the area of production, techonology and scientific research, while many African countries possess a significant untapped natural resources.
The "frosty" period in Russian-African relations has started to thaw when President Medvedev went to Africa, but we need to improve the climate continously, especially the flow of vital information on business potentials and the economy so that that this cooperation can be long-standing, promising and strategic, Suchkov suggested.
And this was exactly the common sentiments raised by many who attended the panel sessions.
The summit was dubbed "Russia – Africa: Horizons of Cooperation" and there were a series of plenary discussions as well as a special business session for corporate business leaders and entrepreneurs. The participants full-fledged welcome the notion of the Russian political leaders that Russia should "return to Africa" and that the established relations to be based on mutual respect and mutual benefit without all old Soviet ideological dogmas.
The summit has identified tasks of interaction under plans to promote business and intercultural dialogue, and some regional strategies in this area were already outlined, emphasizing such sectors as energy, technology, mineral resources exploitation, agriculture, infrastructure, education and tourism.
The summit further noted that Africa has made significant progress in democracy, conflict resolution and improvement in investment climate which are storng reasons for Russian investment and cooperation with Africa.
During the opening ceremony of the summit, Konstantin Kosachov, chairman of the Foreign Affairs Committee of the State Duma, popularly refered to as the lower chamber of legislators, told the participants that "Russia is opened to dialogue on any question of development and hope the meeting will be an additional impulse not only to Russia-Africa interparliamentary relations but also will be another significant and positive sign of beginning a new stage of cooperation."
Rogerio Herbert, chairman of the Group of African Ambassadors in Moscow, however reminded the gathering that for 50 years of independence, Russia has made enormous contributions to a number of African countries and has supported development efforts for a long time.
"There is no doubt that it is important to learn from the past and create a new base for the future improvement of Russia and Africa relations especially in the sphere of economic development," he said.
He said that "after this meeting we are looking forward to getting conclusions and recommendations on the basis of which heads of African countries represented at the summit are giong to plan and forge mutual relations with Russia."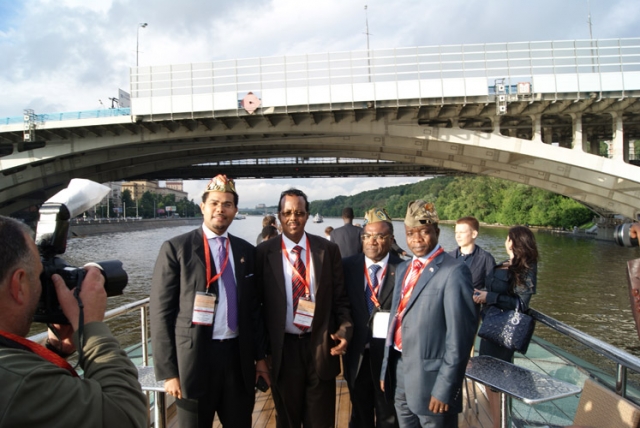 Interestingly, neither the beautiful Russian national anthem nor an African anthem was played to grace the opening ceremony. State Duma speaker, Boris Gryzlov, read on behalf of President Dmitry Medvedev a congratulatory message that says in part: "This is the first time in the history of Russian-African relations that such an extensive parliamentary forum is taking place and it is symbolic that its timing coincides with the 50th anniversary of the Year of Africa. I am confident that the evolution of regional integration processes will encourage progress and prosperity in Africa."
The influence of African countries in international affairs is growing, including in a just and multipolar world order establishment, conflict resolution and food security, the Russian president explicitly pointed out in the message.
Medvedev said finally that "Russia is ready to continue developing our traditionally friendly relations with Africa. Our priorities include strengthening bilateral and multilateral ties, deepening political dialogue, and expanding interparliamentary and humanitarian contacts. It is in our shared interests to activate as far as possible our trade and economic partnership and to find promising new areas of cooperation."