Thursday, 24 June 2010 08:30
Nigerian Military Officer Awarded For Vision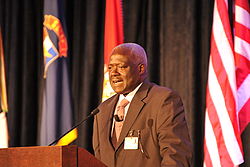 By Kester Kenn Klomegah
MOSCOW, Russia, June 24 (Buziness Africa) - A Nigeria's former Chief of Army Staff, General Martin Luther Agwai, was in June 23 awarded the "Visionary Award" by the US-based Africa Center for Strategic Studies at a ceremony in Lisbon, Portugal.
The Africa Center for Strategic Studies, headed by US Ambassador William M. Bellamy (retired), is the pre-eminent US Department of Defense institution for strategic security studies, research, and outreach in Africa.
It supports United States foreign and security policies by strengthening the strategic capacity of African states to identify and resolve security challenges in ways that promote civil-military cooperation, respect for democratic values, and safeguard human rights.
The center confers a "Visionary Award: Achievement in Peace and Security Award" every year as a way of recognizing an individual who has made significant contributions to promoting peace and stability in Africa.
Previous recipients of the Visionary Award include: Alpha Oumar Konare, former President of Mali and Chairperson of the African Union Commission (2006), Ms. Graca Michel, international advocate for women's and casino online nl children's rights (2007), General Lamine Cisse (retired), former Senegalese Interior Minister and Special Representative of UN Secretary General (2008), and John Githongo, Kenyan former journalist and anti-corruption chief (2009).
General Agwai, who is also former Nigerian Chief of Defence Staff and Force Commander of UNAMID, the joint UN-AU force in Darfur, received the award in recognition of his distinguished military career and dedication to the promotion of peace and security in Africa.
Accepting the award, General Agwai said, "I am proud to say that my country, Nigeria, rose to casino pa natet the challenges posed to the australian slot machines international community by Africa-wide security problems, leading me to play a greater role in trying to secure peace on the continent than I ever imagined I would when I began my career 40 years ago."
He went on to say, "Good governance is still a challenge in most African countries. We must appreciate that a lot of progress has been made in this regard, but there are democratic structures that still need to be strengthened."
Lack of free and fair elections and corruption are challenges that could truncate democracy and erode the gains we have made in the march towards good governance and democracy in Africa, he said, and added that "peace is not merely the absence of visible conflict but must also be based on the rights and dignity of every citizen of Africa. A just peace does not only include respect for civil and political rights but also economic security and freedom from want, which can only be guaranteed by good governance."
In his acceptance speech, General Agwai also paid tribute to officers and soldiers of the Nigerian Armed Forces, saying, "I deployed thousands of them to distant lands in the service of peace and I am immensely proud of how they conducted themselves. Some of them paid the supreme sacrifice for the sake of peace and security in Africa. Their sacrifices will never be forgotten."